This is a sponsored post in partnership with Bestway and BraVoMark. All opinions are mine.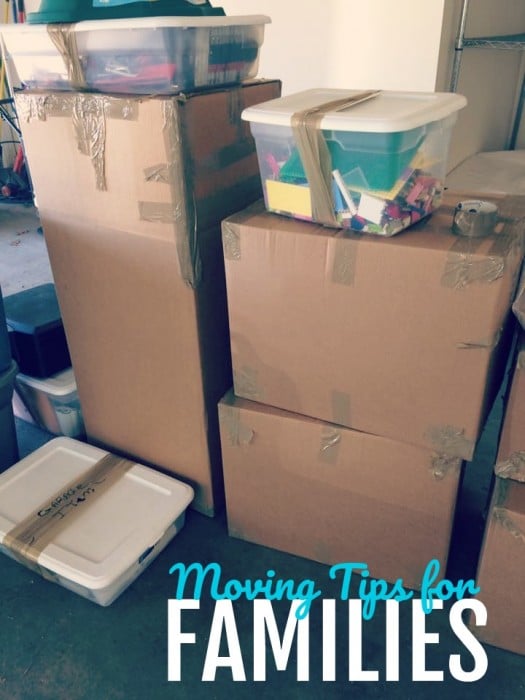 My husband's job allows us to relocate about every two to four years. We've moved seven different times in the last 12 years and recently completed a move across the country. It can be tough moving from one place to another.  Because of our many moves, I have a few tips to share with you when it comes to moving. With three kids, we have to be smart with every move so that the moves create as little stress as possible for everyone.
Here's a map of our most recent move. It was a long move, but because I used the following tips below, it was a pretty easy move for all of us, including a baby!
3 Tips for Moving With Your Family
1. Purge, purge, purge.
Before you start packing your belongings into boxes, I'd highly recommend purging! Purge as much as you can, donating items that you know you don't want to take with you to your new location. This includes things like clothes and shoes, kitchen gadgets that you don't use, old books or magazines, children's toys, beauty and cleaning products, and other items that no longer bring you joy or serve a purpose in your home. We purged quite a bit before our last move and it was our lightest move so far!
2. Make a closet of "Do Not Pack" items.
It's always a good idea to keep a space in your home devoted to items that you don't want packed up for days, weeks, or months. We usually choose a big closet to add our "do not pack" items to. For example, when we move, we try to place our safety box, valuable jewelry, important family documents, and other items that we know we will need or want to have on hand. You can also place clothes that you know your family will need to wear during the transition in this space. When the movers come, these are the items they know they will not be packing and items we choose to take with us. Or, if you don't have movers and you are moving everything yourself, you can keep all of these items in an easy to access location.
3. Don't forget your air mattresses and bedding!
When you move to your new location, your house will be empty. There will not be any places to sleep, unless you quickly unpack your belongings and set up beds as soon as you get there. Setting up beds is not always easy and sometimes your belongings won't arrive for several days or weeks. In this case, you'll want to make sure you bring bedding along for your family. We always pack our air mattresses with us during every move along with sheets, pillows, pillow cases, and light comforters. This guarantees that we will have a place for everyone to sleep comfortably.
Our current air mattresses are going to be replaced soon. We are considering the Fortech Airbed (Queen) with an AlwayzAire Pump from Bestway. The reason why we are switching to this air mattress is because of the durability and comfort! This Fortech Airbed is 75% more puncture resistant and 150 times more impervious to scratches than a normal PVC airbed. With a built-in AlwayzAire pump, the bed inflates in 150 seconds. The airbed also deflates quickly.
While you are here learning about moving tips for your family here, you have the chance to win a great prize! Here's how:
1. Purchase an ALWAYZAIRE bed from Walmart.com or Walmart.
2. Take a photo of yourself using the bed or next to it. (Be fun and Wacky)
3. Post your photo under the comment section of @BestwayUs Facebook page contest post to be entered to win a SaluSpa Miami (retailed at $369.99)
4. Bestway will be picking 5 Winners September 15th!
Good luck!
Do you have any moving tips for families to add to the list?
Yum