Disclosure: This shop has been compensated by Collective Bias, Inc. and its advertiser. All opinions are mine alone. #NutrishFureverHome #CollectiveBias
After my husband and I moved to our first duty station to Pensacola, Florida, we were ready to adopt our first pet as a married couple. I love cats and we decided that our first pet would be a cat. In February of 2005, we visited a local rescue shelter. When we walked inside, there were several cats to choose from. The owner of the shelter told me, "You will not choose the cat, the cat will choose YOU."
I walked around and looked at several cats, but I wasn't too thrilled about any of them. Many just stared at me as I walked by. They didn't seem too excited about us being there. However, as I walked towards the very last room in the corner of the house, I heard the sweetest little meow I'd ever heard. As I walked towards the crate, the sweetest little calico cat was rolling around, purring, meowing, and sticking her paws outside of the crate. I knew that "Candie" was the cat for us. She even reminded me of the cat we had when I was a little girl, "Jingles," a calico cat. The owner was right. Candie did choose us. She was the only cat that expressed interest in us being there that day!
While you are here, check out the Rachael Ray™ Nutrish® Furever Home™: Helping Shelter Pets Find The Home They Deserve campaign going on now! In October 2017, your support will help Rachael Ray Nutrish donate $250,000 to benefit shelter pets. Enter the sweepstakes for a chance to win $25,000 and other prizes! Register your purchase at www.nutrishfureverhome.com.
Here we are, year 2017. Candie is still with us today. We have taken good care of Candie for twelve years. She has adapted well to our military lifestyle as has moved all over the United States including Florida, North Carolina, South Carolina, Texas, and now Washington. She has lived in over seven different homes in her lifetime.
For every move, we traveled by car and Candie came with us. Now that we've moved several times, I consider myself a pro at traveling with a cat in the car. Here are a few of my tips when it comes to traveling with a cat.
Tips for Traveling with a Cat
1. Pick a decent sized travel carrier. 
You'll want your cat to have plenty of room to move around. For our most recent cross country move, we were able to use a soft carrier that Candie could stand up in. We placed it underneath the seat where the baby's car seat is since that was the safest location for her during travel. I do recommend a hard carrier if you are placing your cat in an area around a lot of luggage, etc.
2. Pre-pack food and litter.
It can be a hassle to carry a large bag of cat food or cat litter around while traveling, especially if you are staying in hotel rooms. Pre-pack small storage bags with food for each pit stop or hotel stop. Keep individual storage bags of cat litter, as well.
3. Bring small bowls and a cat food tray.
For each stop, pour the food into a small bowl and keep a bottle of water handy for the water bowl. Use a tray underneath to avoid spills in your vehicle or hotel room.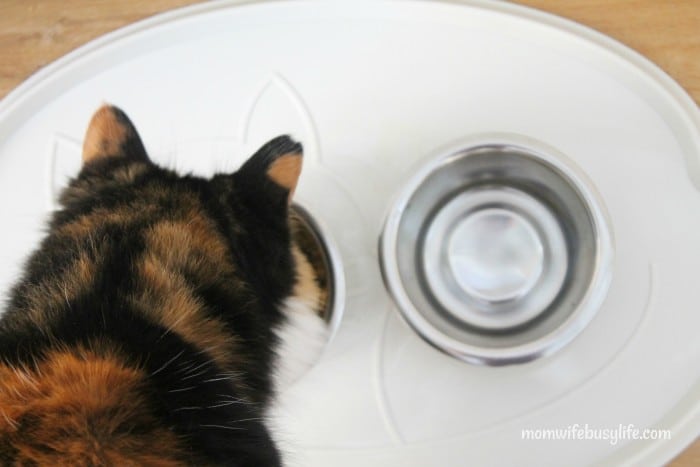 4. Use cat litter pan liners.
Your cat will most likely need to use the litter box while traveling and wherever you choose to stay. Pack a small litter pan. Each time you stop to let your cat use the litter pan, place a throwaway cat pan liner in the box. That way, if your cat does use the pan, you can toss the bag of used litter easily after in the trash can.
5. Make sure hotels allows pets.
If you are staying at a hotel along the way, call the hotel ahead of time to make sure pets are allowed during your stay. You could be denied a room or charged extra if the hotel isn't pet friendly and you have your cat with you.
6. Consider a collar.
If your cat isn't micro-chipped, consider having your cat wear a collar with your phone number on it. Cats can get loose while traveling.
7. Have a plan during stops. 
If you are traveling with your cat, you'll need to plan for all stops. The car can get hot during stops, even quick restroom breaks. Have someone stay in the car with the cat if you are traveling with others. For example, when we stopped to eat, I would stay in the car with my cat while my husband and kids went in to eat. I would keep the a/c on and my husband brought me a to-go meal to eat. These were also the times I let her out of her crate to walk around the car and eat or use the litter box.
8. Talk to your vet for more tips.
Your vet may be able to give you additional tips and tricks for traveling with your pet. Discuss traveling with your cat at your next vet appointment.
I hope you enjoyed these tips for traveling with cats in the car! Don't forget — head to your local Walmart soon to find Rachael Ray Nutrish cat food and enter the sweepstakes above!
Do you have any tips for traveling with a cat in the car?
Yum