Disclosure: I received a Belle costume at no cost in exchange for an honest review. All opinions are my own.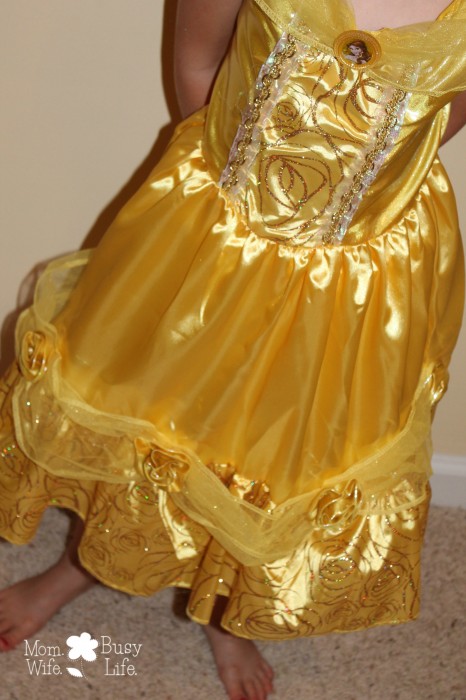 My girls are at the age where they love to dress up in their Disney princess costumes, parading around the house with their heads up high. They are usually decked out wearing the full Disney costume along with tiaras, jewelry, heels, and other accessories.
It's so adorable watching my girls pretend to be princesses. I know that they are making memories that will last a lifetime. I'll remember these moments forever and it saddens me that one day they will grow out of these costumes and ride off into the sunset with their own Prince Charming. Until then, I'm cherishing these sweet and innocent times when they get to enjoy their childhood and pretend to be whoever they want to be.
We recently added a new costume to our Disney princess costume collection, the beautiful Belle Sparkle Deluxe Costume for Girls from Anytime Costumes! Disney's Beauty and the Beast is a favorite of ours and this dress was a must-have in our collection of dresses.
We ordered a size 4-6X for my five year old and it fits her perfectly! My youngest daughter will be able to grow into this dress as my oldest daughter grows out of it! I love the details on the Belle dress, especially the roses at the bottom. This dress is bright yellow with pretty sparkling golden patterns. The Belle cameo on the center of the dress adds a personal touch to the dress. There's a petticoat included, so this helps give the dress a more "poofy" look to it! My daughter loves to spin around the room as if she's ballroom dancing in this dress! A yellow headband with a pink rose helps to make this costume complete!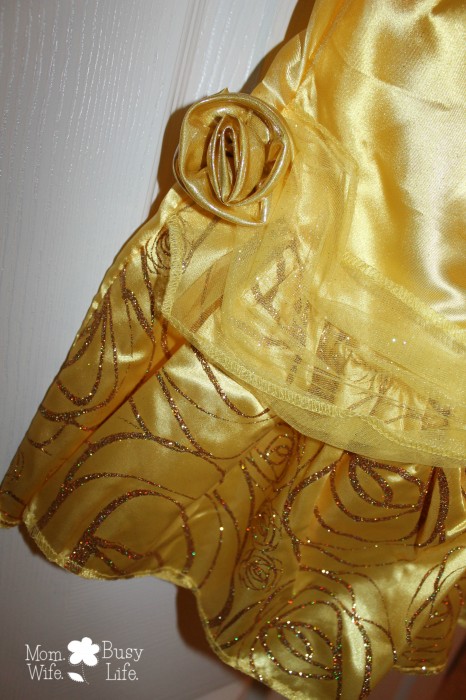 The Belle Sparkle Deluxe Costume for Girls is the perfect addition to your costume collection! Little girls will enjoy dressing up like Belle and parading around like a princess!
If you are looking for an easy and affordable way to organize all of your princess dresses, see how I organize our princess dresses.
Follow Anytime Costumes on Facebook and Pinterest to get updates on costumes!