This No Bake Berry Pie is a light and refreshing dessert made with blueberries, strawberries, and raspberries! Try this yummy treat today!
The summer is approaching and this is the season to enjoy delicious fresh fruits. My favorite fruits this time of year are berries! I love blueberries, strawberries, raspberries, blackberries, and just about any berry there is. Recently, I came across Annie's Organic Whole Milk Yogurt in two new flavors: Summer Strawberry and Berry Patch. When I want to enjoy a cup of yogurt, I usually cut up fresh fruits or add berries to it!
Instead of just cutting up fresh fruit for my yogurt, I wanted to try a new recipe for the spring and summer season. Chilled pies are one of my guilty pleasures this time of year and they are so easy and quick to make. When I make chilled pies, I can get as creative as I'd like! My family enjoys the pies I make as well and they are perfect served after meals for a refreshing treat.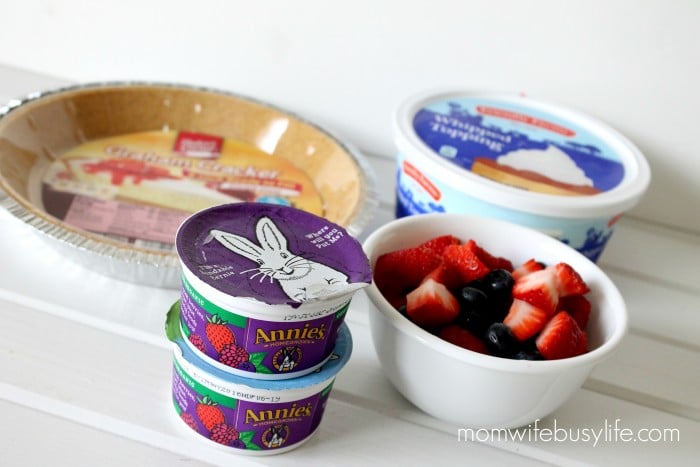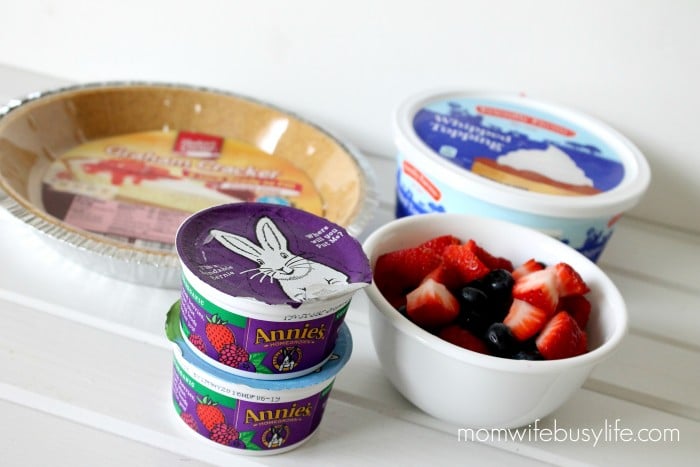 I decided to make a Chilled Triple Berry Pie for my first chilled pie this season. This chilled pie quickly became a favorite and I'm already anxious to make another soon. In fact, I am considering making this at a family gathering this summer when we go camping!
No Bake Berry Pie
Ingredients:
Graham Cracker Crust
2 (4 oz.) cups of any berry flavored yogurt
1/2 tub of whipped cream
2 cups of mixed fresh berries: strawberries (cut up), blueberries, and raspberries
choice of fresh fruit for topping
This is an easy and fun recipe to get the kids involved with! My girls helped me make this pie. Allow the kids to help you in the kitchen when you make this pie.
Directions:
In a large mixing bowl, mix whipped cream and yogurt together and mix well.
Fold in the fresh berry mixture with the whipped cream and yogurt mixture and mix well.
Use a spatula to scoop the mixture into the graham cracker pie crust and spread evenly.
Top with fresh berries of your choice.
Chill at least 1-2 hours before serving.
Did you like this recipe? Find more great recipes here!
Check out more great berry recipes below:
Start your morning right with this Strawberry Walnut Oatmeal.
These Strawberry and Blueberry Pudding Cups are easy to make and are great portion sizes for kids. This is a great snack idea to serve the kids! Our Red, White, and Blue Jello Cups are fun to make for the 4th of July.
Try this chilled Strawberry Icebox Cake made with graham crackers and whipped cream!
Sweeten your salad with strawberries! This summer Strawberry Salad is delicious.
If you like to make smoothies, try these smoothies: Strawberry Mango Smoothie, Simple Strawberry Smoothie, & Strawberry Pineapple Smoothie.
Looking for a light recipe to enjoy during the summer? This Strawberries and Cream Dessert is perfect and satisfying.