Oven Roasted Potatoes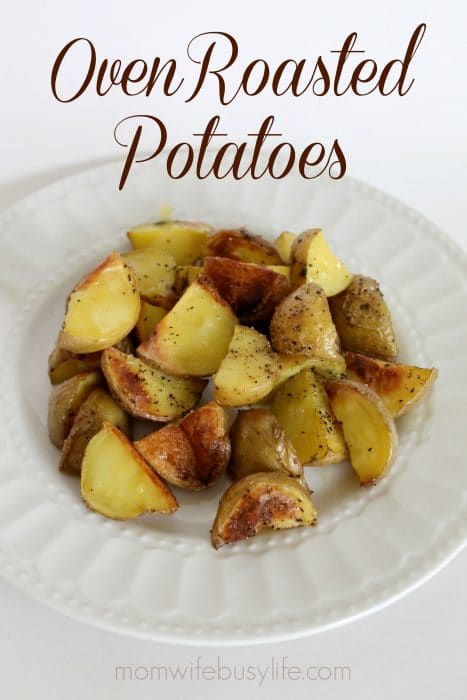 My parents introduced me to this recipe. As a young girl in the kitchen, I watched what my parents cooked for dinner. As an adult, I try to create their recipes for my own family. You can use just about any type of potato with this recipe, even sweet potatoes! I prefer the small, softer, potatoes. Many times I use red potatoes. For this specific recipe, I used the little golden potatoes. Feel free to try them all!
Oven roasted potatoes are one of the easiest recipes you can make! I love how simple this recipe is and especially how delicious roasted potatoes are as a side. We pair these roasted potatoes with several menu items including hamburgers, steak, baked chicken, and more. There's very little prep work involved and you can flavor these any way you want! We keep it simple here, so here's my easy oven roasted potatoes recipe using only four ingredients.
Check out more easy recipes for busy moms!
Ingredients:
2 lbs. of potatoes (I prefer the small potatoes)
1/3 cup of olive oil
1 tsp. salt
1 tsp. pepper
Directions: 
Pre-heat oven to 400 degrees.
Wash potatoes well.
Slice potatoes into small wedges or cubes.
Place potatoes in an 8X8 glass dish.
Sprinkle salt and pepper over potatoes.
Drizzle the olive oil on top of the potatoes until covered and toss potatoes with a spoon until well coated.
Bake for about 25 minutes or until tender and golden brown and slightly crispy.
This easy recipe is the perfect addition to your weeknight meals! If you want to get creative with the kids, you can try slicing the potatoes up into "french fry" sticks or even wedges. If your kids love ketchup, dip the oven roasted potatoes in ketchup or whatever type of sauce they enjoy with their fries!