Low Carb Peanut Butter Chocolate Chip Cheesecake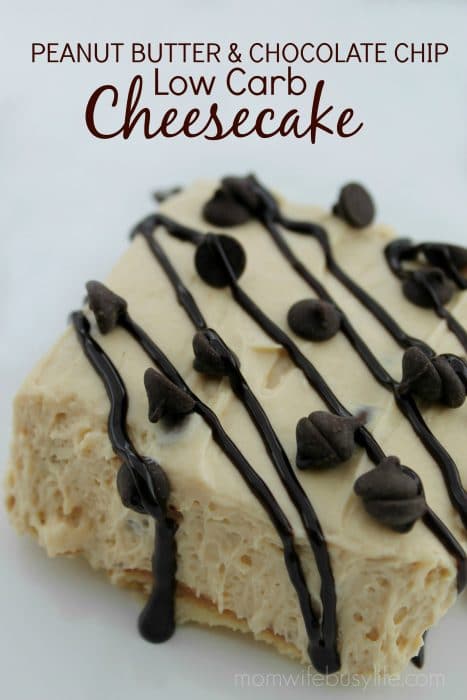 I've been following a low carb lifestyle for a month and a half now and can report a six pound weight loss! I'm happy to be committed to living a healthier lifestyle and watching my sugar intake. It was hard to kick the sugar habit, but I have created a recipe that I can enjoy when I'm craving something sweet to eat! I love chocolate, peanut butter, and cheesecake, so this is the perfect combination to enjoy together if you are watching your carbs! If you are looking for a light and fluffy dessert with the perfect amount of sweetness, this is for you!
Low Carb Peanut Butter Chocolate Chip Cheesecake
Ingredients for Crust:
Ingredients for Filling:
8 oz. package of whipped cream cheese
3/4 cup of Swerve sweetener
3/4 cup whipped peanut butter
1 1/2 cups of heavy whipping cream
1/2 cup of stevia sweetened Lily's Dark Chocolate Chips
Topping:
Directions:
Combine crust ingredients (almond flour, sweetener, butter) in a mixing bowl and mix well. Mixture will be crumbly.
Press crust down into a lightly greased (I use an olive oil spray) 8X8 baking dish.
Bake at 350 degrees for about 7-10 minutes or until crust is slightly brown. Set aside and let cool.
In a medium mixing bowl, mix filling ingredients (cream cheese, sweetener, peanut butter) with an electric mixer until blended. Add the whipping cream and whip until mixture is creamy and fluffy and a peak forms.
Stir in chocolate chips.
Spread mixture onto cooled crust evenly.
Refrigerate for a few hours before serving.
Sprinkle with leftover chocolate chips and drizzle the chocolate sauce on top before serving!
Let me know what you thought about this recipe! It's one of my favorites! 
Disclaimer: Always consult with a medical doctor before making changes to your diet or lifestyle. This recipe is only an idea for anyone trying the low carb diet. Please check the ingredients for an accurate carb count and sugar content before consuming to make sure it's right for you.