Are you looking for a good southern side dish to serve for your family this week? Try these delicious Maple Glazed Carrots!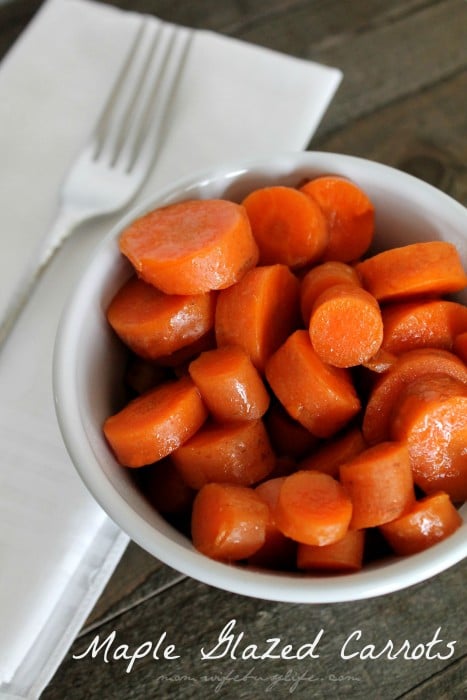 The fall season is my favorite time of year.
I love everything about fall, including the yummy smells, anything and everything pumpkin, football season, cooler temps, and delicious food.
This is also the time of year where I actually cook more. There's something about the fall season that motivates me to get into the kitchen more and cook up delicious dinners for my family.
I was born and raised in the country and I'm still a country girl at heart. Every now and then, I crave a good ol' southern style dinner.
This includes chicken fried steak, mashed potatoes and gravy, glazed carrots, corn on the cob, green beans, hot rolls, and sweet tea — and I want all of that.
The other night, I cooked our family a southern style dinner that included all of the above and it was delicious.
These Maple Glazed Carrots were included and I thought I'd share this easy recipe with you here.
They are super easy for busy moms to make and perfect for the kids to eat, too!
There are lots of reasons to make maple glazed carrots.
For one, they're absolutely delicious. But maple glazed carrots are also healthy and nutritious, packed with vitamins and minerals that are good for you.
Maple glazed carrots are easy to make, too. All you need is a few simple ingredients and a little bit of time.
What can you use to glaze carrots?
One popular ingredient to use when glazing carrots is maple syrup. This is what we use to glaze the carrots in this recipe.
This gives the carrots a nice, sweet flavor that pairs well with many other dishes.
Another option is to use honey as your glaze. This will also result in a sweet carrot, but with a slightly different flavor profile.
If you're looking for something a little savory, you can try using balsamic vinegar or soy sauce. These two options will give your carrots a bit of extra flavor without making them too sweet.
More ways to glaze carrots include using ingredients like cinnamon, orange, ginger, BBQ sauce, ketchup, sweet and sour sauce, Sriracha, Wasabi, and more!
Experiment and see what you like best!
Plus, they make a great side dish for any meal. So why not give them a try? You might just be surprised at how much you love them!
What can you pair with maple glazed carrots?
Maple glazed carrots are a delicious and easy side dish. Here are more ideas of what to serve them with:
Roasted chicken or turkey
Mashed potatoes
Green beans
Steamed broccoli
Salad
Baked fish
Rice pilaf
Can I use canned carrots?
If you want to save time, you can use canned carrots in place of fresh carrots. The cooking time will be reduced significantly since the carrots are already softened.
Maple Glazed Carrots
Ingredients:
Directions:
1. Wash carrots well. Cut the ends of the carrots and discard.
2. Slice carrots into thin rounds.
3. Place carrots in a medium saucepan and cover with water.
4. Bring carrots to a boil and allow to boil for about 15-20 minutes or until carrots are tender.
5. Drain water with a colander.
6. Add 1 tbsp. of maple syrup and 1 tbsp. of butter and stir well until butter is melted and carrots are covered with a thin glaze.
If desired, sprinkle some brown sugar on top of the carrots.
Serve and enjoy!
The maple glaze adds a bit of sweetness to the carrots. Combined with the butter, this is a delicious side dish to eat any day of the week!