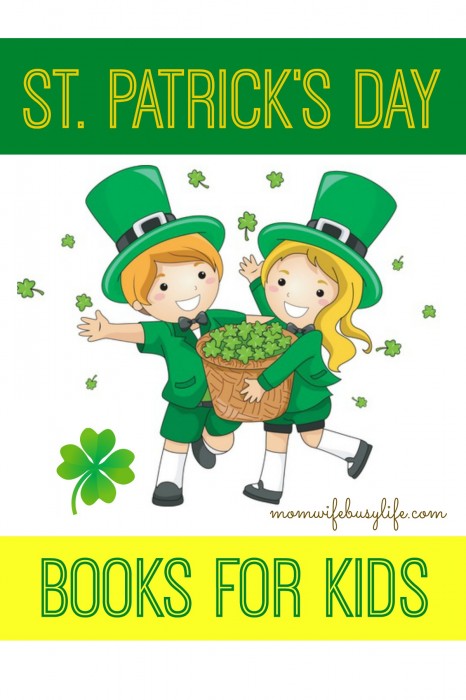 St. Patrick's Day 2016 is Thursday, March 17! Mark your calendars and make sure you are prepared with your "green" for that day so you won't get pinched! To celebrate, here are a few great St. Patrick's Day books for kids! Add them to your home or classroom library!
The Night Before St. Patrick's Day
It's the night before St. Patrick's Day, and Tim and Maureen are wide awake setting traps to catch a leprechaun! When they wake the next morning to the sound of their dad playing the bagpipes and the smell of their mom cooking green eggs, they're shocked to find that they've actually caught a leprechaun. But will they be able to find his pot of gold? Natasha Wing's latest title is once again told in verse to the same meter of Clement Moore's classic.
St. Patrick's Day
In addition to the story of St. Patrick's life, here is information about how St. Patrick's Day is celebrated. There are decorations from shmrocks to shillelaghs. People give cards, share meals, and wear green to honor Ireland, the Emerald Isle. And there are parades! Included are six legends about Patrick. Full color.
It's St. Patrick's Day (Scholastic Reader, Level 1)
This Level 1 rhyming reader introduces young children to the St. Patrick's Day holiday, from dressing in green outfits to marching in a musical parade!
The Story of Saint Patrick's Day
The story begins with the traditional symbols of the day that are often found in schoolrooms, such as shamrocks, harps, and leprechauns. Then the narrative moves to a short biography of Saint Patrick himself: as a shepherd, as a missionary, and as a teacher. This colorfull boardbook ties together the live of Patrick with the traditional images of Ireland.

St. Patrick's Day in the Morning
Jamie seeks a way to prove that he is not too young to march in the big St. Patrick's Day parade.
Happy St. Patrick's Day, Curious George tabbed board book
Today is George's lucky day—St. Patrick's Day is here! George loves a celebration, and St. Patrick's Day means plenty o' music, dancing, and feasting fun! He dresses up in his festive finest, looks for leprechauns, and learns some Irish dance steps. But can George make it to the parade without causing any trouble? See if his lucky four leaf clover will come through!
The Luckiest St. Patrick's Day Ever
Share in this leprechaun family's charming St. Patrick's Day celebration, complete with a fun parade and an Irish feast!
Patrick: Patron Saint of Ireland
The story of Patrick's life, from his noble birth in Britain, to his being captured and taken to Ireland by a group of bandits, to the "dreams" that led him to convert the Irish people to the Christian faith. DePaola also retells several well-known legends, including the story of how Patrick got rid of all the snakes in Ireland. Full color.
Do you have any favorite St. Patrick's Day books for kids to add to the list?
Yum