The Importance of Family Game Nights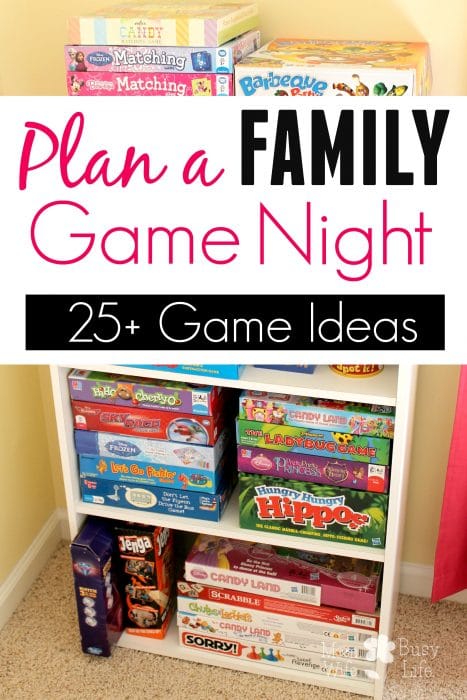 The Importance of Family Game Nights
My husband and I made a commitment to spend more quality time with our children this year. My girls are at the age where they both enjoy playing games and they ask us on a daily basis to play games with them. I love their enthusiasm when it comes to playing games. I remember playing games with my brothers and my sister when I was growing up and the memories are ones I'll hang on to forever. I'm trying to create new memories with my own children by playing fun games with them.
This year, we added family game nights to our weekly routine. Every Tuesday night around 6pm is game night here at our house! Everyone gets to pick a game to play, so we end up playing four games every Tuesday night. I believe that a family that plays together stays together! I also believe that game nights are important because they teach good communication skills, problem solving, strategy, teamwork, and great sportsmanship!
How I Choose Games For My Family: 
I'm very picky when it comes to selecting games to add to our game collection. I do a lot of research on games before choosing the ones that I feel are right for our family. I need these games to be entertaining for everyone, including my husband and me! When choosing games, I make sure I read the reviews to get an idea of how the game is played and if it's something we will all enjoy. It needs to be a game that's so fun that it will "survive" my next decluttering session. I want to make sure it's a potential game to add to our "favorites" list and one that will last, meaning we will want to play it a year or two from now.
Amazon has a HUGE selection of games to choose from. We buy most of our games here:
Keep reading below to see our top 25 games to play together as a family!
It's important to me to find games that are age appropriate and fun. I have a 6 year old and a 3 year old that need to be entertained, so I must make sure the games I choose are something easy enough for my 3 year old to play, but still challenging and fun for my 6 year old! Since my husband and I play these games with our girls, I try to select games that I feel my husband and I would be entertained with as well.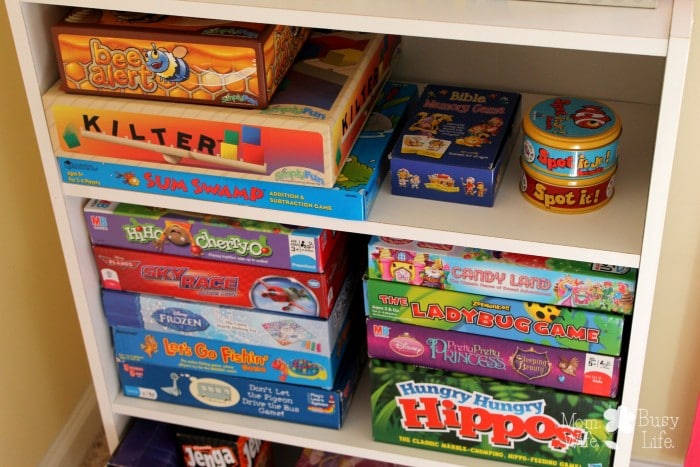 The quality of a game is also important to me. I like games that are well made. I need games to last and not fall apart the first time we play. This includes the box that the game comes in as well as the pieces or cards inside the box. Games to me are an investment and I want them to last a few years! It's not fun to have broken or torn pieces to a game. I make sure the games are something that can easily be stored and games that are designed to last. I do take good care of our games and make sure we put games away before taking out another. It's a good idea to store games out of reach of children to avoid mixing all of the pieces and to keep games from getting torn up!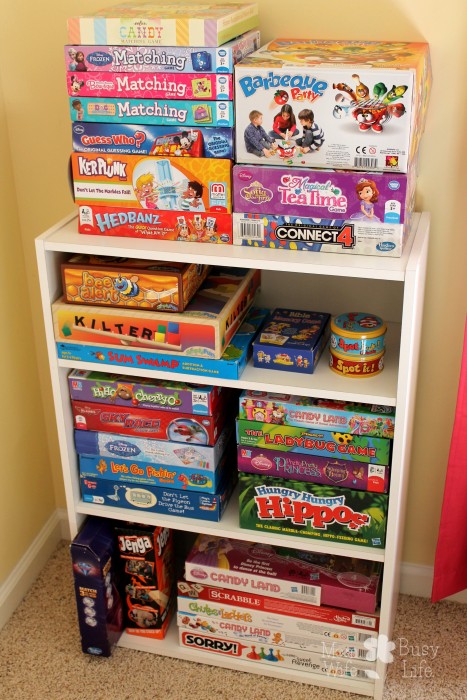 I look for games that are educational. The majority of our games are educational and some are more for just simply having fun. I like to find games that help my girls add or subtract, read, count, you name it. I also like games that challenge their thinking and help their memory. Learning while playing is very important to us! If they can have fun learning, I'm a happy mom!
Finally, I look for games that are affordable. I've been "collecting" games for several years now. We also receive games as gifts. I always try to make sure I find good deals on games before buying. I keep an eye on the games at Amazon
and make a purchase on the game when I see it fall under $10! I feel that a game for $10 that lasts a while is a good investment!
Our Collection of Games:
You may look at my game collection and think it's pretty impressive. I love our game collection because when I see it, I think about all of the times we've already sat down as a family and played these games. Memories. That's what it's about, and that's why I don't mind investing in several different games to keep our family entertained! It's always a good idea to keep a good variety so you don't get burned out on certain games! Here's our collection of games!
Top 25 Games in our Collection: 
1. Ker Plunk Game
– I can't even count how many times we played this and we added it this Christmas 2014!
2. Connect 4 Game
– never gets old for me, fun to challenge each other by getting four in a row
3. Spot It
– several different versions to choose from! Great to take in the car on trips!
4. Barbecue Party
– the game that jumps! Read my review of this game!
5. HedBanz
– added Christmas 2014, a fun guessing game
6. Bee Alert – My girls are enjoying this game! It's a new favorite! Helps with memorization! Read my review.
7. Kilter – This seems to be the one my husband picks to play often for game night! My 3 year old likes to stack her blocks while playing! Read my review of Kilter!
8. Whirly's World – great for teaching even/odd numbers. Read my review of Whirly's World!
9. Candy Land
– we have three versions of Candy Land and play them all since they are different!
10. Hungry Hungry Hippos
 – perfect for the little ones 3+
11. Pretty Pretty Princess
– this was given to us as a gift several years ago and it's still a favorite! My girls love the jewelry included with this game!
12. Sum Swamp
– I love the little game pieces (Frog, Snail, Snake, Turtle) and love how this helps my 6 year old with her adding and subtracting skills! Found this game for under $10. *Math Teachers – this is a great game to add to your classroom!*
13. Jenga
– my three year old is pretty good at this game! After playing, they like to build things with the blocks! Hubby loves this one, too!
14. Bejeweled
– this is one of my favorites! It's a pretty game — reminds me of a real version of Candy Crush!
15. Scrabble
– a classic, this game helps my six year old learn how to form and spell words, my husband and I love playing this one together! I think everyone needs this in their collection!
16. Chutes and Ladders
– another classic, never gets old and a game we've had for several years!
17. Sorry!
– we are growing into this game since it's still challenging especially for my three year old.
18. Uno
– my 6 year old loves this one, but still challenging for my 3 year old. It does help my youngest with colors and numbers though and she does join us while playing this game!
19. Don't Let the Pigeon Drive the Bus!
– I ordered this one because of the low price and it's a really fun game for both of my girls! I wasn't sure what to expect but after playing this a few times, it's a keeper! My girls love the layout of the game board.
20. Disney Guess Who?
– a little too challenging for my 3 year old, but perfect for my 6 year old. It's a favorite of hers. This game makes you think! I usually partner up with my 3 year old when we are playing this game with her sister!
21. Sofia The First Magical Tea Time Game
– this game doesn't get played with as often as I'd like, but it's still fun when we do play! Read my review!
22. Hi Ho Cherry-O
– another classic. We are starting to play this more now that my girls are older.
23. Frozen Olaf's in Trouble Game
– we love "trouble" over here, we added this game to our collection Christmas 2014. My 6 year old loves it, but it is a bit challenging for my 3 year old. This game does go on a while, so sometimes we like to change it up by having them double the number rolled to move ahead more spaces. Adds a little "addition" to the game!
24. Let's Go Fishin'
– we've had this game for several years. I'm a little sad because it was my 6 year old's favorite a while back, but now she's outgrown it a bit. However, my 3 year old loves it now, so we do still play this often.
25. The Ladybug Game
– this is a unique game that was given to us as a gift a few years ago. While I had never heard of it before, it's one that my girls choose often to play for game night!
26. Matching Games: We have a variety of matching games. I love that these games help with memorization. I think it's a good idea to have at least one matching game in your collection!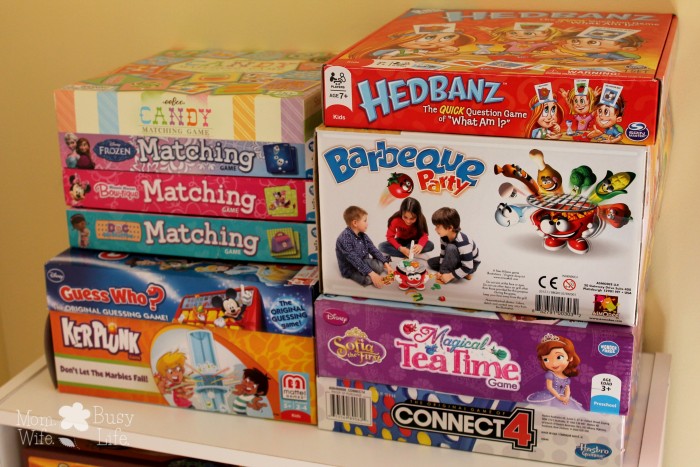 Do you have any games pictured or listed above in the post? Do you schedule regular game nights with your family? If not, do you think this is something you are interested in adding to your routine?
I challenge you to try adding family game nights to your schedule!