This is a sponsored post written by me on behalf of CORT for IZEA. All opinions are 100% mine.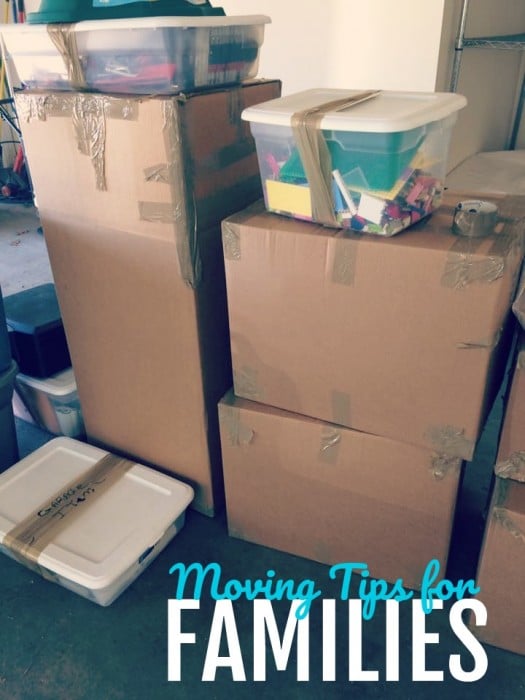 My husband's job allows us to relocate about every two to four years. We have moved seven different times in the last 12 years. A big move can be a bit stressful, but it doesn't have to be if you take extra time planning and preparing for this big change in your life. With a family of five, we are pros at packing up and heading out on a moment's notice! These tips below can help you prepare for your trip to your next destination.
Here's a map of our most recent journey from the East Coast to the West Coast.
4 Moving Tips for Families
1. Purge, purge, purge. Before you start packing your belongings into boxes, I'd highly recommend purging! Purge as much as you can, donating items that you know you don't want to take with you to your new location. This includes things like clothes and shoes, kitchen gadgets that you don't use, old books or magazines, children's toys, beauty and cleaning products, and other items that no longer bring you joy or serve a purpose in your home. We purged quite a bit before our last move and it was our lightest move so far!
2. Rent furniture for your next home. After years of experience with moving into several different homes, I've learned that there are pieces of furniture that we own that we end up giving away or storing for a long period of time because the furniture doesn't work out in the new home. The pieces of furniture are either too big, too small, or they just don't fit in with the layout of the home. Instead of packing up all of your furniture and hauling it across the country, consider renting furniture. Renting furniture is convenient and involves less hassle! CORT Furniture Rental is a great option for a short-term move. You can have furniture delivered to you when you need it, and picked up when you no longer need it! CORT has flexible furniture lease term options that allow you to keep your furniture as long – or as short – as you need it
3. Make a closet of "Do Not Pack" items. It's always a good idea to keep a space in your home devoted to items that you don't want packed up for days, weeks, or months. We usually choose a big closet to add our "do not pack" items to. For example, when we move, we try to place our safety box, valuable jewelry, important family documents, and other items that we know we will need or want to have on hand. You can also place clothes that you know your family will need to wear during the transition in this space. When the movers come, these are the items they know they will not be packing and items we choose to take with us. Or, if you don't have movers and you are moving everything yourself, you can keep all of these items in an easy to access location.
Do you have any moving tips for families to add to the list?