Bath safety is extremely important. Read these bath safety tips for babies, plus get recommendations on the best baby bath tubs and seats!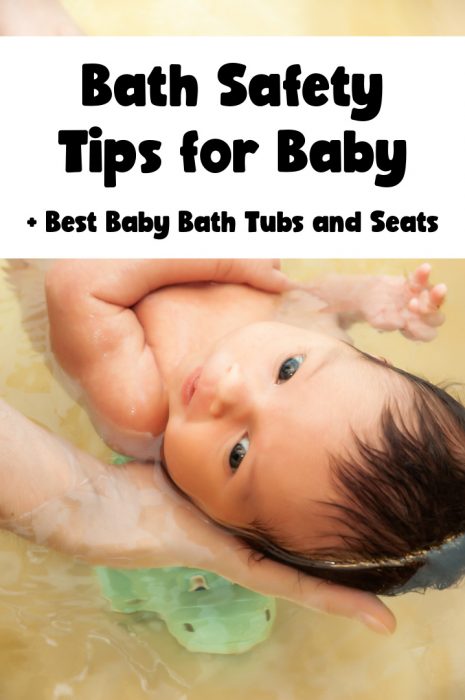 Bath Safety Tips for Babies
Giving your baby a bath can be a scary and nerve wracking experience for new moms!
I remember as a new mom feeling how nervous I was to start giving my baby a bath. Thankfully, I read through plenty of safety tips to help calm my nerves. I also made sure to limit my distractions in the bathroom around my baby during bath time to include keeping my phone out of the bathroom.
Parents and caretakers should consider acquiring a bath seat or baby bath tub for the baby bath time. Bath seats are small infant-sized seats in which the baby can either sit or recline as she is being bathed.
These seats ensure that the babies' head will not drop below the water, decreasing the chance of accidental drowning.
Supervision During Baby Baths
Caregivers should always keep in mind that it only takes babies seconds to drown. The US Consumer Product Safety Commission (CPSC) states that, "About two-thirds of drowning deaths (in children) in the home, not including swimming pools, occur in bathtubs." A baby needs less than 2 inches (6 centimeters) of water to drown.
Parents should never leave a baby alone near water. Even if the baby is in a bath seat and the parent thinks that she is properly propped up, the baby should not be unsupervised.
It is important that caregivers have all the materials and supplies that they need for baby bath time within easy reach. Caregivers might consider creating a checklist which they reference before bath time to ensure that all that is needed is available before the baby is put in the water.
Once the bath starts, parents should not get distracted and leave the baby for any period of time. Caregivers should allow the answering machine to pick up phone calls during bath time.
Doorbells can be ignored during bath time. If a caregiver must step away from the bath in the middle of bath time, the baby should be taken with the bather.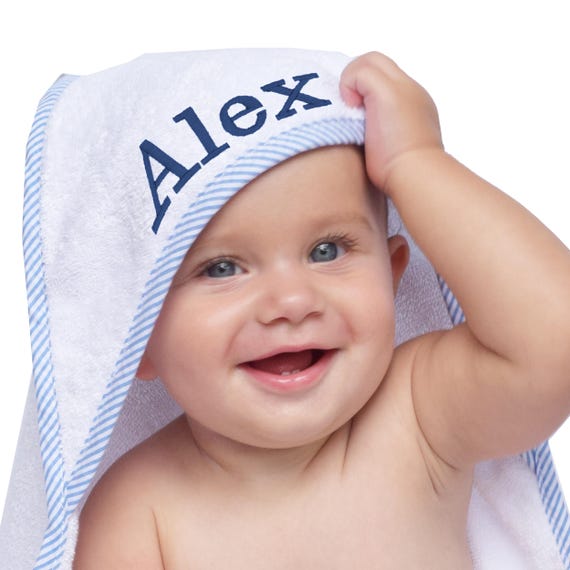 Monogrammed Hooded Baby Towel – Shop Now!
Water Temperature for Baby Bath
Bath water that is too hot can scald the tender skin of a baby and leave third degree burns all over his body. Parents should never put their baby in water that is above 120 degrees Fahrenheit (49 degrees Celsius).
Caretakers should set the thermostat of the water heater to this temperature to ensure that no accidents occur. If necessary, use a bath thermometer to ensure that the water is not too hot.
Bathing Responsibilities
Caretakers should be cautious as to who they allow to bathe the baby. Young children, such as older siblings, should not be allowed to bathe the baby. These children can help by handing supplies to the bather during bath time.
Teenagers should be permitted to bathe the baby and only under adult supervision. Caretakers who feel uncomfortable with another relative bathing their baby should take care of bath time before the relative arrives.
By taking little precautions, caretakers can ensure that bath time is a fun time for the baby as well as themselves. Tragedy will be averted by making sure that the baby is never left alone as well as when the bather is giving bath time his full attention.
Below you'll find our list of the best baby bath tubs and seats.
Best Baby Bath Tubs and Seats
Bath Seats
Proper precautions should be taken while using the bath seats or bath tubs. A parent should never lift the bath seat while the baby is in it. Lifting the seat with the baby could result in the baby dropping or wiggling to the floor. The suction cups of the bath seat should be tested before the baby is placed in the seat.
Best Baby Bath Seats and Baby Bath Tubs
Note: As with any product purchase, I recommend reading reviews and researching the product yourself before making a decision!
Fisher-Price 4-in-1 Sling 'n Seat Tub
Boon SOAK 3-Stage Bathtub – Gray
Summer Clean Rinse Baby Bather
The First Years Sure Comfort Deluxe Newborn to Toddler Tub
More resources for Moms-to-Be:
Preparing for a new baby? Learn How to Get Your House Ready for a Newborn! You'll want to make sure you start well in advance to get your home in good shape before baby arrives.
Not sure about which diaper to use between disposable diapers and cloth diapers? Read the Advantages and Disadvantages of Cloth Diapers to give you tips to help you make a decision!
Don't leave home without these items in your diaper bag! Read our Diaper Bag Checklist: What to Pack in a Diaper Bag.
It can be tough to decide what a baby needs after he/she is born! Read our Must-Haves for Baby to help you decide what you'll want to stock up on during this transition.
Picking out a baby crib is exciting! Read our list of Best Baby Cribs to help you decide which crib is right for you and your baby.
Don't forget to pick out a cute bedding set for your baby's crib! I loved shopping for crib bedding with all three of my babies! Check out these Cute Crib Bedding Sets for Babies.
Playpens were a huge help when I was raising my babies and toddlers. I was able to cook and clean while baby played safely and kept entertained. Read our Best Playpens for Babies.
Babies don't need a lot of toys during the first several months, but as he or she develops and grows, your baby will benefit from a variety of quality baby toys! Read our choice for Best Baby Toys to keep your baby entertained!
Pin to Pinterest: