Disclosure: I received a DIY Soy Candle Making Darby Smart Kit as a Klout Perk. Although a review post was not required, I wanted to share my first candle making experience with my readers.
DIY Soy Candle Making with Darby Smart
I've heard a lot about soy candle making, but I've never tried to make my own soy candles. I don't consider myself a DIY kind of gal, but lately I'm trying to change that and try more DIY projects. There's such a huge sense of accomplishment at the end of a DIY project if done right, so I was happy to be able to try the DIY soy candle making from Darby Smart. Thanks to Darby Smart, I may have a brand new hobby!
After I received my Darby Smart kit, I must admit, I was a little overwhelmed. Because I have never made candles, I wasn't exactly sure what I was supposed to do. Luckily, Darby Smart included a wonderful set of detailed instructions in the box. I read through it a few times to make sure I knew what I was doing before I started this DIY project.
Here are the items in the Darby Smart DIY Soy Candle Making Kit:
DIY Soy Candle Making Kit Includes:
Soy Wax (1lb)
Soy Wicks (4)
2 Surprise Scents
3 Blending Colors
4 Votives
DIY Instructions
My DIY kit came with the Pumpkin Spice and French Vanilla scents — my favorites!
It means a lot to me to spend quality time with my daughter, so I called her into the kitchen with me to help me during this soy candle making process. This was a DIY project where I felt she would be highly engaged and interested in. Sure enough, she was excited about making soy candles with me and I was glad that she was able to participate in this experience with me. Her favorite part? Adding the colors into the melted wax and swirling them around!
My daughter and I followed the instructions provided by Darby Smart to make our candles. The entire process was super easy and fun, too.  The hardest part was waiting for the wax to dry! I was anxious to see how the soy candles would turn out! Once dry, I was very pleased with how beautiful they looked! My daughter came in from playing with her friends and the first question she asked was, "Are the candles ready yet?!" She was also impressed with the way the soy candles turned out!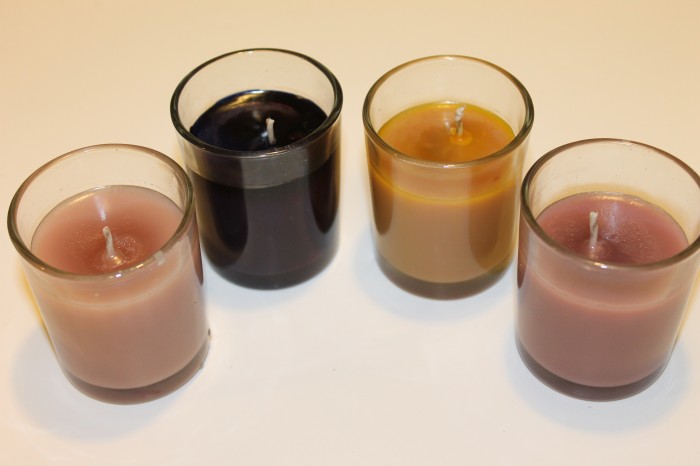 I wanted to see the full effect of the soy candles so I cleared a space for the candles on the bathroom counter. I lit the candles and watched them glow in amazement. I made these candles! We made these candles! My daughter and I completed our very first DIY Soy Candle Making experiment! It was fun, easy, and something I would do again!
Soy candle making just might be one of my new hobbies! I'm already excited to try more DIY candle making in the future!