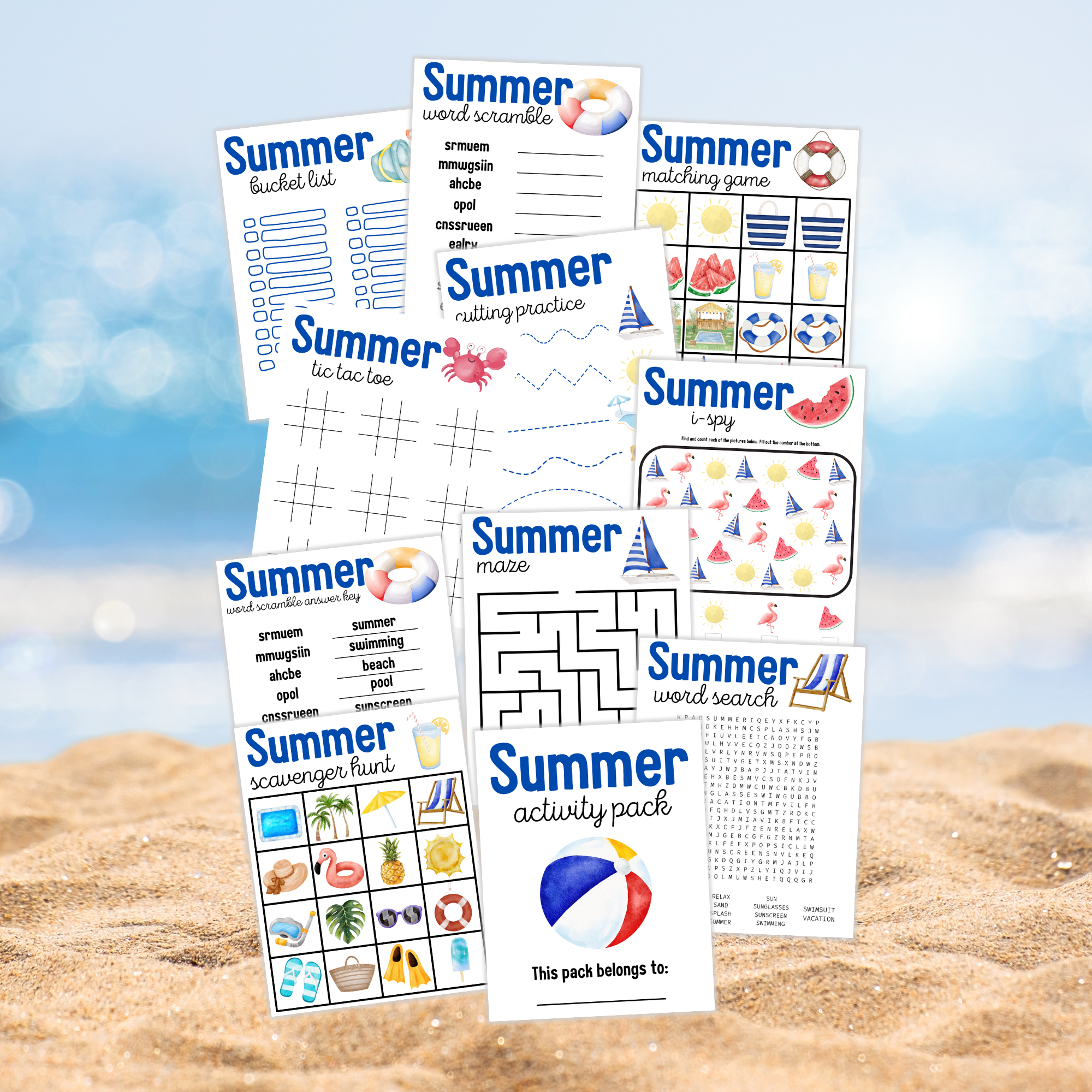 Dear Busy Mom,
I hope this message finds you well amidst your busy schedule. As a fellow mom of 3, I understand how challenging it can be to keep your children engaged and entertained during the summer months.
That's why I wanted to introduce you to an incredible solution that will not only keep your little ones occupied but also provide them with valuable learning experiences – the Summer Activity Pack for Kids.
Priced at only $5, this activity pack offers a diverse range of activities designed to entertain and educate your children throughout the summer.
Don't wait! Get this pack now!
Let me explain why these activities will be immensely beneficial for your kids:
Scavenger Hunt
The scavenger hunt is an exciting and interactive game that encourages your children to explore their surroundings and develop problem-solving skills. It stimulates their curiosity, enhances their observation abilities, and fosters a sense of adventure. It's a great way to keep them engaged and active during the summer months.
Word Scramble and Word Search
These activities promote literacy and vocabulary development while keeping your kids entertained. They help improve spelling, expand their vocabulary, and encourage them to think critically as they search for words or rearrange letters to form words. Plus, they're a fantastic way to enhance their language skills while having fun.
Cutting Practice
Cutting practice is an essential skill for young children to develop their fine motor skills and hand-eye coordination. It introduces them to basic scissor skills and boosts their creativity as they engage in arts and crafts projects. This activity will not only keep them entertained but also contribute to their overall motor development.
Fill in the Blank Bucket List
The fill in the blank bucket list activity encourages your children to dream, imagine, and set goals for themselves. It allows them to think about the things they want to do and experience during the summer, fostering their creativity, imagination, and self-expression.
I-Spy Game
The I-Spy game is a classic activity that enhances visual perception, attention to detail, and observational skills. It encourages children to focus and identify different objects in their environment, making it an ideal game for summer outings and road trips.
Maze
Mazes are not only entertaining but also provide excellent cognitive benefits. They help develop problem-solving skills, logical thinking, and spatial awareness. Your children will have a blast guiding their way through the twists and turns of the summer-themed maze.
Tic Tac Toe
Tic Tac Toe is a simple yet strategic game that promotes critical thinking, decision-making, and strategic planning. It encourages your children to think ahead, anticipate their opponent's moves, and develop their problem-solving abilities. It's a fantastic game to play during downtime or while traveling.
Matching Game
The matching game is an excellent activity for memory enhancement and cognitive development. It challenges your children to remember the location of various images and find their matches, sharpening their concentration and memory skills. It's a great way to keep their minds active and engaged during the summer break.
Purchase your set today!
By purchasing the Summer Activity Pack for Kids, you'll not only provide your children with hours of entertainment but also offer them opportunities for educational growth and skill development.
At just $5, it's a cost-effective solution that will keep your little ones engaged, stimulated, and happy throughout the summer.
Investing in your children's education, creativity, and well-being is priceless. So why not make this summer a memorable one by giving them a fun and educational experience with the Summer Activity Pack?
Wishing you and your family a summer filled with laughter, learning, and precious memories!
Enjoy your pack!
Brittany