Struggling to get to the gym these days? Is it too hot outside to workout? No worries! There's no need to spend a ton of money on gym memberships and with the temps on the rise, it's not such a good idea to workout during high temperatures. A great alternative to working out at the gym is working out in the comfort of your own home. You don't have to worry about people watching you workout and you definitely don't have to worry about how you dress when working out at home! Whatever your fitness level may be, choose the workout that is right for you and always consult with your doctor before starting any new workouts. There's even a workout for expecting moms out there!
DVD Workouts to Do at Home
Chalene Johnson's PiYo Base Kit – 10 easy-to-follow workouts on 3 DVDs, Quick Start Guide, Workout Calendar. BONUS: Get Lean Eating Plan & Tape Measure
Zumba 101 – Learn the basic steps of the 4 core rhythms in a 30-minute basics class.
Shaun T's FOCUS T25
– Get an hour's results in just 25 minutes a day with FOCUS T25, Includes 11 nonstop 25-minute workouts on 9 DVDs, Quick-Start Guide, Nutrition Plan, Workout Calendars, B-LINES Resistance Band (15 lb.), and 5-Day Fast Track Guide.
Tony Horton's P90X3
– With P90X3, you get a whole workout in just 30 minutes. Includes 16 extreme 30-minute workouts, Fitness Guide, Nutrition Plan, Workout Calendar, "How to Accelerate" DVD, and 24/7 Online Support.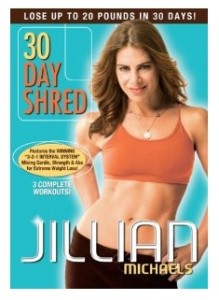 Jillian Michaels – 30 Day Shred
– Jillian will guide you through her exclusive 3-2-1 Interval System that combines strength, cardio and abs to blast through calories for a dramatic 30 DAY SHRED. The program includes three complete 20-minute workouts which progress by level of intensity. Start with Level 1 and advance through Level 3 – in no time you'll achieve a lean, shredded body.
Jillian Michaels Ripped in 30
– a comprehensive 30-day diet and exercise plan designed to get you in the best shape of your life! Ripped in 30 is comprised of four 24-minute workouts based on Jillian's best-selling body shredding 3-2-1 interval system: 3 minutes of strength, 2 minutes of cardio and 1 minute of abs.
The Biggest Loser Workout: Cardio Max
– This DVD includes a power-packed workout inspired by the hit TV series. Included is a 6 week program for maximum weight loss, with Level 1, 2, & 3 workouts.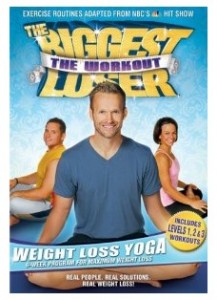 The Biggest Loser: The Workout – Weight Loss Yoga
– Led by instructor Bob Harper, this 55-minute regimen offers three separate yoga workouts, sandwiched between 5-minute warm-up and cool-down sections; a menu option gives users the opportunity to practice the workouts in any order or quantity.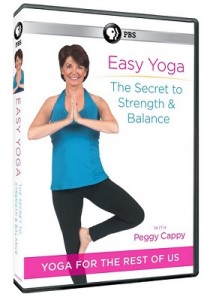 Easy Yoga: The Secret to Strength and Balance with Peggy Cappy
– presents easy yoga exercises that will improve your strength and balance.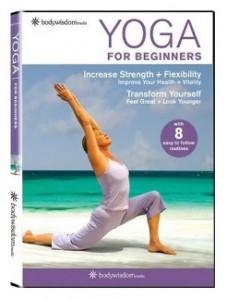 Yoga For Beginners
– great place to get started and includes lots of sound technique for beginners.
Tracy Anderson: Precision Toning
– Designed to tone, strengthen and engage every muscle, this is a workout for your entire body -focuses on empowering the smaller accessory muscles as they strengthen and support the large muscle throughout the body.
Tracy Anderson: The Pregnancy Project
– month by month journey through pregnancy, keeping your body and healthy as you prepare to give birth.
Related: 6 Ways to Stay in Shape During the Hot Summer Months
If you are looking to get fit at home, these workout DVDs may help!
Do you have any workout DVDs that you'd like to recommend?