Disclosure: I received Wonder Forge games in exchange for a review. All opinions are my own.
Disney Frozen Matching Game
Buy now: Disney Frozen Matching Game
My girls love family game night. We finally decided to set time each month to devote to family game nights. We can get so busy with life that we tend to forget how fun it is to sit down on a regular basis and have a good ole' fun game night with each other. During these times, we talk, we laugh, we giggle, we get competitive (in a friendly way), and we just enjoy each other's company.
This month, we added three games to our game closet for family game night! I love adding new games to our collection. There are too many times where we find ourselves playing the same games over and over, so it's great to be able to add new games for the entire family to enjoy!
You all know that Disney's Frozen was released on DVD recently. My daughter LOVES Frozen. We've watched it over 10 times already since receiving the DVD just a few weeks ago. She's into everything related to Frozen, so we received the Disney Frozen Matching Game from Wonder Forge to play with the family!
A fun game of picture-matching!

It's the classic game of picture-matching, now featuring your favorite characters from Frozen! Flip over brightly colored tiles and find beautiful pictures of sisters Anna and Elsa, plus friends Kristoff, Olaf, Sven and more. What familiar faces will you see? Pick up the most matching pairs to win!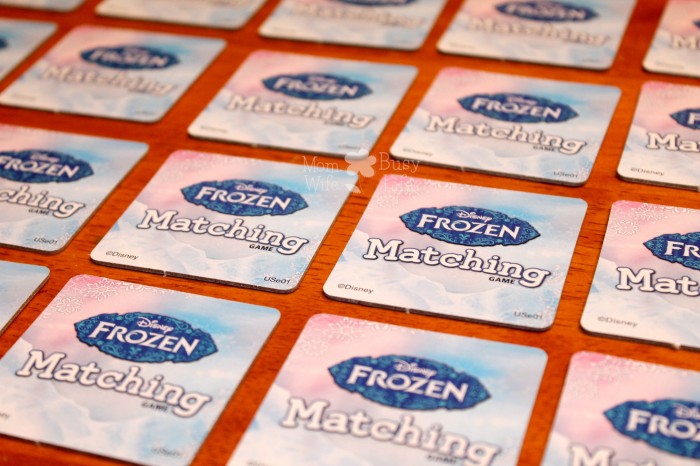 "No match! "
"I found a match!"
My daughter won the game! She found so many more matches than I did! The older I get, the worse my memory becomes! LOL. 😉 She's still pretty sharp in that area!
My daughter and I love this matching game! This game is for ages 3+ and for 1 or more players.
Promotes:
Matching
Memory
Turn taking and playing together
Product Contents:
We love the brightly designed characters on each durable card! There are a lot of cards to match up, so if you have younger children with short attention spans, you can always divide the game up and have your child match up a certain amount of cards vs. all of the cards provided in the game. We had plenty of time to use all of the cards during our game time and it took at least 30 minutes to get through the matching game. My daughter was so happy to have more matches than Mom! We had a great time together! We will definitely play the Disney Frozen Matching Game again!
You can also find the Marvel Matching Game at Amazon:
A fun game of picture-matching!

The classic game of picture-matching now features Marvel Super Heroes! Flip over brightly colored tiles featuring Iron Man, Spider-Man, Captain America and many more Marvel heroic friends and villains. Pick up the most pairs to win!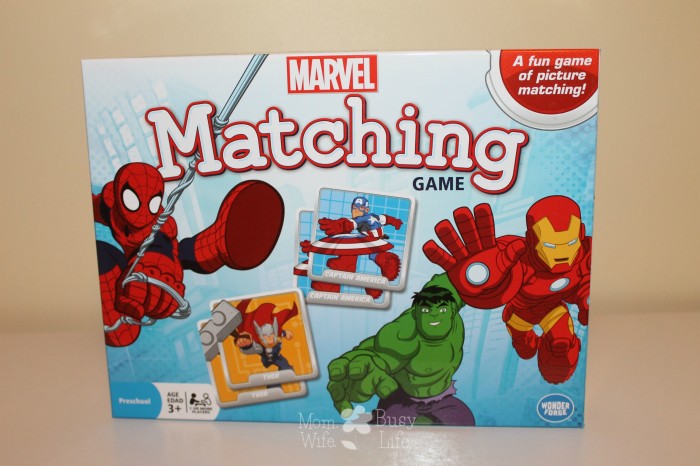 If you have a Disney Planes fan in the family, the Disney Planes Sky Race™ Game would be perfect for adding to your game closet!
High-flying, tricky-tossing fun!

Fly your plane through the Wings Around the Globe Rally to win. But, watch out–flight conditions change and you'll face surprising challenges. Toss with your eyes closed, between your legs, lying down, and more!
Be sure to add these fun games for the family to your game closet! Plan weekly or monthly game nights with your children! You'll have a blast with each other. Family game nights are a great way to bond with each other and giggle, laugh, talk, smile, and make memories to last a lifetime!
Related: How to Plan a Family Game Night
Do you plan family game nights each week or month? What are your favorite games to play as a family?