Gardening for kids can be a great learning experience! Here are my favorite kids gardening supplies to help get your kids started with gardening.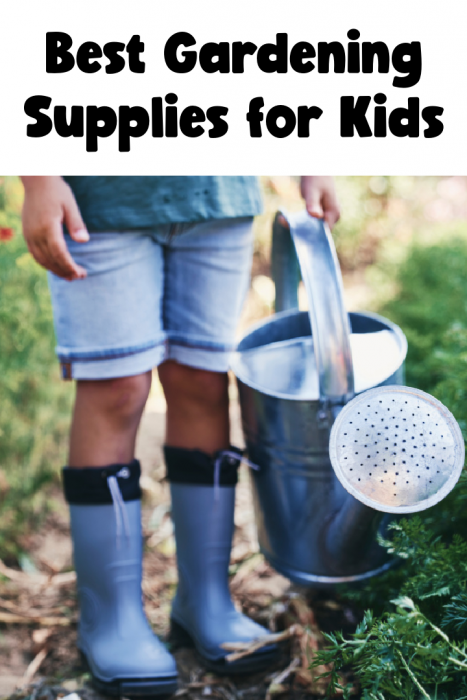 My dad introduced me to gardening at an early age. He could grow just about anything! His specialty? Tomatoes!
I remember going out and picking fresh fruits and vegetables to eat on a regular basis. I'm so glad I have those memories to hold on to. To this day, he still keeps up a pretty amazing garden.
When we visit each spring, my kids and I look forward to seeing what new things "Papa" has growing in his garden. He gives us a tour of his garden. His garden seems to get bigger with every visit as he experiments with new plants!
My dad passed his green thumb on to me and I like to teach and encourage my own children about the benefits of gardening. We try to grow our own little plants every spring season.
My kids really enjoyed watching their sunflowers grow when we lived in South Carolina. We even had a little container garden going on our back porch with herbs and spices!
Gardening for kids can be really fun. To encourage and inspire your own kids to start and take care of their own little garden, I've compiled a list of helpful list of gardening tools at Amazon to get you started.
Kids are sure to enjoy getting out this spring and taking care of something they can call their own! It's fun to take care of plants and tend to them regularly while watching them grow.
Kids Gardening Supplies
Gardening Tool Sets
Little Gardener Tool Set with Garden Tools Bag for Kids Gardening – This kit includes a watering can, set of children gardening gloves, shovel, rake, fork and garden tote bag. Perfect little starter set for toddlers or primary school children.
I like the tote bag that comes with this set. It's perfect for storing gardening supplies and keeping them all together in one place! Easy to store and locate in a safe location in your garage.
Dinosaur Themed Gardening Kit – This kit includes a dinosaur apron with pockets, dinosaur watering can, rake, shovel, spade and gloves. Perfect for the little dinosaur enthusiast!
The apron in this set will help protect your child's clothing when gardening since gardening can be messy! The dinosaur watering can is adorable. This set is great for girls and boys 3-7 years old.
Unicorn Gardening Tools – This unicorn kids gardening tool set includes a canvas bag with pockets, shovel, rake, trowel, children gardening gloves, a unique unicorn watering can, three biodegradable planters and a STEM learning guide.
My girls would have adored this set when they were smaller! I love the unicorn theme and colors on this set. This set is perfect for preschool age, or a kindergarten boy or girl.
Born Toys Kids Gardening Set – This set includes gardening tools, apron with pockets, hat, water bottle, shovel, gardening gloves, and garden bag!
I love the earthy colors to this set. You can blend right into the garden with these accessories! Your kid will love having their own set of garden tools. The pockets in the apron are pretty cool for keeping the tools from getting lost!
Pink Kids Gardening Set – This set includes a "how to" book, sturdy bag with pockets; shovel, rake, trowel, small child's size gloves, 4 non sharp/splinter free garden stakes, and cute watering can bucket.
This set includes a book to read and discuss with your little one before heading outdoors to garden! This set is perfect for your preschool age, or kindergarten, boy or girl.
All in One Kids Gardening Tool Set – This 18 piece set includes a canvas tote, shovel, rake, fork, kids smock, watering can, kid-sized gloves, gardening guide, 4 plant pots, 4 plant tags, and 2 packs of stickers.
If you are looking for a set that includes a variety of items for kids to get started for gardening, this is a great pick for you! I love that this set includes stickers and a guide with the tools for added fun.
Gardening Supplies and Accessories
Vgo 3-Pairs Kids Latex Gardening Gloves – Available in different sizes from ages 3-9.
These gloves have an anti-slip grip and a cuff that helps keep dust and dirt from getting onto hands. Gardening gloves are great for protecting little hands when gardening and helps prevent dirt from getting under fingernails!
G&F Products Kids Garden Tool Set – This set includes a rake, spade, hoe and leaf rake.
Kids love to help mom and dad in the yard! The handles are made of solid wood and the heads are made of real metal. It's made with a stronger & thicker metal head applicable for older kids to play. Perfect for ages 7 and up. Adult Supervision recommended.
Hey! Play! Kids Mini Wheelbarrow – Equipped with strong steel handles with plastic grips for comfort and ease of use, kids will have no problem hauling toys, sand, water, sticks, grass clippings, flowers, leaves or anything else they wish.
I loved pushing a wheelbarrow around when I was a kid! This would have been perfect to help my dad around the garden as a small child.
The M World Next Milestones Kids Cleaning Set – 24 piece premium cleaning & gardening toys – trolley, leaf rake, hand broom, hand cultivator, water can, bucket, broom, dustpan, hand trowel, pocket pruner, sprayer, 2 potted flowers, and more.
Kids love imitating mom and dad! This set includes a variety of fun items to keep kids 3+ engaged.
Paint & Plant Flower Growing Kit – This kit includes a tin planter, plastic liner, soil, 3 seed packets, 6-color paint strip, 2 paint brushes, paint palette, 3 wooden plant markers, shovel, watering bottle, and instruction booklet.
Kids will enjoy painting and setting up their own planter! Great for ages 4+.
Footwear
Rain Boots – Rain boots are perfect for keeping kids feet dry and clean when working outdoors in tall grass, near watering areas, etc.
Garden clogs are another option for footwear when gardening!
My toddler son prefers rain boots while my tween daughter prefers garden clogs!