Disclosure: This is a sponsored post written by me on behalf of SingleCare. All opinions are my own.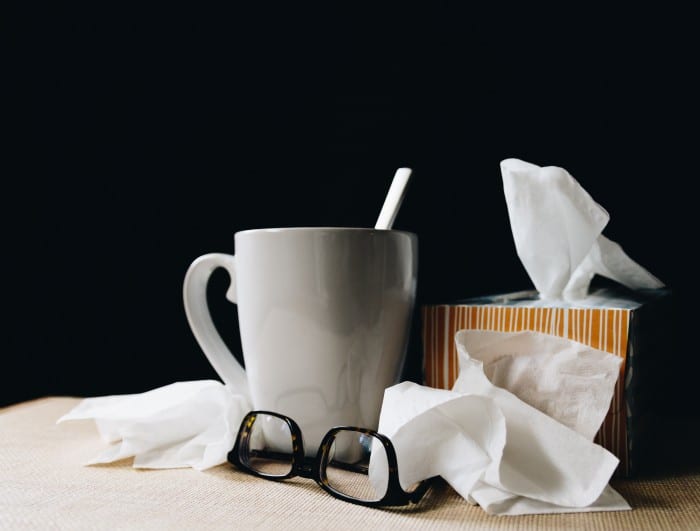 Photo by Kelly Sikkema on Unsplash
As a mom of three kids, I can't afford to be sick. I have to be well so that I can take care of the day to day demands of being a mom. I need energy to wake my girls up everyday and get them ready for school. Once my girls are fed and off to school, I need energy to keep up with my 18 month old at home during the day. After school, I want to communicate with my girls about how their school day went. I also fix dinner for all three kids and a hungry husband!
Over the last year, I've done a great job at keeping myself healthy. I was fine with staying healthy until this weekend. On Friday evening, I developed a minor sore throat, fever, and cough. On Saturday and Sunday my symptoms were worse. I was thankful that I had my husband available on the weekend to help me take care of the kids during my weakest of moments. I was able to go to the urgent care on a Sunday and get treatment of my symptoms. If these symptoms were present during the week when I had no help, I know it would have been difficult to keep up.
If you are a mom and taking care of little ones during the day, here are a few tips I have to share with you if you get sick!
1. Eat well and stay hydrated.
Our bodies function best when we feed them with proper nutrition and hydration. Try to eat what you can for energy, even if that means you'll be eating soup and crackers for a few days. Drink plenty of fluids for hydration. I increase my water intake big time when I start to feel ill. I do think it speeds up the healing process for me!
2. Get plenty of rest.
If your child is a fan of Daniel Tiger, then you might be familiar with the song, "Rest is best, rest is best!" Rest really is the best when you aren't feeling well. If I find that I'm not feeling well during the day, I force myself to take a nap when I put my toddler down for his nap. If I don't take a nap when he does and push myself through more work and household chores, I end up regretting my decision once he wakes up.
3. Listen to Your Doctor.
If you can't find relief from the symptoms you are experiencing, considering seeing a doctor or healthcare professional for a treatment plan. Listen to your doctor. If your doctor tells you to take a prescription, make sure you comply for your health! Your doctor will also be able to give you tips on getting well and may prescribe medications to help. I highly recommend establishing a great relationship with your family doctor by scheduling regular wellness checks before you get sick! Don't wait until you get sick to see the doctor. Instead, stay proactive and visit your doctor regularly for check ups. This is one area I'm working to improve on this year. We spend a lot of time taking care of the kids and often time forget about our own self care. Preventative care is key!
We as moms may also put off doctors' visits due to costs of healthcare, treatments, and/or medications. If you want to save on your prescriptions, I recommend looking into SingleCare. This is a pharmacy discount service that is FREE to join! You can also sign up if you already have insurance, which lets you compare SingleCare pricing at different pharmacies they partner with. They also offer discounts on dental, vision, and on-demand virtual doctor visits. I'm happy to know that SingleCare offers affordable healthcare to moms like me. It's encouraging and gives me more motivation to see a doctor regularly when I know that I'm going to be saving a lot of money versus paying high prices for my appointments or prescription medication. The SingleCare pharmacy savings card can be used at my local Walmart, CVS, Walgreens, and other participating pharmacies which is really convenient for me since I shop at these stores regularly!
Head over to the SingleCare and look around. You can search your prescriptions and compare prices at pharmacies located near you. The website is very easy and simple to navigate through. I was able to search for my dental and vision needs as well! I need a contact lens fitting soon and saw that I can book an appointment through the SingleCare website. It gave me information on the the optometrist I would see, the location of the office, and the total cost! Super convenient for this busy mom.
4. Ask for help.
 Ask if your husband if he can help out. If he's unavailable due to work or other circumstances, call and ask for help from family and friends. As a military spouse living hundreds of miles away from immediate family members, we must rely on friends and neighbors to help in times of need. This can include asking them to run to the grocery store for you, picking up medicine or soup, helping with housework or cooking, or even taking the kids for a few hours while you catch up on rest.
Photo by Silvia Agrasar on Unsplash
5. Be kind to yourself. When we aren't feeling well as moms, this means that everything else seems to be a bit more chaotic. The laundry piles up, the house gets messy, we run out of food, the kids get irritable, etc. (At least I know this happens at my house!) Allow these things to happen and know that when you are well rested and well enough to start tackling these tasks that it will all get done eventually.
 If you are a mom and you start to get sick or are currently sick, these tips above may help. Trying to take care of little ones when you aren't at your best is difficult! However, you may be able to get quick relief by eating well, staying hydrated, getting plenty of rest, going to the doctor, asking for help, and being kind to yourself during this time.
How do you get by when you get sick as a mom? Leave a comment and share your tips below!