Father's Day is June 18, 2023!
Do you already have an idea of what you will get the special father figure in your life?
Make a gift basket! Here's how to make a father's day gift basket to give someone you love this year!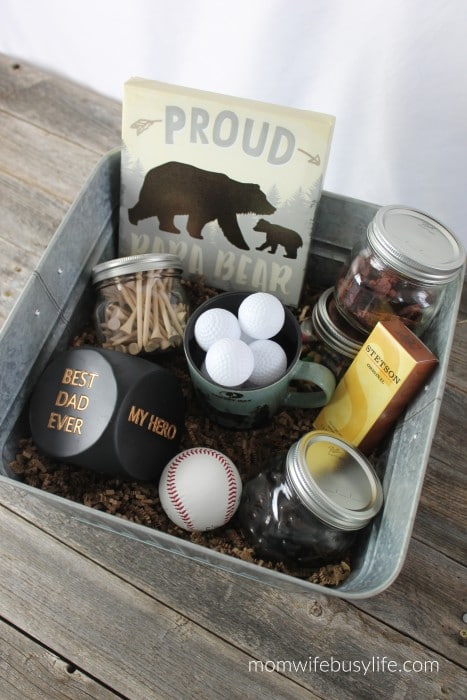 Maybe you need to shop for your dad, grandfather, husband, father-in-law, brother, uncle, or any other special man in your life that you feel deserves to be celebrated.
Today I'm sharing a few items that you can include in a Father's Day Gift Basket to give to that someone special.
A father's day gift basket is a great way to show your father how much you appreciate him.
Whether it's homemade or store-bought, the items included in the basket should be thoughtful and meaningful.
Your father is sure to appreciate any thoughtful gifts you choose for his father's day gift basket!
Make it special and memorable by adding items that will show him how much he means to you.
What are the most popular gift ideas on Father's Day?
Here are a few gift ideas that are often well-received on Father's Day:
Personalized Gifts
Customized items like engraved watches, photo frames, or monogrammed accessories that showcase a personal touch are always cherished.
Gadgets and Electronics
Many dads enjoy the latest tech gadgets, such as smartphones, tablets, smartwatches, headphones, or portable speakers.
Outdoor and Sports Gear
If your dad enjoys outdoor activities or sports, consider gifts like camping equipment, fishing gear, golf accessories, or sports memorabilia.
DIY or Handmade Gifts
Handmade gifts from children, such as homemade cards, paintings, or crafts, hold sentimental value and are treasured by fathers.
Books
If your dad is an avid reader, consider gifting him a book or a subscription to a magazine or audiobook service based on his interests.
Grooming and Self-Care Products
Quality grooming products, cologne, skincare sets, or grooming kits can make thoughtful gifts for dads who appreciate self-care.
Experiences
Treat your dad to a memorable experience like tickets to a sports event, a concert, a cooking class, a spa day, or a weekend getaway.
Personal Interests
Consider gifts aligned with your dad's hobbies or passions, whether it's grilling accessories, homebrewing kits, photography equipment, or tools for DIY projects.
Remember, the best Father's Day gift is one that reflects your dad's interests and shows appreciation for his role in your life.
Understanding his preferences and considering his personality will help you select the perfect gift that will make him feel loved and appreciated on his special day.
How much should I spend on Father's Day gift?
The amount you should spend on a Father's Day gift ultimately depends on your personal budget, your relationship with your father, and what you believe would be meaningful to him.
The value of a gift lies not in its price tag, but in the thought and sentiment behind it. Consider your father's interests, preferences, and needs when selecting a gift, and focus on finding something that will bring him joy and show your appreciation.
It's the gesture and effort that counts, whether it's a simple heartfelt card, a handmade gift, or a carefully chosen item within your budget.
Remember, the most important thing is expressing your love and gratitude to your father on this special day.
Choosing a theme for a Father's Day Gift Basket
When it comes to Father's Day gift-giving, choosing a themed gift basket adds a delightful touch of personalization and thoughtfulness.
Themes allow you to tailor the gift to your dad's interests, hobbies, or passions, making it a truly meaningful and memorable gesture.
By selecting a theme, you can curate a collection of items that align with his preferences, creating a gift basket that showcases your understanding and appreciation for who he is as a person and as a dad.
BBQ Lover's Basket
For the dad who loves to grill, a BBQ Lover's Basket is perfect.
Fill it with gourmet BBQ sauces, marinades, spice rubs, grilling utensils, aprons, and even a grilling cookbook.
It's a great way to support his passion for outdoor cooking and make his grilling sessions even more enjoyable.
Sports Fanatic Basket
If your dad is a sports enthusiast, create a Sports Fanatic Basket tailored to his favorite team or sport.
Include team merchandise, game tickets, a sports-themed mug, snacks, and a personalized jersey.
It's a gift that combines his love for sports with practical and fun items that he can use while cheering for his team.
Coffee Connoisseur Basket
For the dad who can't start his day without a cup of joe, a Coffee Connoisseur Basket is ideal.
Curate a selection of high-quality coffee beans, gourmet syrups, a French press or coffee maker, a travel mug, and some indulgent treats like chocolate-covered espresso beans.
This basket will satisfy his love for coffee and elevate his morning routine.
Adventure Seeker Basket
If your dad is always up for an adventure, an Adventure Seeker Basket is a fantastic choice.
Fill it with hiking essentials such as a durable water bottle, a portable first-aid kit, a compass, a multitool, trail mix, a sturdy backpack, and a guidebook for local trails.
This basket will encourage him to explore the great outdoors and provide him with the necessary tools.
DIY Craftsman Basket
For the handy dad who loves DIY projects, create a DIY Craftsman Basket.
Include essential tools, such as a versatile screwdriver set, a measuring tape, a utility knife, a tool belt, safety goggles, and a book or magazine on DIY projects.
This basket will inspire his creativity and equip him with the tools he needs for his next project.
Movie Night Basket
If your dad enjoys relaxing in front of the screen, a Movie Night Basket is a fantastic choice.
Fill it with his favorite DVDs or Blu-rays, a cozy blanket, microwave popcorn, movie theater-style candies, and a voucher for a streaming service subscription.
This basket is all about creating a cozy and enjoyable movie-watching experience at home.
Golf Enthusiast Basket
For the golf-loving dad, a Golf Enthusiast Basket is a hole-in-one gift. Include golf balls, tees, a golf towel, a divot repair tool, a scorecard holder, and a gift certificate for a round of golf at his favorite course.
This basket will tee up his love for the game and provide him with some golfing essentials.
Spa Retreat Basket
For the dad in need of relaxation, create a Spa Retreat Basket.
Include scented candles, bath oils, luxurious bathrobes, grooming products, a massage gift certificate, and a soothing playlist.
This basket will allow him to unwind and indulge in some well-deserved self-care.
Remember, personalizing the gift basket to your dad's specific interests and preferences will make it even more meaningful and appreciated.
Use these ideas as a starting point and feel free to mix and match items to create a unique gift basket that reflects your dad's personality and passions.
Here's how you can take some of what you may purchase above to fill a gift basket for Father's Day!
This is an example of a Father's Day gift basket idea that we created a few years ago!
Father's Day Gift Basket
Choose a basket to fill.
Find an empty basket you'd like to fill with gifts.
For our Father's Day Gift Basket, we found a tin container with bronze handles that my husband can re-use when grilling out with family and friends.
He can fill the container with ice and drinks this summer!
We also found some brown paper shred filler to place at the bottom of the basket to place the gifts on.
Include a gift that he can use at work.
We are including a coffee cup that he can use at work every day.
He can take this coffee cup to work and leave it in near the coffee bar for daily use.
The coffee cup has a masculine design using brown/blue/green colors with an outdoor theme on it.
If you are looking for more of a travel mug that he can use in his vehicle, consider a YETI Rambler Travel Mug!
>>> Shop Coffee Gift Basket Ideas <<<
Include a gift he can use with the kids.
We are including items in the gift basket that he can use on an outing with the kids.
My kids love that their dad takes them to baseball games and to play baseball at the practice fields.
We are including a baseball that he can use to throw to the kids while playing catch.
We are also including some golf tees and practice golf balls for practicing golf. Golf is another activity he loves to teach the kids.
Include a few of his favorite snacks.
We found a few empty jars for this Father's Day Gift Basket that will include a few of his favorite snacks.
For this basket we are including trail mix, beef jerky, and chocolate covered almonds.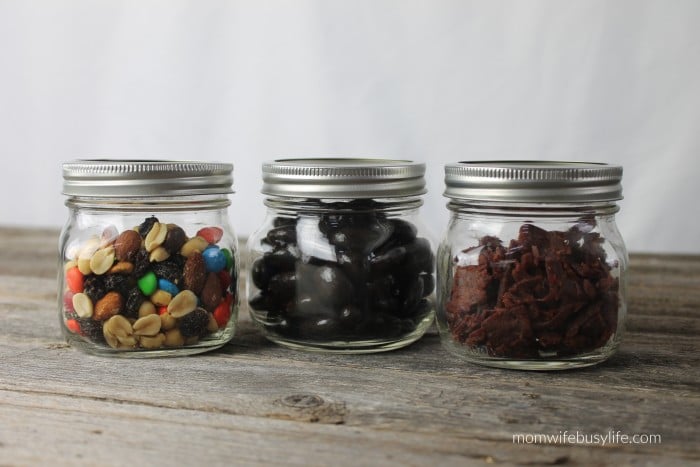 Include a nice fragrance.
Does he have a favorite scent or favorite brand of cologne?
Consider adding a bottle of men's cologne to the gift basket.
Include a book related to his hobby or passions.
Does he like to read?
If your father has a favorite sport, hobby, or passion, consider getting him a book related to it so he can learn more about it.
Or, consider a book from a genre that he loves most.
Add a gift card to his favorite restaurant or store.
Let your father pick out something he really wants with a gift card.
Add a meaningful memento.
Give him something that reminds him of all the great memories you've shared together – such as a keychain, wallet, or even a framed photograph.
Add special items for an extra special touch.
To complete the gift basket and go with the Father's Day theme, we added a "Proud Papa Bear" canvas print as well as a fun dice with special sayings on it.
These are items he can place in his office at work, in our camper, or his special area at home where he has his special keepsakes.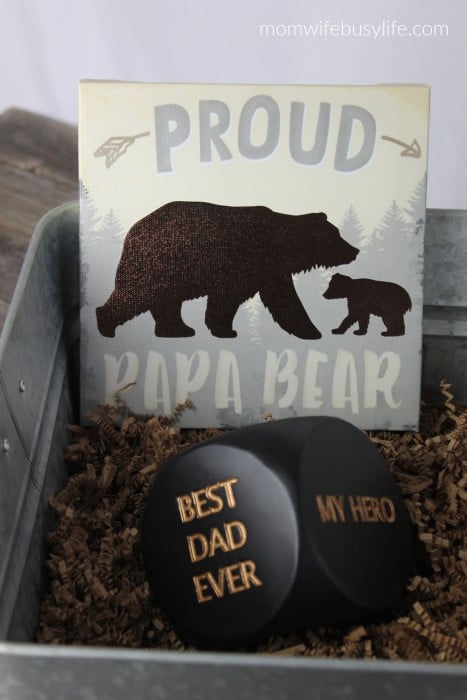 That's it for this gift basket!
You can get as creative as you'd like with your gift basket.
Other items may include items like grilling tools, car accessories, fishing supplies, camping items, etc.
Either way, I'm sure the special recipient will love the gift basket you create!