This shop has been compensated by Collective Bias, Inc. and its advertiser. All opinions are mine alone. #ClassicStetsonDad #CollectiveBias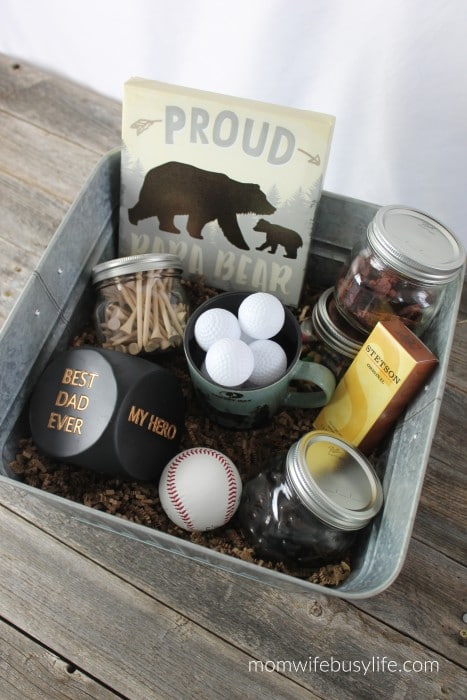 Father's Day is June 16, 2019! Do you already have an idea of what you will get the special father figure in your life? Maybe you need to shop for your dad, grandfather, husband, father-in-law, brother, uncle, or any other special man in your life that you feel deserves to be celebrated. Whatever the case, I have some great Father's Day gift ideas below. In this post I'll share a few items that you can include in a Father's Day Gift Basket to give to that someone special.
My husband is the special man in my life that we will be giving a Father's Day Gift Basket to. He is an amazing father to our three children. He spends a lot of quality time with the kids and makes sure they are always well taken care of. He gets up with the kids often, makes breakfast for them, helps take them to and from school when needed, takes them on special outings, and attends important school and church functions. He even changes dirty diapers! He does all of this without ever complaining about it. My husband is such a great role model for our family and my kids adore him. He works hard for our family by serving our country in the USAF and maintains a healthy family relationship at home. We will be expressing our gratitude for all that he does with a few gifts that he will enjoy in this gift basket.
How to Make a Father's Day Gift Basket
1. Choose a basket to fill.
Find the basket you'd like to fill with gifts. For our Father's Day Gift Basket, we found a tin container with bronze handles that my husband can re-use when grilling out with family and friends. He can fill the container with ice and drinks this summer! We also found some brown paper shred filler to place at the bottom of the basket to place the gifts on.
2. Include a special men's fragrance.
We are including Stetson Original Cologne Spray in this gift basket for their "Stetson" dad.
Hover over the photo below to shop!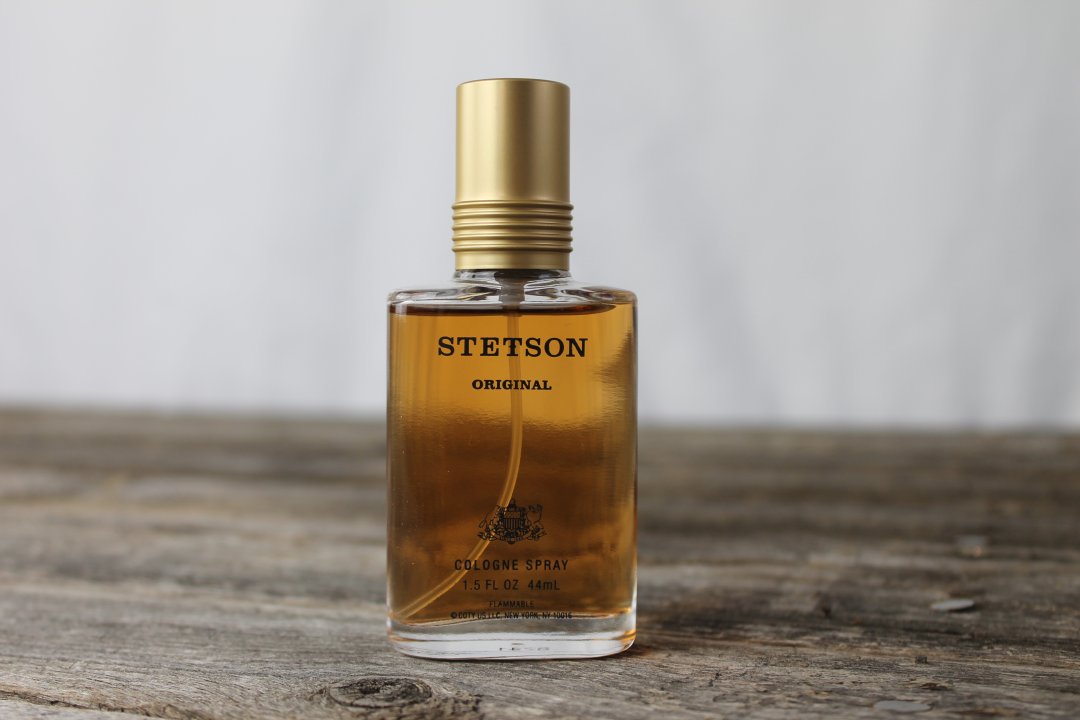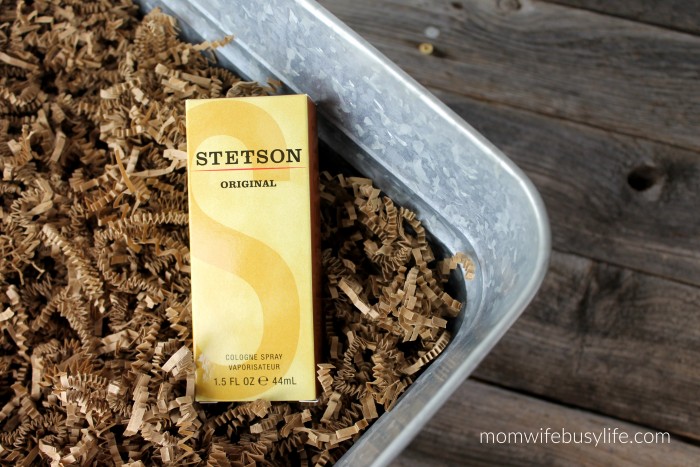 He can use the cologne every morning before work and church to smell nice. He's been a fan of Stetson for several years now for it's a classic and masculine scent – sharp citrus mellowed with lavender and blended with rich, rugged woods and spices.
Did you know? John B. Stetson fashioned the iconic cowboy hat that became the symbol of American independence, individuality, integrity and strength!
If you knew my husband, you'd know that he loves to wear his cowboy hat and boots when going out to special functions. As a Texan living on the West Coast in Washington State, he definitely stands out in a crowd with his cowboy accessories on! It's cute seeing him wear his southern attire and the Stetson fragrance always goes well with his cowboy look. He dresses up as a cowboy for Halloween as an excuse to wear his hat and boots.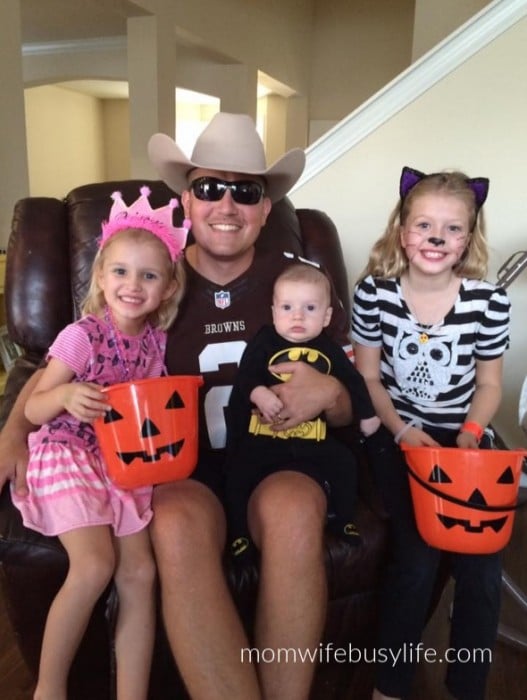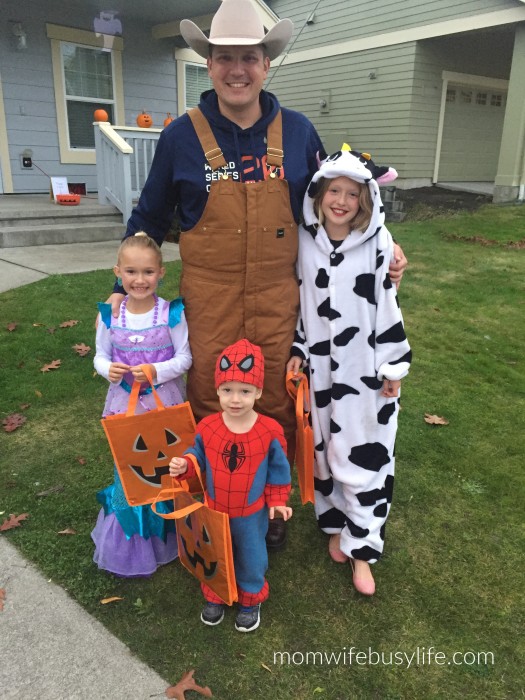 Here's another photo of us at a Christmas party when my husband wanted to sport his cowboy hat. One of the reasons we are giving cologne is so that he can smell great for dates nights, too!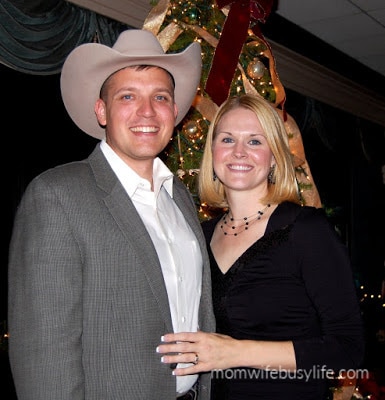 Enjoy a $5 offer from Stetson this Father's Day by texting "STETSON" to 79495!
3. Include a gift that he can use at work.
We are including a coffee cup that he can use at work every day. He can take this coffee cup to work and leave it in near the coffee bar for daily use. The coffee cup has a masculine design using brown/blue/green colors with an outdoor theme on it.
4. Include a gift he can use with the kids.
We are including items in the gift basket that he can use on an outing with the kids. My kids love that their dad takes them to baseball games and to play baseball at the practice fields. We are including a baseball that he can use to throw to the kids while playing catch. We are also including some golf tees and practice golf balls for practicing golf. Golf is another activity he loves to teach the kids.
5. Include a few of his favorite snacks.
We found a few jars for this Father's Day Gift Basket that will include a few of his favorite snacks. For this basket we are including trail mix, beef jerky, and chocolate covered almonds.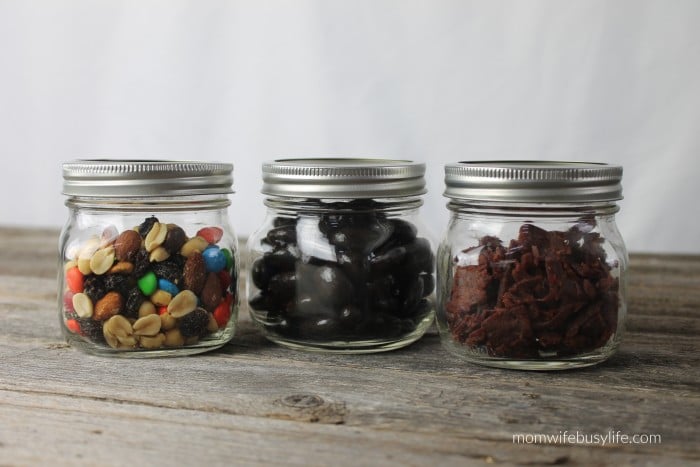 6. Add special items for an extra special touch.
To complete the gift basket and go with the Father's Day theme, we added a "Proud Papa Bear" canvas print as well as a fun dice with special sayings on it. These are items he can place in his office at work, in our camper, or his special area at home where he has his special keepsakes.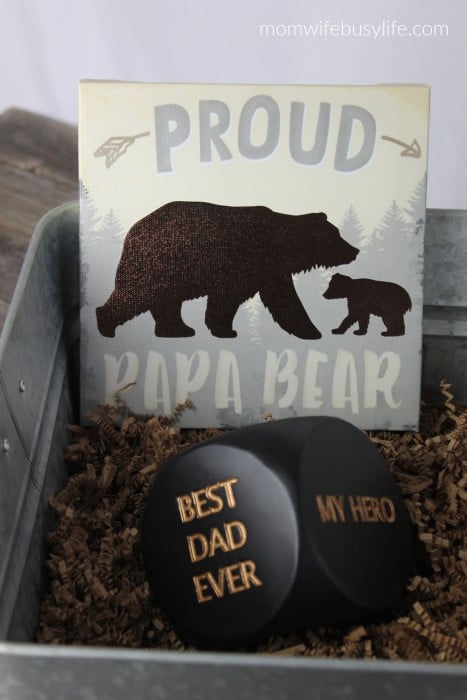 That's it for this gift basket! You can get as creative as you'd like with your gift basket. Other items may include items like grilling tools, car accessories, fishing supplies, camping items, etc. Either way, I'm sure the special recipient will love the gift basket you create!
What items would you add to a Father's Day Gift Basket?