Disclosure: I received a variety of k-cups in exchange for a post. All opinions are mine.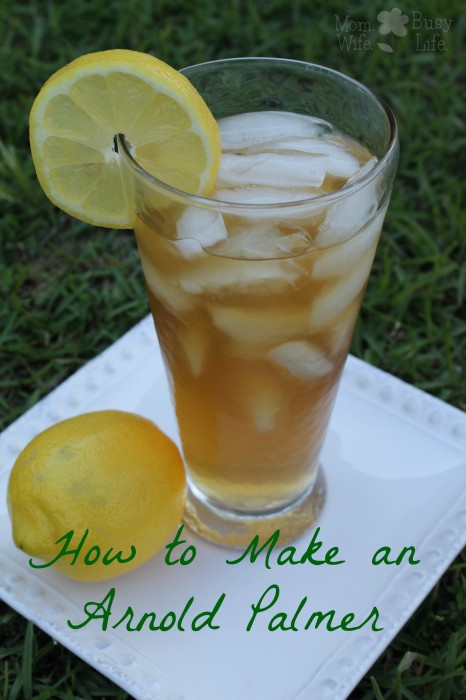 Want to learn how to make an Arnold Palmer? You're in the right place!
I'm a huge fan of iced tea. I can drink iced tea almost any time of day, any time of year. I especially enjoy drinking iced tea on hot summer days on my front porch while watching my girls play outside. There's just something to be said about sipping on a glass of cold iced tea while making memories in the hot summer sun.
This summer I'll be out enjoying this great summertime classic — the Arnold Palmer.
According to Wikipedia, an Arnold Palmer is a beverage consisting of iced tea and lemonade, named after American golfer Arnold Palmer.
Arnold Palmer drinks are so easy to make and perfect for enjoying during the upcoming summer months. I like the Arnold Palmer because I love a bit of sweetness and lemon flavor in my tea! The Arnold Palmer has a touch of sweet flavor and lemon, so that's why it's quickly becoming a favorite of mine!
How to Make an Arnold Palmer 
Ingredients:
2 Family Size Tea Bags
6 cups of cold water
2 lemonade K-Cups
1 Lemon Slice
Directions: 
Boil 4 cups of cold water in a medium saucepan. Turn off heat.
Place two family size tea bags in the water and steep 3-5 minutes. Remove tea bags.
Add 2 cups of cold water to a pitcher and pour the brewed tea into the pitcher. Set aside.
Make two large glasses of Green Mountain Naturals Lemonade K-cups using your Keurig Brewer.
Pour the lemonade into the pitcher and stir well.
Serve in a large glass with ice and a slice of lemon on the side! Refrigerate the remaining tea.
Get creative this summer! Try making your own ice cold tasty beverages or cocktails using K-cups!
What beverage or cocktail would you make using the K-cups above? 
>> Click here to sign up for my email list and get access to my FREE printable library!