Are you considering purchasing an iPad pillow? Check out my Tablet Pillows Review.
Disclosure: I received an Ipevo PadPillow in exchange for a review. All opinions are my own.

We love our tablets over here! I have a Kindle Fire tablet that I use on a regular basis. I read Kindle books on my Kindle Fire often as well as watch movies. My daughter also loves to watch movies on it! You may have an iPad, and if so, these pillows are perfect for you, too!
We take our tablets everywhere with us. However, sometimes it's not always easy to use our tablets because we get tired of holding them for long periods of time, especially when watching movies or T.V. shows. T
here are times when I wish I had something to hold it for me that was easy to use and comfortable at the same time!
Tablet Pillows Review
I found the PadPillow that helps this problem of ours! It's very comfortable! In fact, when we started using it, we all fell in love with it and now we beg each other to use it, often times taking turns! I can already see that I will need to purchase additional PadPillows just to keep everyone happy!
My daughter likes to lay on the living room floor with the PadPillow while she watches her movies on the Kindle Fire! She doesn't like to hold the Kindle Fire while she's watching her movies or even playing the apps on the Kindle Fire so the PadPillow allows her to prop the Kindle Fire up for easy use.
My husband loves to use the PadPillow when he's lounging on the recliner. He finds the PadPillow to be very useful and loves that he doesn't have to hold his tablet while browsing the internet or catching up on his favorite college sports website.
I use the PadPillow for several different uses, especially while working on my frugal blog during the day! I am able to set the PadPillow next to me on my desk while scrolling through deals on my Kindle Fire and using my laptop, too. I also love to watch movies at night and read my free Kindle books before bed!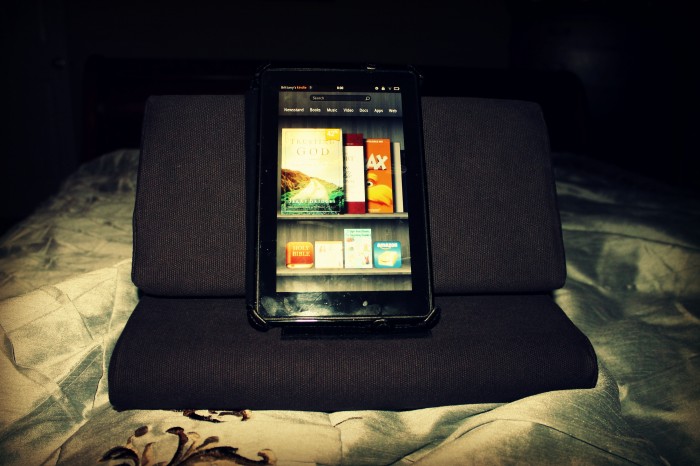 My mother-in-law was here and she also loved using thisPadPillow
for her iPad! She said it was "comfortable, lightweight, doesn't sweat on your lap, and has the perfect tilt!"
IPEVO PadPillow Pillow Stand for iPad
Soft body pillow offers comfortable extended use of your iPad, ebook reader, and tablet computer
Comfy like a pillow, but sturdy enough to place iPad on your lap or stomach at the perfect angle
From couch to bed and from chair to floor, PadPillow's ready to go wherever you do
Folds out to provide space for a wireless keyboard, complete with ample wrist support
100% cotton denim cover is ultra-soft; cover is removable and machine-washable, Compatible with all generations of Apple's iPad
I highly recommend adding the PadPillow to your gift list this holiday season! Right now, you can find it at Amazon!