Try this Lollipop Chicken recipe with Cilantro Lime Guacamole! This is a family favorite and easy meal time solution.
The fall season has arrived here in the Pacific Northwest! The leaves are changing colors and the air is cool and crisp. I've been lighting my pumpkin spice scented candles daily in my home. I love to get cozy in the evenings on the couch with a hot cup of decaf coffee and my favorite television shows.
During the fall season, my husband and I stream our favorite football games. We also love to eat delicious food during game time. We prepare yummy foods like brisket, pork, ribs, hamburgers, hot dogs, and chicken to enjoy! My husband loves to do a combination of grilling and smoking meats during the fall season. While my husband takes care of most of the cooking, I like to do most of the eating. 😉
Last weekend, we experimented with smoking chicken drumsticks. Our goal was to create a delicious tasting lollipop chicken recipe. Watch your kids reaction when you tell them you are eating "lollipop chicken." They may get a little excited but confused at the idea. We chose this recipe because we can still smoke smaller cuts of meat in 2 hours or less, instead of cooking large cuts of meat like brisket. We also wanted to try something bold for this new recipe.
My husband came up with the idea for our lollipop chicken and chose to marinate chicken drumsticks in El Yucateco® Green Chile Habanero Sauce from Walmart. El Yucateco®'s ingredients come from Field to Bottle. It includes no artificial colors, but the same great taste that makes it the King of Flavor since 1968.
Once our goodies were ready to eat, we discussed how amazing the lollipop chicken recipe was and how we'd definitely use this recipe again.
Lollipop Chicken Recipe
Ingredients:
8-10 Chicken Drumsticks
1/4 bottle of El Yucateco® Green Chile Habanero Sauce
Marinade Directions:
Pour the El Yucateco® Green Chile Habanero Sauce into a gallon freezer bag.
Place chicken legs in the bag.
Massage the meats on the outside of the bag to ensure the hot sauce completely covers the protein.
Remove all excess air from the bag.
Place in the refrigerator for 2 hours to marinate.
Set smoker up to 250F degrees.
Slow smoke chicken legs for 1 hour and 30 minutes.
When we removed the meat from the smoker, we waited a few minutes to allow the meat to cool. When the chicken was ready to eat, we thought the meat came out just right, with a great smoky, spicy flavor thanks green habanero sauce.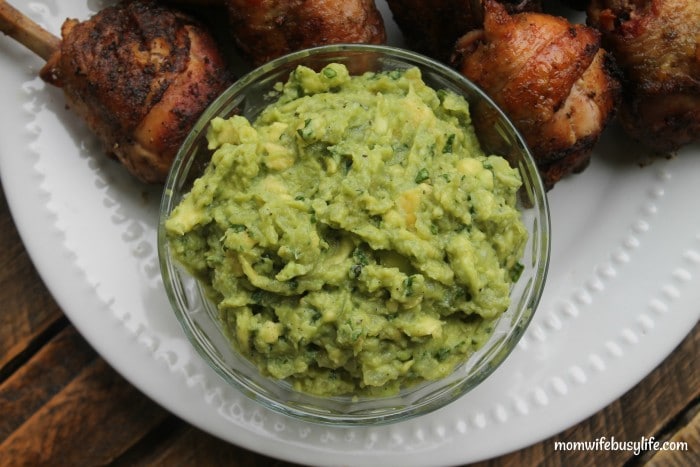 My husband and I wanted to pair the chicken with a tasty side. We eat guacamole on a regular basis and thought the guacamole would pair very well with the lollipop chicken. We did change up our current guacamole recipe and added a few flavors, including the El Yucateco® Green Habanero Sauce. We had sauce left over from our chicken and wanted to try it in the guacamole. Our new guacamole recipe quickly turned into a favorite here and we've made this new guacamole recipe a few times already.
Cilantro Lime Guacamole Recipe
6 large ripe avocados
cilantro
1 onion
1 lime
2 tablespoons El Yucateco® Green Habanero Sauce
1 tsp. salt
1 tsp. pepper
1 tsp. garlic powder
Directions:
Cut up the avocados and mash until smooth.
Add salt, pepper, and garlic powder for taste.
Finely chop the onion.
Saute the onion in a tablespoon of butter.
Once the onion is translucent and brown on the edges, add to the mashed avocados.
Add finely chopped fresh cilantro and the juice of one lime.
Add El Yucateco® Green Habanero sauce and mix together well.
The guacamole was still flavorful as always, but now it had just a hint of bold, spicy flavor from the green chile habenero sauce. Next up, we will be creating beef tri-tips with the El Yucateco® Black Label Reserve sauce!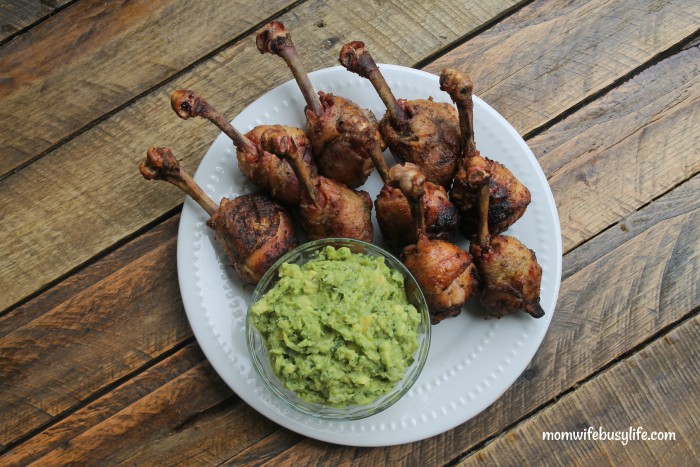 Head to your local Walmart to find El Yucateco® Green Chile Habanero Sauce to try in your next recipe. And moms, these bottles of sauce are perfect for taking along with you to your favorite local restaurants! Just place them in your purse or diaper bags to have on hand when you feel like spicing up your food!