Disclosure: I received a set of Mia Mariu products in exchange for a product review. All opinions are my own.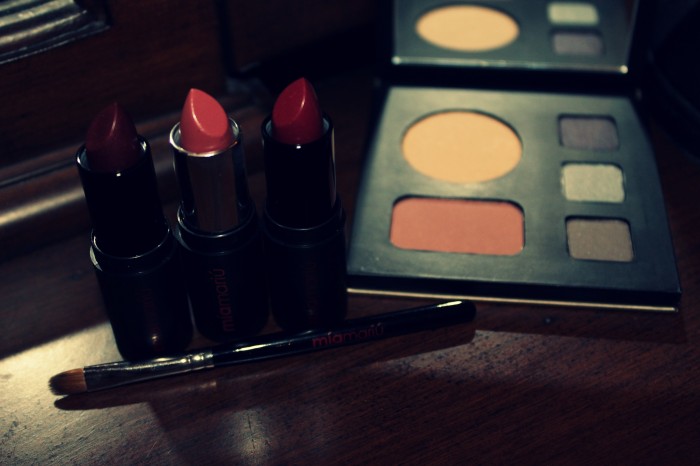 I may be a busy mom, but I do try my best to make sure I look decent when heading out for the day! It only takes me about 5 minutes each morning to put on a little bit of makeup before I leave the house each day. My beauty routine is pretty simple! It always has been, ever since I was allowed to wear makeup!
If you were to dump the contents of my makeup bag onto a table, you wouldn't find too much! You would find my moisturizer, foundation, a tube of mascara, eyeliner, blush, and lip moisturizer. I love the natural look and try to keep it light. I've had people ask me why I don't wear makeup only to respond with, "I do have makeup on!"
I do look for quality beauty products so that's why I'm happy to have found Mia Mariu health and beauty products! I was given the opportunity to try a few products from Mia Mariu! I am adding these products to my daily beauty routine!
First of all, I love the Uniquely You Touch Up Kit. It's lightweight, compact, and includes a mirror, too!  The kit includes Magic Satin Powder, Eyeshadows (Sexy, Flirty, Savvy) and Blushing Blush.You can slip this in your purse or gym bag and have it on hand wherever you go for those moments when you need a quick touch up! It's also a great idea to keep this in your desk at your office for those extra minutes before an important meeting!
The colors are perfect! I love the neutral colors. I tend to pick colors that aren't too bold or bright and that are perfect for daytime wear, so these colors are perfect for me! I also like that they are light and shimmery!
I keep the Petite Detail Eye Color Brush near this kit at all times. I use it to apply the eyeshadows that are included in the Uniquely You Touch Up Kit! While using the brush, I use small strokes to help give control during application! I do like how the shimmery eyeshadows bring out my eyes!
For everyone that knows me, you know I'm addicted to lip moisturizer. I keep several tubes of it around my house, in my purse, car, pockets, you name it. I do like my lip moisturizers, but they don't have any color to them. Their sole purpose is to give my lips moisture when I need it, which is often during the day! I panic if I can't find any lip moisturizer around when I feel that my lips are beginning to get dry. Thanks to Mia Mariu, the Hydrating Stick Gloss lip products are perfect for me! I received the Seduccion, Capricho, and Deseo colors.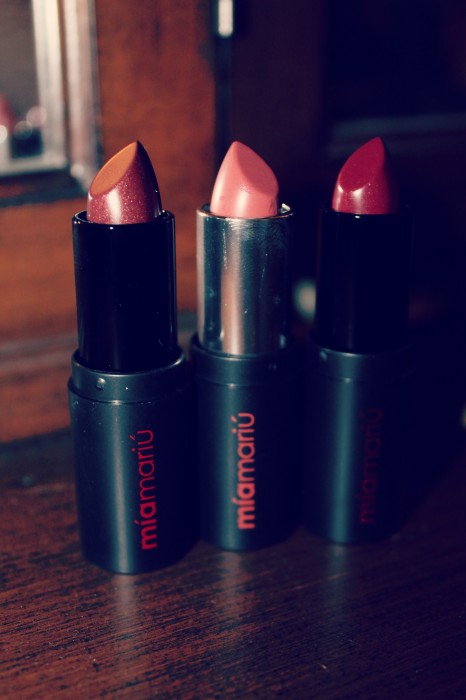 Contains Vitamins A, C and E to nourish your lips as well as minerals and anti-oxidants to protect your lips. Hydrating Stick Gloss has a buttery, creamy feel that provides satin softness and long wear without feathering.
I prefer the Mia Mariu lip products over my traditional lip moisturizers because they do add some color to my lips! I need color on my lips and the color is light and gives a more natural look than regular lipstick. The moisture and color stays on long so that I don't have to reapply too often!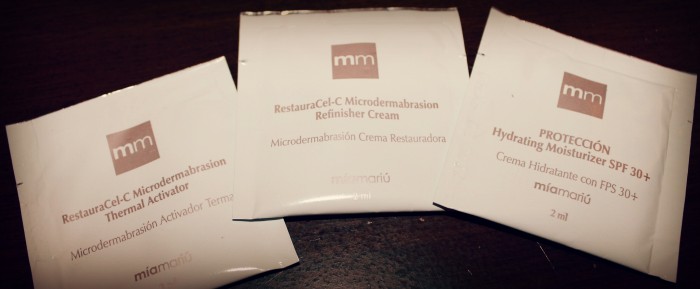 As for the Microdermabrasion samples, I did try those as well! I have a lot of dry skin on my face, especially around my nose, so these little samples were fun to try! Sure enough, the dry skin was gone after using the samples!
I'm happy that I have been able to find new products to add to my daily beauty routine! These products are perfect for all of the ladies out there including the busy moms and wives that are looking for a quick and easy beauty routine each day!