Disclosure: I received a complimentary copy of Noah's Ark in exchange for a post. All opinions are my own.
We love the story of Noah's Ark! It's a favorite of ours and my husband and I try our very best to explain the story of Noah's Ark to our 5 and 2 year old girls! Children love animals, so it's easy to get them excited about Noah's Ark!
Well now, your children can enjoy Noah's Ark on DVD! Noah's Ark was released on March 11 by Shout Factory and is available for your family to enjoy! It's the perfect time to plan a family movie night and enjoy this animated film together. Noah's Ark has received the Dove "Family-Approved" Seal for all ages! If your kids enjoy watching a lot of animals and action, this movie is perfect for them! As we were watching our copy of this DVD, my oldest daughter shouts to me with excitement, "Mom! I know what they're building! An Ark!"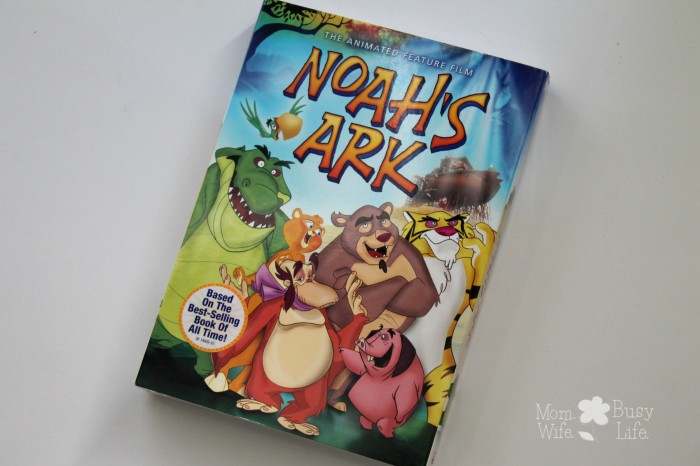 "All hands, paws, and hooves on deck for an adventure on the most famous boat of all time! Award-winning filmmaker Juan Pablo Buscarini's Noah's Ark, a fresh and funny animated adventure that the entire family will love, will be released on DVD in the U.S. and Canada by Shout! Factory on March 11, 2014.

Noah is building a whale of a boat in order to save two of every species from a flood that will cover the entire world! As the rain begins to fall outside and animals line up two by two, it soon becomes clear that living together on a very cramped ship isn't going to be easy!

Trouble begins to brew when the animals begin to get hungry, a pair of stowaways plot to take over the ship, Dagnino the Tiger wants to replace the irresponsible Lion, Xiro, as king of the beasts, and Noah's own family begins to squabble! One thing's for sure – it won't be smooth sailing on this trip. But with a little luck and a little faith, Noah will be able to deliver his floating zoo to safety!"
Click below to download recipes and a maze for your children to enjoy!
Here are a few great clips from the Noah's Ark DVD:
Noah's Ark – A Surprise In The Soup
Noah's Ark – The New Lion King
Noah's Ark – Trailer
Order your very own copy today!
Noah's Ark at Amazon