Disclosure: I received the game Kilter in exchange for a post about the SimplyFun Playologist Program. All opinions are my own.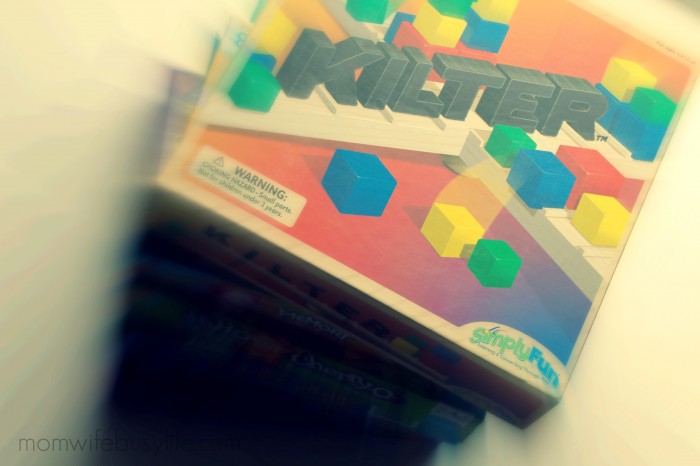 Life over here in N.C. has been very busy. We are currently in the middle of a huge move and it's been taking up a lot of our time and energy these past few months. During this time, I've had to remind myself to slow down and enjoy time with my family as well. My two girls crave our time and attention and I try to make sure to plan fun activities for us to participate in during times like this.
We own a handful of classic games, but we don't take the games out to play as often as we should. I'm not proud of that as a mom. I just don't make it a priority like I should. I know I need to schedule more game nights because when we do sit down to play games, giggling and laughter fills the room. My girls love game time and I know I need to set the example and start a tradition where we schedule a family game night at least once or twice a month. It's not hard to do, I just need to do it and not let the crazy demands of life get in the way!
SimplyFun sent us the game Kilter recently. I had never heard of this game before, but as with any new box that arrives at my house, my girls are ready to dig into it and see what it's all about. Kilter is meant for ages 8+, but my 5 year old and I sat down to play the game first and she did very well. In fact, she beat me in our first game of Kilter! We played the best two out of three, and she ended up winning.
"Teaches about physics of levers and motion- Kilter is not just hilarious family fun, it's also an introduction to levers and predicting outcomes. Each player tries to safely distribute weighted cubes onto the precariously balanced seesaw. If it tilts, your turn is over – and you have to take any pieces that fall! This game also teaches patience – reinforcing when to resist that impulse to press your luck too far!"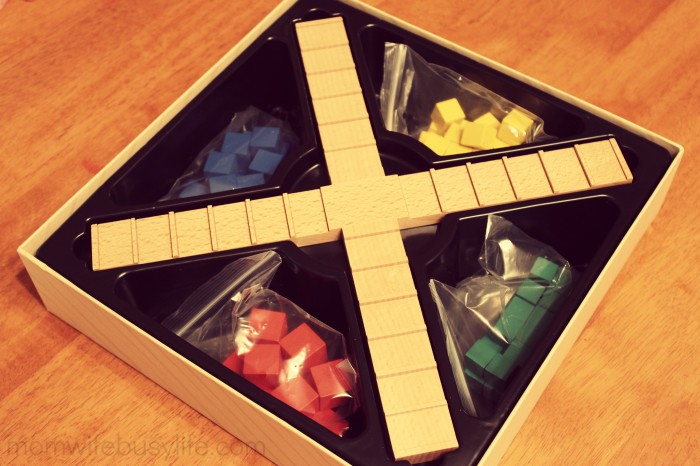 Kilter is a ton of fun. There aren't too many games out there that I want to play again once the game is over, but this game is different. I had so much fun playing this game that I ended up calling my husband into the kitchen for a Kilter challenge! He had fun playing this game, too, and as each game ended, we found ourselves wanting to play Kilter again!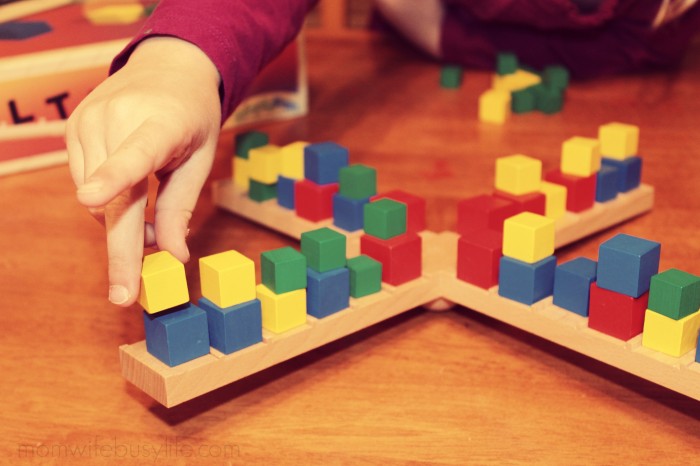 During the holidays, we usually visit family in Texas. We play games during our visits there which can get pretty competitive between the adults! I told my husband that Kilter would be the PERFECT game to take with us to play with other family members!
SimplyFun, based in the Pacific Northwest, offers several more unique award-winning games. These games are engaging and fun and designed to help children with language, science, math, geography, and more.  All of SimplyFun's games can be played in 30 minutes or less, allowing time for even the busiest of families to reconnect through educational play!
Become a SimplyFun Playologist
With the holidays around the corner, games from SimplyFun would make the perfect holiday gifts for a friend or family member! Where can you find all of these amazing games? You can find these games online here or through a friend or family referral. SimplyFun is a direct sales company growing at a rapid pace. SimplyFun's dedicated sales force, Playologists, share and sell the games, generating an income for their own families along with spreading the word about the power of play. If you are looking to generate more income for the holidays, becoming a SimplyFun Playologist may be the right choice for you!
Join the SimplyFun Team…
Be your own boss

Pick your own hours

Spend time with the ones you love

Earn Money & Rewards

All this while having fun!
Sign up to become a SimplyFun Playologist here.
My girls are still young and I want to make sure I give them the childhood they deserve. I believe in the power of play and as a mom, I feel I need to step up and schedule more playtime in the family. I'll be adding more SimplyFun games to my collection this holiday season and I hope you do, too!