Disclosure: I was compensated by GSUSA for my participation in this campaign as a part of the Mom it Forward Blogger Network. All opinions are my own.
Thin Mints and Do-si-doh's and Samoas….oh my!
When someone mentions "Girl Scouts," I almost immediately picture boxes of cookies sold by the Girl Scouts each and every year. Thin mints. Yum! Peanut Butter Patties. Even better. I remember my mom would bring boxes of these delicious cookies home for us each year when I was growing up. She was a P.E. teacher and she was happy to support any Girls Scouts at the school that came by her office asking her if she would buy any Girl Scout cookies.
This year, I've already purchased several boxes of Girl Scout cookies for my family. We have two girls in our neighborhood currently in Girl Scouts and I was more than happy to support the Girl Scouts! I can't WAIT for my Girl Scout cookies to arrive!
My daughter just turned 5 recently and I have a very high interest in having her join Girl Scouts. I've contacted our local Girl Scout Chapter to ask questions and see about getting enrolled this next season. Not only do the Girl Scouts sell the very popular Girl Scout cookies, they also learn life long skills such as goal setting, decision making, money management, business ethics, and people skills. As a parent, I try my best to teach the skills, but feel I could use help at times from other sources!
National Girl Scout Cookie Weekend Begins February 7, 2014!
If you are a fan of Girl Scout cookies, you will be happy to know that the National Girl Scout Cookie Weekend starts on February 7th! Mark your calendars! Visit the GSUSA Cookie Program page for more information!
ATTEND the Girl Scout Cookie Green Carpet Premiere in NYC on February 7 and get your hands on your favorite Girl Scout Cookies.

JOIN the largest virtual Girl Scout cookie party for the opportunity to win a year's supply of your favorite Girl Scout cookie! Party starts February 5.
SHARE videos or pictures from your own Girl Scout cookie festivities on the Girl Scout Cookie Program Facebook Page.
DOWNLOAD the Official Girl Scout Cookie Finder app and find your local #cookieboss.
Stay Connected to Girl Scouts and Get Updates:
GSUSA Website – http://bit.ly/KaPWAM
GSUSA Cookie Program Page –  http://bit.ly/1df3rpx
GSUSA on Facebook – http://on.fb.me/1awb235
GSUSA on Twitter – http://bit.ly/1dYuNRH
GSUSA on Pinterest – http://bit.ly/1awbmyN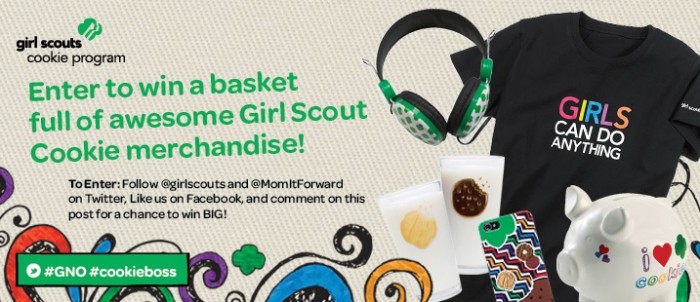 You can also enter to win some Girl Scout cookie merchandise from Mom it Forward!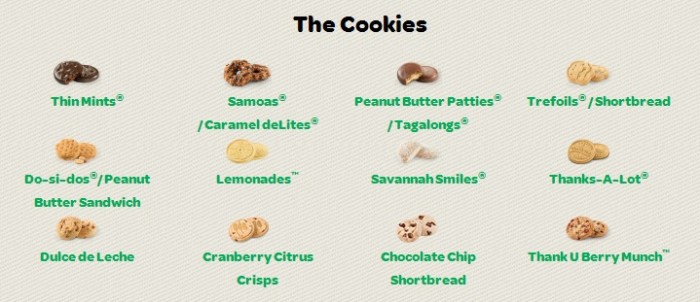 What is your favorite Girl Scout cookie flavor?