Are you new to homeschooling your child? These tips for beginning homeschoolers can help you with this transition.
Now that you've decided to homeschool your children, it's probably time to read a few tips. These tips for beginning homeschoolers will help you establish a solid routine, homeschool curriculum and methods to ensure your children get a solid education. Beginning homeschoolers are often uncertain about where and how to start. I'm here to tell you that it's not as difficult as it seems. Read through my beginning homeschooler tips so that you can rest easier knowing that you've got this under control.
Tips for Beginning Homeschoolers
Determine Measurable Goals
Sit down and think about what you want your children to learn. You'll want to think about how you'll track the progress of each child using a planner or spreadsheet. In addition to determining how you want your child to learn, you should think about short and long term goals that you have for your new homeschoolers.
One great way to get organized is through printable planner sets that you can use to help track your child's progress! Today I'm sharing two free sets that are available to you for FREE to download to help you get organized!
Print our FREE 6 page Homeschool Printable Planner to help you organize your day. This set includes an Assignment Log, Password Tracker, My Book Report, My Week At a Glance, Attendance Log, and a Daily Schedule.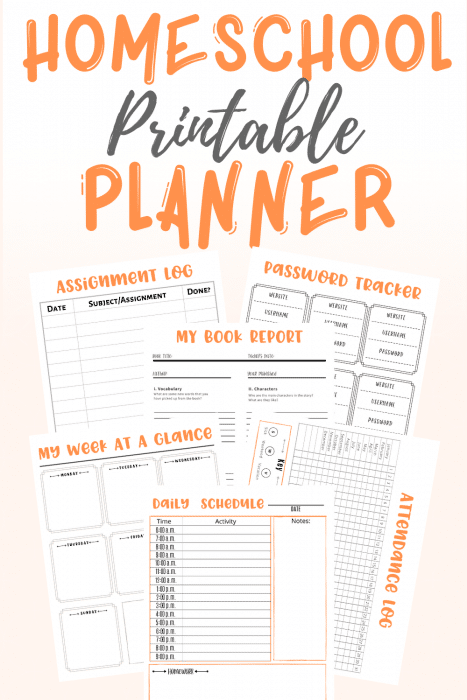 We also have this FREE 10 Page Homeschool Printable Planner set to download. This set includes a Homework Chart, Homeschool Schedule, Homeschool Goals Sheet, Idea Board, Activity Calendar, Grade Tracker, Reading Log, and a Vision Board.
This planner below includes an All About Me sheet, Daily Schedule, Weekly Planner, Assignment sheet, Password Log, Reading List, Grade Tracker, Homeschool Goals, and Homeschool Journey sheet!
Make it Fun
The joy of being able to homeschool your kid is that you can make homeschool anything you want. As long as you have your short and long term education goals mind, you can have fun creating the right learning environment for each child. Find ways to stimulate your kids' curiosity and imagination so that they yearn to learn more.
Find a Homeschool Co-Op
There are many homeschool groups on Facebook that you can join to connect with other homeschoolers. This is a wonderful resource when you find the right-minded homeschoolers to connect with. There are some homeschool co-ops all over the country that you can look into, as well. This will provide you with a team of people who can exchange resources and tips for beginning homeschoolers.
Prepare Financially
Homeschooling doesn't have to break the bank but it will cost more than sending your kids to a traditional school. You won't be relying on the school to get supplies, books, and everything else you need for educating your kids. Be sure to prepare financially for the costs of basic supplies that you'll need during your years of homeschooling.
Review Local Regulations
Last but not least, it's important to fully comprehend the local regulations of homeschooling in your area. Each state has different laws governing the rules and expectations for homeschooling families. Be sure to familiarize yourself with the homeschooling laws in your local district. This will help you stay on top of the educational requirements for your kids.
As long as you do your research and due diligence you'll find that being a homeschooling family isn't as difficult as you first thought. With a few simple steps and proactive measures set in place, you'll soon find that you're no longer a nervous beginning homeschooler, you're a pro beginner homeschooler.
Find homeschooling resources and supplies here.
How to Create a Relaxed Homeschool Environment
Homeschool Tips: What is Deschooling?