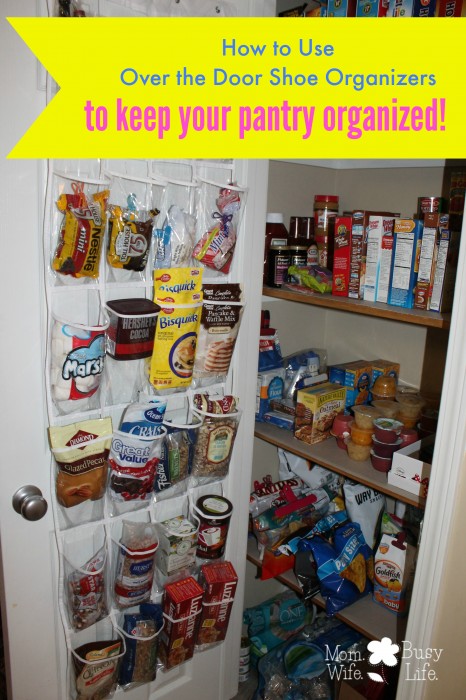 I started using over the door shoe organizers to organize my belongings in 2011. Even after a big move this last year, I still use my over the door shoe organizers! I can't live without them. I love using these organizers in my home, not just for shoes, but for art supplies, office supplies, garage tools, and so much more! You can read about my first post using these organizers on my frugal blog.
After moving last year, the size of our pantry decreased by half. I no longer had enough space in my pantry, so I ran to my box of over the door shoe organizers to help with this issue. My pantry was a cluttered mess and I was having a hard time finding items that I needed. It was basically overflowing and I couldn't stand buying duplicate items when we already had them – they were just buried under all of the other items in our pantry!
If you find that you are running low on space in your pantry and your door on your pantry can hold an over the door shoe organizer, then I highly recommend purchasing a clear over the door shoe organizer
. The reason I'm a big fan of the clear organizers is simply because you can see what's inside each pocket easily!
You can put so many items in your organizer! I put everything from baking supplies such as sprinkles or chocolate chips, pancake mix, popcorn, walnuts and almonds, tea, cocoa, and so much more! Happy organizing!
If you are thinking to yourself, "Wow, how does she keep such an organized pantry all of the time?" then trust me, I don't. This picture was taken shortly after organizing it that day. I literally pulled everything out of my pantry that day (my five year old helped) and cleaned up the huge mess I had! I would have NO room in my pantry for everything without this organizer! Highly recommend!