Summer is around the corner! How do you plan to keep the kids busy this summer? I know I'll be busy this summer entertaining my girls, so I'm doing my best to plan ahead! There are too many days where I fail to plan out our day and it ends up a complete disaster. This year, I'm changing that and having a plan in place for these long summer days where the kids will be at home and it's my job to figure out how to entertain them all day! I always find that it's best to get out of the house for at least part of the day to keep everyone happy!
Here's a list of activities to do with your children during the summer! Print this list off and keep it handy! It will help serve as a great guide for those days when you want to do something fun with the kids but you just can't think of anything to do!
Summer Activities to Keep Kids Busy
Visit your local library.
Grab a calendar of events for the summer from your library because many times libraries have free programs for children to take advantage of! Plus, your child will enjoy having their very own special library card to check out books or movies!
Sign up Vacation Bible School.
Most churches have a themed Vacation Bible School to attend during the summer. Some VBS weeks are held in the morning, afternoon, or evenings so call your church to find out when or if your child can attend and what age your child needs to be to attend.
Take a trip to the zoo or aquarium.
Children love animals and learn a lot about animals during trips to the zoo or aquarium! If you have a zoo or aquarium nearby, consider purchasing a season pass so you can visit often!
Visit a children's museum.
Search for the nearest children's museum and take a trip to a children's museum for the day. It usually takes a few hours to get through a children's museum depending on how large it is, so this would be perfect for a day trip! Just like the zoo, you may be able to buy a season pass if you plan to visit more than once during the summer.
Go swimming or find a spray park.
Find a pool or spray park in your area and pack the bags to enjoy a day out. Don't forget to reapply sunscreen often! Season passes are usually available if you plan to go swimming often during the summer. This is a great time to sign up for summer swim lessons offered, too!
Take a trip to the beach.
Plan a beach day! Be sure to pack up your favorite snacks and drinks (no glass of course) along with towels, plenty of sunscreen, beach toys, and your bathing suits and enjoy a day in the sun at the nearest beach!
Head out for ice cream or sno-cones.
You don't have to go far to have a great time! Pack the kids up and head out for ice cream or sno-cones at your favorite ice cream parlor. Kids love cold treats, so this is an ice cold treat for them when it's hot out!
Go to the movies.
Take a break from the heat and head to a movie theater to watch kid friendly movies this summer! Enjoy ice cold drinks, snacks, and popcorn while enjoying the nice A/C inside!
Plan a picnic at a park.
Pack up a nice lunch for the kids and take a trip to a park nearby to enjoy a picnic! After the picnic, allow the kids to have plenty of playtime at the park!
Go camping.
If you have a state park nearby or a outdoor recreation center, plan a camping trip! Pack up the tent or grab the keys to your RV and head out for a family camping trip to enjoy the great outdoors.
Skate indoors or go bowling.
Have a skating rink or bowling alley nearby? Pack up your skates or rent skates at your local skating rink or head out for a day of bowling! Kids will love skating around or bowling to fun music while staying cool indoors!
Find an indoor fun park.
Some places have indoor fun parks that offer go-karts, miniature golf, arcade games, bounce houses, and more. Enjoy a day playing games and enjoying time together.
Visit a theme park.
If you have room in your budget, plan a trip to your nearest theme park! This is a perfect day trip activity, so be sure to plan a full day of fun while you are there!
Join summer art or science programs.
Many towns offer art or science programs during the summer for kids. Call around to local resources to find out how you can take advantage of these programs.
Visit a farmer's market.
Take a trip to a farmer's market and allow your children to pick out a few healthy fruits or veggies to bring home. Then, prepare fresh fruit salads or snacks for them to enjoy!
Staying indoors at home? Create busy boxes to keep the kids from getting bored!
Plus, here's a FREE Printable Summer Bingo game to print and complete this summer! Simply check off each activity that your child completes and try to get as many Bingo lines as you can!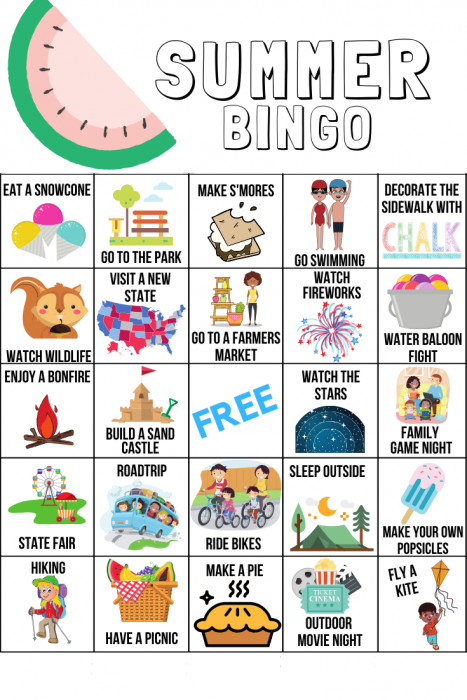 There are so many great ways to enjoy the summer. Grab your calendars now and start planning for summertime fun with the kids! This will help beat summertime boredom and hopefully help to keep everyone happy!
What are other ways to keep kids busy during the summer?