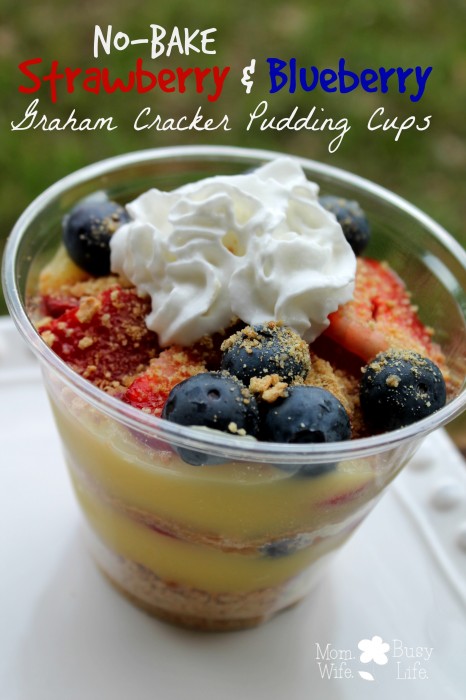 These graham cracker pudding cups made with strawberries and blueberries are delicious and perfect to enjoy on a hot summer day! With summer around the corner, you'll find me in the kitchen creating recipes using lots of strawberries and blueberries! This is the season for berries, so I try to add berries into my daily recipes as often as I can! My girls can be hard to please, but if I create great tasting desserts for them, they are more likely to try more fruits.
Let the kids get in the kitchen with you to help you make these yummy treats! My daughter enjoyed helping me make these for our after dinner dessert the other night!
Strawberry and Blueberry Graham Cracker Pudding Cups
Ingredients:
1 small box of vanilla pudding
Milk (for the vanilla pudding)
Graham Crackers
Blueberries
Strawberries
Whipped Cream or Reddi-wip
Directions:
Wash strawberries and blueberries well. Slice the strawberries up into thin slices. I recommend this Strawberry Slicer.
Follow the directions on the box to make the vanilla pudding. Set aside.
In a plastic baggie, crush 2-4 full graham cracker sheets until crumbly.
Pour a small layer of the graham cracker crumbs in the bottom of a clear plastic cup.
With a spoon, add a layer of vanilla pudding.
Add a layer of sliced strawberries and blueberries.
Add another layer of graham cracker crumbs.
Add another layer of pudding.
Add one more layer of sliced strawberries and blueberries.
Sprinkle graham cracker crumbs over the top layer.
Add a spoonful of whipped cream or squeeze the Reddi-wip on top.
If you love berry recipes, check out more recipes below!