Are you disguising a turkey this year? Consider a Disguise a Turkey Dinosaur! These ideas below can help you get started on how you want to create your dinosaur turkey!
Disguise a Turkey Dinosaur Activity Pack – Printable Thanksgiving Craft for Kids
Description:
🦃🦕 Get ready for a roar-some Thanksgiving craft with this printable Disguise a Turkey Dinosaur Pack! Perfect for creative kids and dinosaur enthusiasts alike, this unique 6-page digital download will provide hours of imaginative play and festive fun. Let your little ones dive into a prehistoric adventure as they disguise their turkey as a delightful dinosaur to save it from the Thanksgiving table!
🌟 What's Included:
2x Dinosaur Disguise Prop Pages: Includes cut-out accessories including various dino faces, footprints, prehistoric stones, dino eggs, and more to create the perfect camouflage.
1x Blank Turkey Template: A clean slate for your kids to bring their dinosaur vision to life.
1x Turkey Template with Scenic Background: Adds an extra layer of creativity and context for the disguise.
2x Example Disguise Pages: Colorful and detailed illustrations showing potential end results to inspire your kids. (Printing is optional; they serve as a creative guide.)
🦖 How it Works:
-Download your pack instantly after purchase.
-Print your turkey and props at home or at a local print shop.
-Let your children's imagination run wild as they cut, color, and paste to transform their turkey into a charming dinosaur.
🖨️ Printing Tips:
Remember, the example pages are just for inspiration – you don't need to print them to enjoy the activity, which saves you ink and paper!
🌱 Why Choose Our Pack?
Crafting with kids is not just a delightful way to spend time together; it also enhances fine motor skills, fosters creativity, and encourages problem-solving. Plus, this Disguise a Turkey Dinosaur Pack taps into popular themes of disguise and dinosaurs, which are beloved by children and searched widely during the Thanksgiving season.
🎨 Customizable and Reusable:
Print as many times as you like for personal use. Every year, your child can create a new disguise and enjoy the tradition anew!
✨ Easy Access:
No waiting for shipping – this is a digital download that makes your preparation for Thanksgiving craft time instant and effortless.
Embrace the holiday spirit with a dash of prehistoric pizzazz. Make this Thanksgiving unforgettable with the Disguise a Turkey Dinosaur Pack. It's a craft, it's a game, it's a decoration – it's dino-mite fun!
🛒 Add to Cart now to start the dino-disguising adventure!
Thanksgiving crafts for kids, Disguise a turkey project, Dinosaur craft printable, Turkey disguise activity, DIY Thanksgiving decoration, Printable turkey template, Fun family activities, Educational Thanksgiving game, Dinosaur role-play, Creative play for children
Terms of Use: These printables are for personal use only. Resale, redistribution, sharing files, alterations, and/or commercial use of any kind is prohibited!
*This is not a physical product. No product will be shipped to you.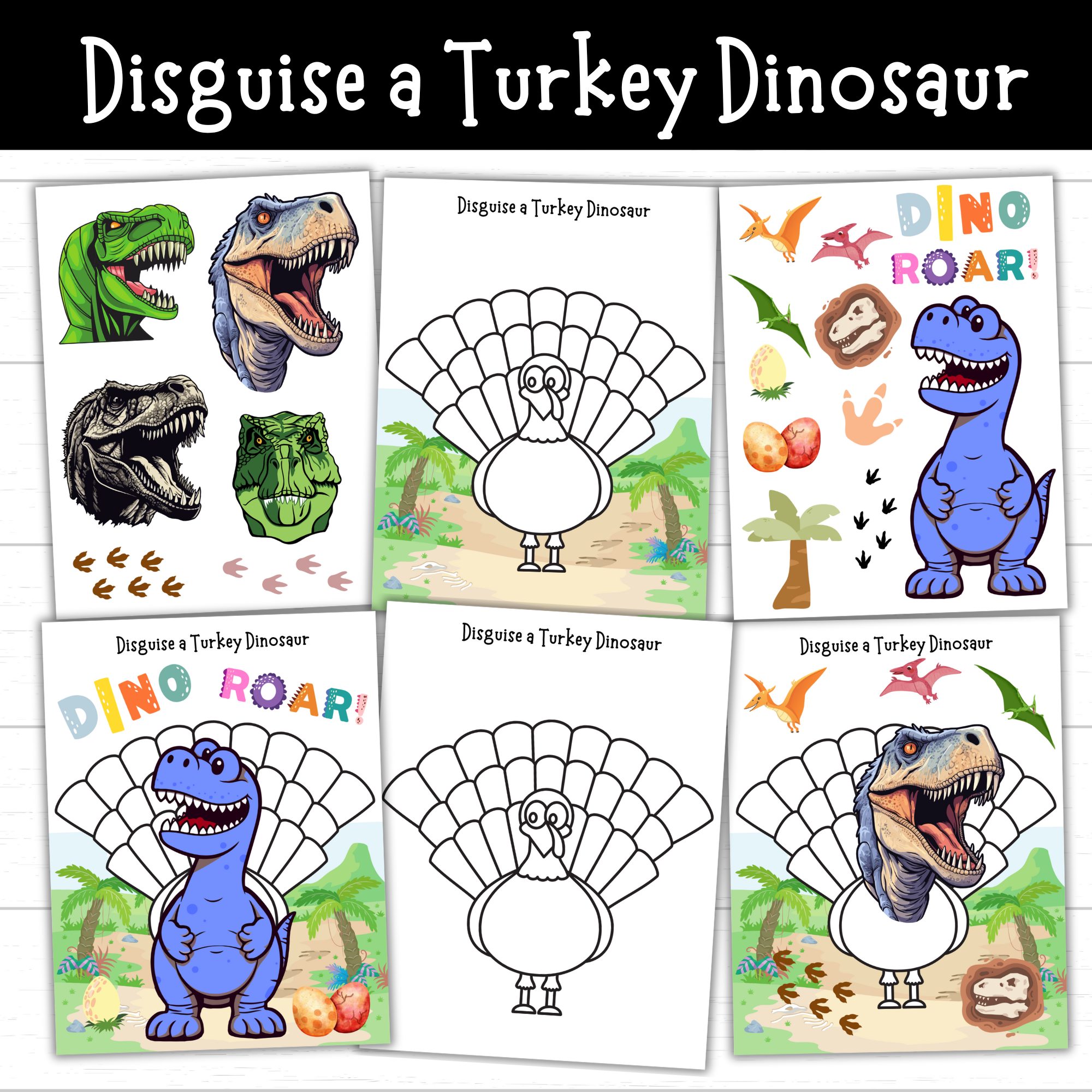 Buy Now: Disguise a Turkey Dinosaur Pack Printable
More Disguise a Turkey Ideas: