If you are homeschooling your child this year, you'll want to set up a space for them in your home. Read our tips for How to Create a Relaxed Homeschool Environment.
When you think of your ideal homeschool environment, what comes to mind? When it comes to homeschooling you don't have to think about a traditional school setting. The blessing with homeschooling is that you can set your "classroom" up in a way that welcomes learning and relaxation. Kids will often learn better in an atmosphere that they feel comfortable in. That's why I'm sharing some tips to help you create a more relaxed learning space in your home for your homeschooling adventures.
How to Create a Relaxed Homeschool Environment
Trust the Process
Sit down and think about how your kids learn best. Figure out what type of atmosphere makes your kids feel relaxed and accepted. Your kids may have some colors that they favor or specific types of seating options that help them get into learning mode. Trust the process of planning what will work for your kids as you sit down and evaluate the best options for a relaxed learning atmosphere.
Determine Instruction Style
When you're working to create a relaxed learning atmosphere for homeschooling, you'll want to think about your instruction style will be. Will you opt to teach in a more traditional setting where you instruct the kids as a traditional teacher would? Will you opt to sit at the same level as your kids working with them directly in a hands-on instruction style? This will help you better determine the right furniture and supplies to have in your homeschool area.
Talk to Your Kids
Kids love to be heard and homeschooling provides them a chance to speak up for what type of atmosphere will make them feel more confident to learn. Have your kids share their visions and opinions about how a relaxed learning atmosphere for homeschooling will look like. Use what your kids share for details and ideas as part of the process during this stage in homeschooling.
Get the Right Supplies
Now that you've planned, discussed and put some thoughts into the process, be sure to get the right supplies. You'll want to get the right background posters, and supplies that encourage learning in a variety of ways. This will help your kids feel more relaxed as you work to educate your kids in a relaxed homeschool atmosphere. Some ideas include an oil diffuser for the right scents such as lavender essential oils for calming and comfortable reading area with a plush chair for a relaxed learning experience.
Check out this list of Best Desks for Kids!
Allowing your kids to have a relaxed learning atmosphere for homeschooling will boost the chances of your kids learning more from this type of educational environment. Be sure to take into consideration the needs, abilities, and desires of your kids as you work to create an inviting, comfortable and relaxing homeschool atmosphere for maximum homeschool success.
While you are here, print our FREE Homeschool Planner sets below!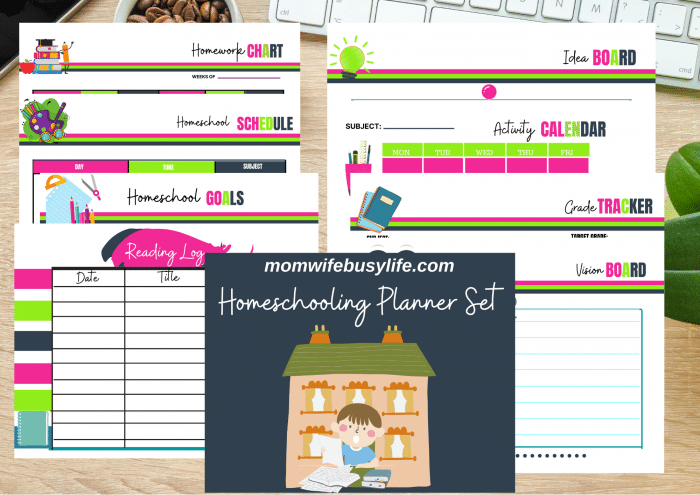 Tips for Beginning Homeschoolers
Homeschool Tips: What is Deschooling?