The Halloween season is just around the corner. The living room is decorated with spider webs and little pumpkins, and the atmosphere is rife with spooky fun.
For busy moms looking to add a sprinkle of humor and mystery to their holiday season, Halloween riddles with answers can be the ideal solution.
Would You Rather Halloween Game Questions
And guess what? You can find some amazing sets of Halloween-themed riddles on Etsy.
But before we plunge into the abyss of funny Halloween riddles, let's talk about why they're such a great way to celebrate.
Why Halloween Riddles?
Halloween riddles can be used in a myriad of settings:
At Home: Imagine a living room setting where the whole family gathers. Funny Halloween riddles can be shared among family members, with each trying to guess the answer. It's a fun activity that engages both little kids and adults.
Classrooms: Teachers can infuse the Halloween spirit into their lessons with fun riddles. It's an interactive method to teach children about Halloween symbols, and it can be made into a printable game.
Halloween Parties: Planning a Halloween party? Why not include a scavenger hunt featuring some good Halloween riddles? It's much fun and guarantees an engaging party.
Lunchboxes: Sometimes, you just want to surprise your child at lunch! Include one of my free Halloween riddle cards at the bottom of this post in your child's lunch box!
Now, for those moms who might be interested, Etsy offers fantastic printable riddles.
These come in both physical product and digital download formats. With the instant download feature, you get your favorite riddles in a zip file, often in a PDF file which can be opened using Adobe Acrobat.
Some of these sets even come with an answer key.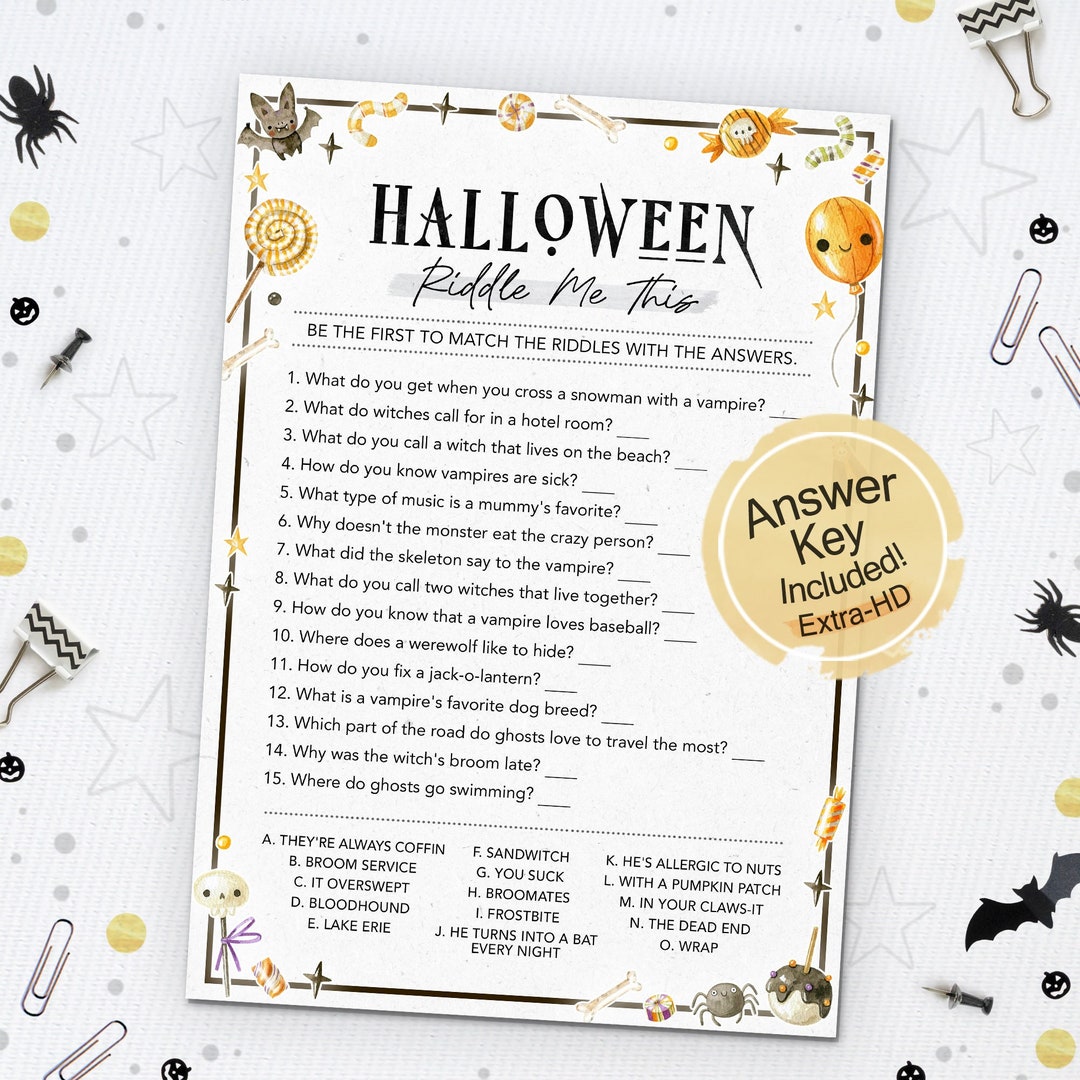 Halloween Riddle Me This Game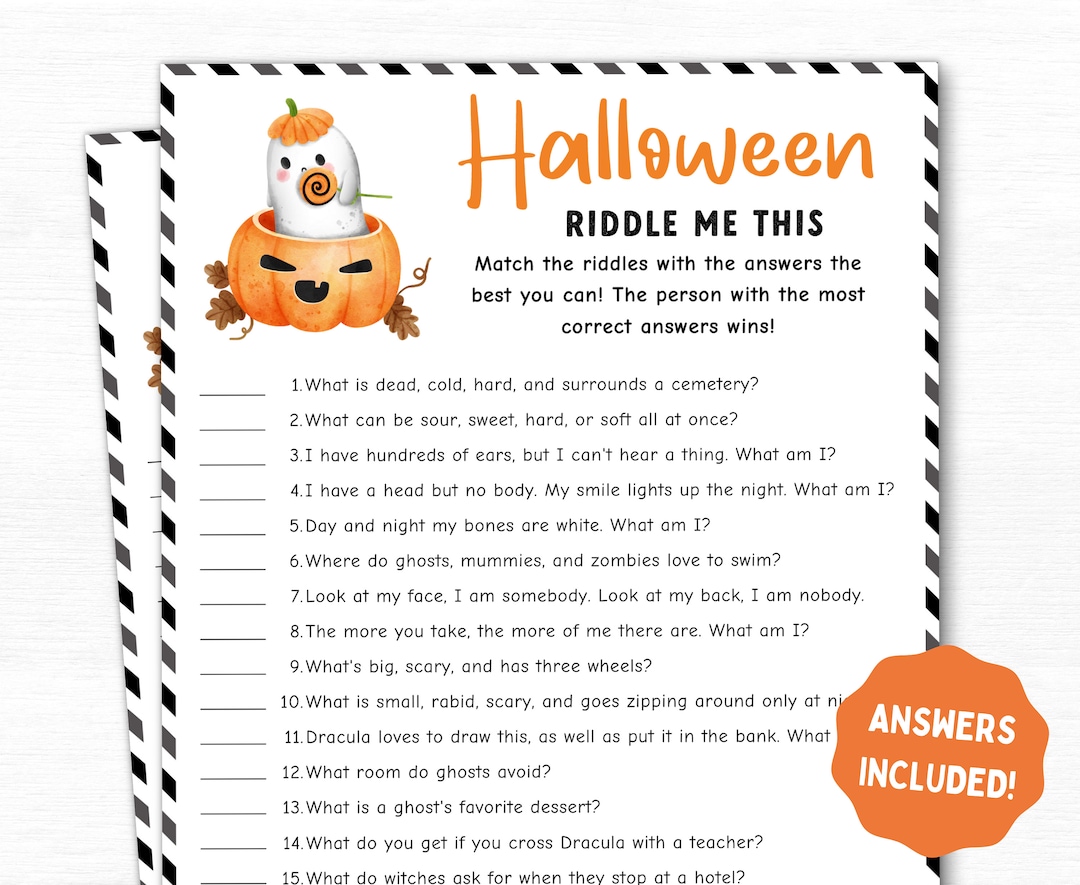 Halloween Riddle Me This Game Printable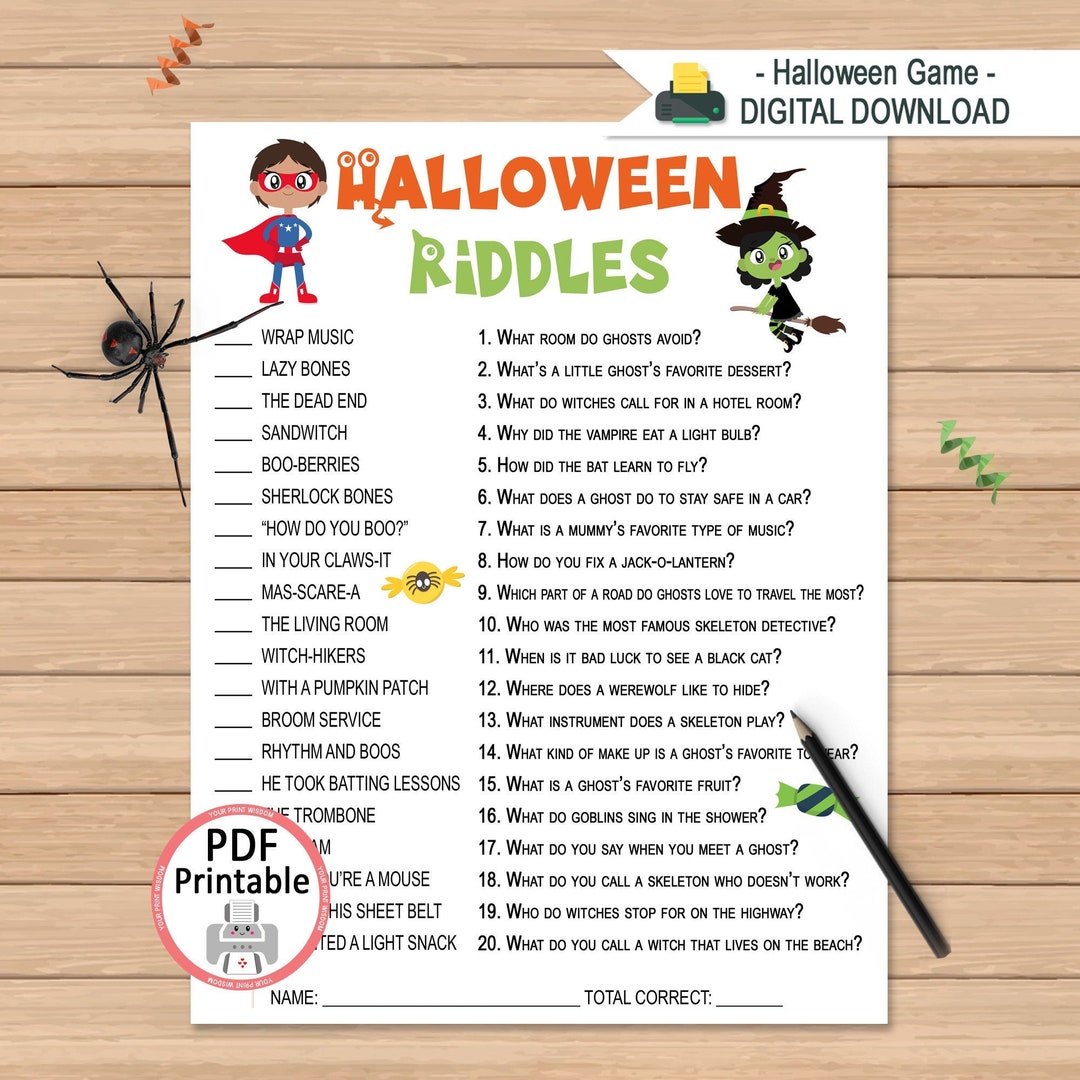 Halloween Riddles Game for Kids Printable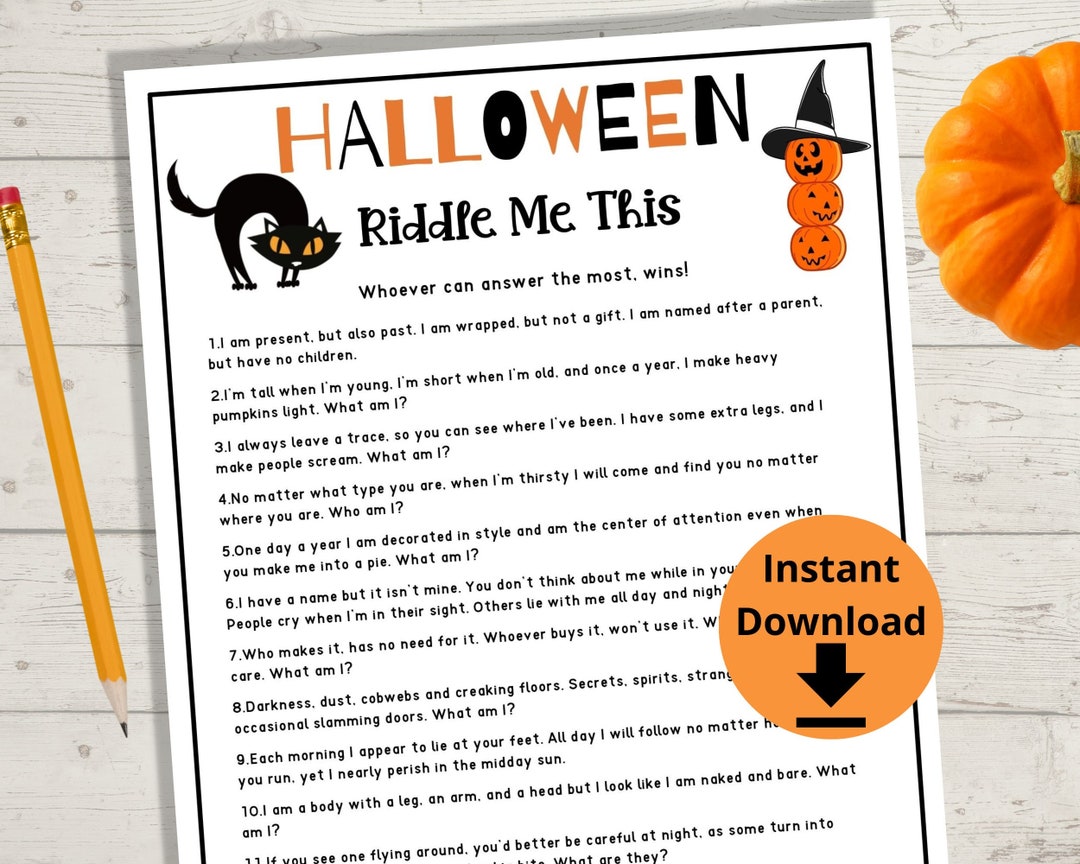 Halloween Riddle Me This Game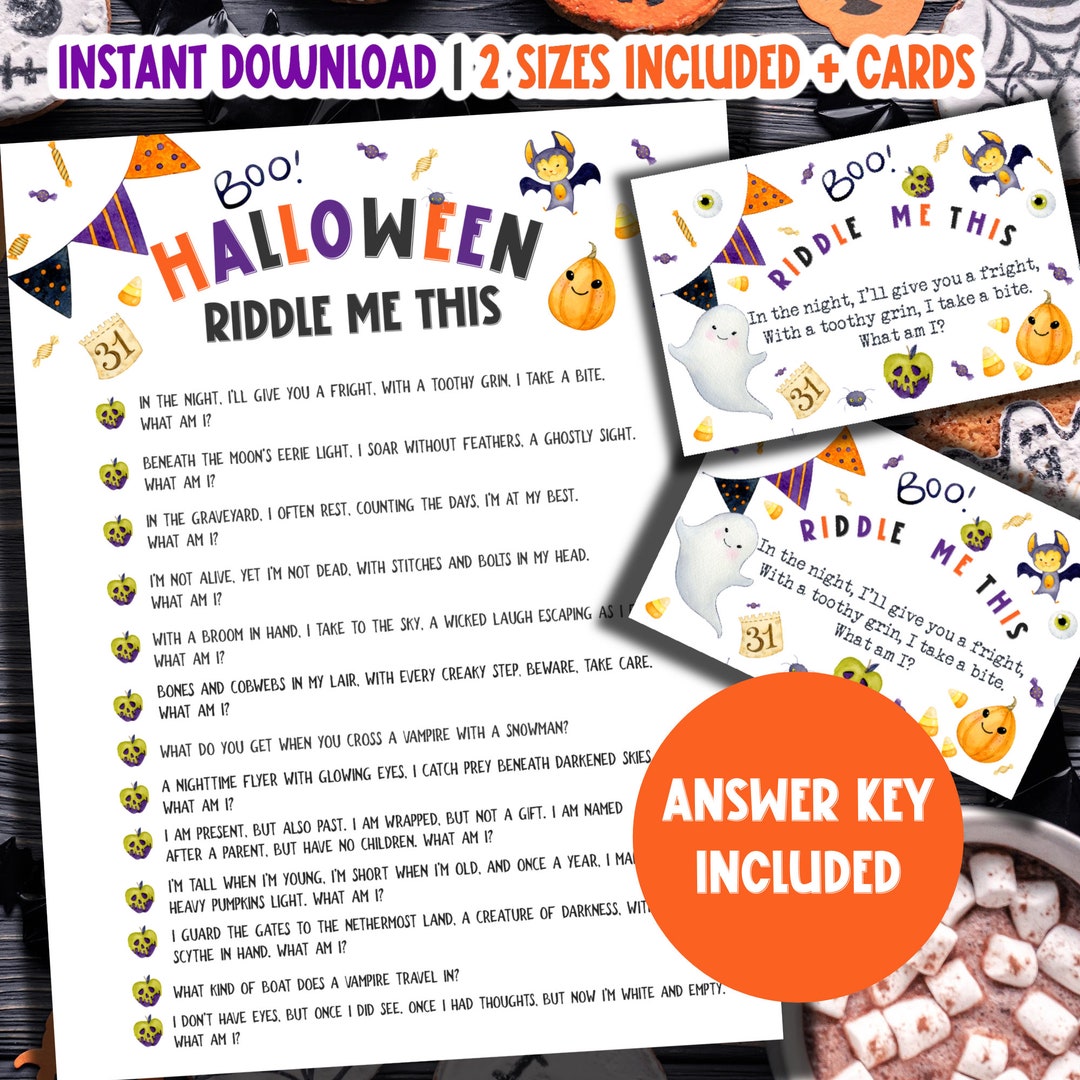 Halloween Riddle Me This Printable
If you are looking for a free option for Halloween riddles, I have this free page of Halloween printable riddles that you can print today, at no cost! Just submit your email address below and the printable will be sent to your email!
Interested in making your own set of printables?
For the DIY-savvy moms, here's a set of 25 riddles to get you started:
24 Halloween Riddles with Answers for DIY Fun
What did the skeleton order with his glass of coke? Spare ribs.
How do you make a witch itch? Remove the W.
What did the ghost say to the other ghost? "Do you believe in people?"
What's a ghost's favorite dessert? "I Scream" (Ice cream)
What kind of music do mummies love? Wrap music.
Why did the ghost go to the party? For the boo-last.
Why didn't the skeleton go to the ball? Because he had no-body to go with.
How do monsters like their eggs? Terri-fried.
Why do witches fly on brooms? Because vacuum cleaners are too heavy!
Why did the vampire need mouthwash? Because of his bat breath.
Why did the black cat sit on the computer? To keep an eye on the mouse.
Why did the mummy call the doctor? He felt all wrapped up.
Why did Dracula lie in the wrong coffin? He made a grave mistake.
How do you fix a broken pumpkin? With a pumpkin patch.
What do you call a fat pumpkin? A plumpkin.
What is a ghost's favorite fruit? Boo-berries.
What do you get when you cross a snowman and a vampire? Frostbite.
What's a ghost's favorite type of street? A dead end.
Why did the ghost go to the disco? To get his groove back.
Why did the scarecrow get promoted? Because he was outstanding in his field.
Why do mummies have trouble keeping friends? They're too wrapped up in themselves.
What do witches ask for at the hotel? Broom service.
Why did the witch go to the beach? For a sand-witch.
What do you call a vampire that lives in the kitchen? Count Spatula.
These riddles can be a perfect addition to your Halloween activities. If DIY isn't your thing, Etsy offers some of the best collections. Star sellers often provide both free printables and commercial use sets, catering to personal preferences.
Frequently Asked Questions
Where can I find fun Halloween riddles?
Etsy is a fantastic place. They offer both digital download and physical product options. The instant download feature ensures you get your set quickly.
How can I use Halloween riddles at a party?
Consider making them part of a scavenger hunt or a guessing game. Incorporate the riddles into your Halloween game night, giving guests a chance to guess answers.
Are there easy Halloween riddles suitable for little kids?
Absolutely! Many riddles are family-friendly and perfect for little ghosts and goblins.
Can I print the riddles from Etsy on any paper?
Yes. Once you get the digital download, usually in a PDF file, you can print it as per your needs.
Do I need special software to view the riddles from Etsy?
Most riddles come in PDF format, which can be viewed using Adobe Acrobat.
Can I use the riddles for commercial use?
It depends on the licensing. Always check the product description on Etsy to ensure whether it's for personal use or commercial use.
In conclusion, Halloween riddles with answers are a fantastic way to infuse humor and mystery into the holiday season. They offer an interactive method to engage kids and adults alike. Whether you're organizing a party, trying to entertain your kids, or simply having fun yourself, Halloween riddles can be your perfect companion.
Happy Halloween and may your season be filled with spooky riddles and hearty laughter!