The Importance of Family Game Nights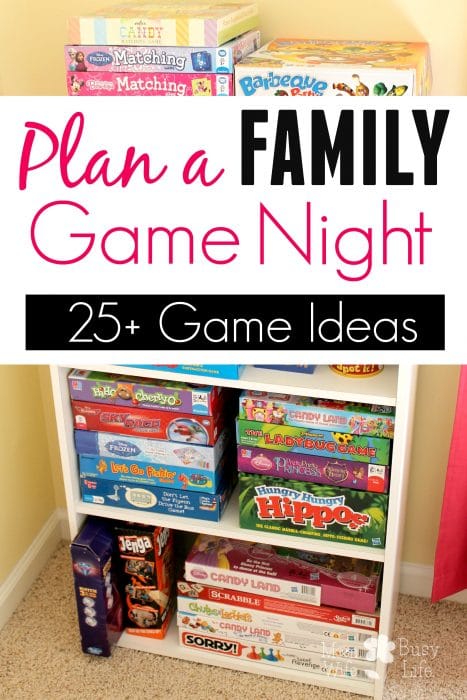 The Importance of Family Game Nights
My husband and I made a commitment to spend more quality time with our children this year. My girls are at the age where they both enjoy playing games and they ask us regularly to play games with them. I believe that a family that plays together stays together! I also believe that game nights are important because they teach good communication skills, problem solving, strategy, teamwork, and great sportsmanship!
How I Choose Games For My Family: 
I do a lot of research on games before choosing the ones that I feel are right for our family. I need these games to be entertaining for everyone, including my husband and me! When choosing games, I make sure I read the reviews to get an idea of how the game is played and if it's something we will all enjoy. It needs to be a game that's so fun that it will "survive" my next decluttering session.
1. Quality
The quality of a game is also important to me. I like games that are well made. I need games to last and not fall apart the first time we play. This includes the box that the game comes in as well as the pieces or cards inside the box. Games to me are an investment and I want them to last a few years! It's not fun to have broken or torn pieces to a game. I make sure the games are something that can easily be stored and games that are designed to last.
2. Educational
I look for games that are educational. Many of the games we have are educational and some are more for just simply having fun. I like to find games that help my girls add or subtract, read, count, you name it. I also like games that challenge their thinking and help their memory. Learning while playing is very important to us! If they can have fun learning, I'm a happy mom!
3. Affordable
Finally, I look for games that are affordable. I always try to make sure I find good deals on games before buying. I like to browse through the games at Amazon
 to add to our game closet! Here's a list of games to help you get started on game nights!

Original UNO Cards Game 108 cards

HedBanz Game – Edition may vary

Melissa & Doug Suspend Family Game 31 pcs

Qwixx – A Fast Family Dice Game

Hasbro Scrabble Crossword Game

Ideal Hot Potato Electronic Musical Passing Game

Deluxe Bingo Set – 6-Inch Metal Cage with Calling Board, 75 Colored Balls, 300 Bingo Chips, & 50 Bingo Cards for Large Group Games by Royal Bingo Supplies

The Sneaky Snacky Squirrel Game

Speak Out Game with 10 Mouthpieces

Jelly Belly 4th Edition Beanboozled Jelly Beans Spinner Gift Box, 3.5 oz

Pop the Pig Game — New and Improved — Belly-Busting Fun as You Feed Him Burgers and Watch His Belly Grow

Googly Eyes Game — Family Drawing Game with Crazy, Vision-Altering Glasses

Pressman Toys Shark Bite Game 2-4 Players

Candy Land The World of Sweets Game Amazon Exclusive

Educational Insights Pancake Pile-Up! Relay Game
Do you schedule regular game nights with your family? What are your favorite games to play?