Disclosure: This post is sponsored by Cottonelle. All opinions are my own.
I'm not a morning person. I've tried it, but it's just never worked out for me. I admire my husband for his desire to be an early riser and his amazing attitude when it comes to waking up in the morning. Me on the other hand, I'm the one pushing snooze on the alarm clock every morning.
Who am I kidding?
I don't even have to set an alarm clock thanks to my adorable two year old toddler! She's my little rooster with a loud crow at my bedside cock-a-doodling me out of bed in the morning. It always works…you can't ignore a little person screaming, "Get up! Get up! Get up Mommy!" one hundred times as loud as she can! I usually try to coax her into the bed with me for more snuggle time, but by then she's screaming for waffles and I finally decide to stumble out of bed.
Ahhh… the joys of motherhood.
I love being a mom and everyday is a new and exciting challenge! However, motherhood has it's moments that will want to send you to your own bathroom for a mini-vacation. How many of you moms out there find yourself tip-toeing (or running) to the bathroom and locking the door behind you, hoping your kids don't hear so that you can get just a tad bit of peace and quiet during the day? (If you've never done that, I'd love to know your secrets! Consider yourself a "supermom!")
Why I take mini-vacations in my bathroom
You see, every morning while my girls are sitting down eating breakfast with my husband, I take a short mini-vacation to my lovely 15 X 7 deserted and serene tropical island, my bathroom. That's just an estimate — I don't have time to dig for my measuring tape!  Moms need time to away–alone, so don't feel guilty if you find yourself locked up in your bathroom to catch a break every now and then! Take a pillow with you and scream into it if you feel the need.
During my mini-vacations to my bathroom, I focus on ME. It's MY time to gather my thoughts, sip on my coffee, put on my makeup, fix my hair, brush my teeth, pray to Jesus about the day ahead of me (I do a lot of praying as a mom — I can't do this motherhood thing without HIM) and finally get FRESH & CLEAN! I love my few minutes of quiet time and the best part about these mini-vacation's, they are FREE!
When I mention fresh & clean to you, I'm talking about ahem, things down there. Forgive me if I'm getting too personal here, but you can't really ignore it, we are all human and we all have personal things to take care of. I take my showers at night to save time in the morning, so I need to freshen up a bit down there! Thanks to Cottonelle, they make it easy for me to get fresh and clean in the morning with Cottonelle CleanCare Toilet Paper and FreshCare Flushable Cleansing Cloths found at CVS! I love that these flushable cleansing cloths come in a cute little refillable container for my bathroom that fits in with my decor! Yep, you heard me right, the Cottonelle FreshCare Cleansing Cloths are FLUSHABLE! Your sewers and septic systems are thanking you!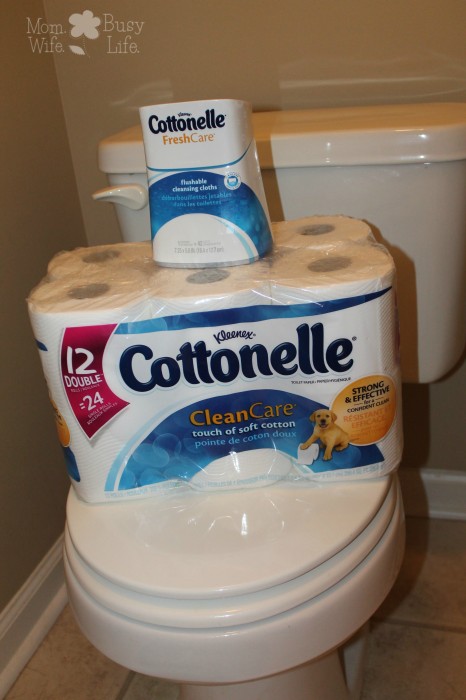 I use these cleansing cloths every morning before I head out the door as well as after my morning workouts. I find myself using them throughout the day to stay fresh and clean and would recommend these flushable cleansing cloths to any mom needing to get that fresh and clean feel but has the lack of time to take a gazillion showers during the day! And of course, if you are a very "regular" person, you'll find that these cleansing cloths come in handy for your bums after using Cottonelle's FreshCare toilet paper! (Air freshener may be a good idea, too!)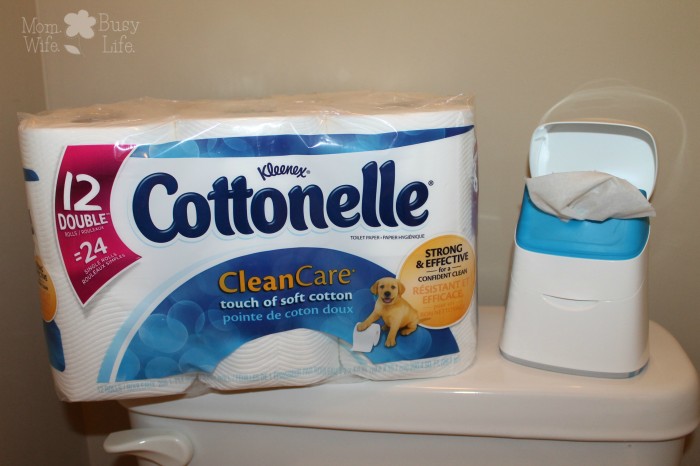 Plus, good news! If you like to save money, here's a money saving coupon to print so that you can save on Cottonelle FreshCare Flushable Cleansing Cloths AND Cottonelle CleanCare Toilet Paper! Please note that this coupon can only be redeemed at CVS!
Time for some "me" time now. Thanks for allowing me to get personal! #LetsTalkBums again sometime!
Do you take mini-vacations in your bathroom? Tell us about it!
Yum