About two years ago, I received a phone call from the health room at my child's school. They were calling to tell me that my daughter, now 11 years old, was itching and scratching in a few places and that they would be applying some cream to help stop the itch. As a mom, I was thankful for the call and thankful they were able to help her feel better so that she could be comfortable the rest of the day at school.
When I picked my daughter up from school that day, I noticed she had a few scaly patches. These were the areas that were giving her the problems and itching so much she was scratching them. When she came home, we applied more cream and I watched them over time. Some patches improved, some did not. She still had a pretty big problem with these patches on her left forearm, under her left armpit, on her right shoulder, a small area on her inner thigh, a patch on her bottom, etc. It didn't seem to be getting better. Months and months went on. We saw some improvements, but many times we would see a few major flare-ups.
When I found out that my daughter had a small case of eczema, I did everything I could as a mom to help my daughter feel comfortable and anything I could to try to relieve these symptoms. I wanted to see improvement. It's hard to witness your child feeling any kind of discomfort and we are doing everything we can to keep her eczema under control. As of today, we have seen a huge difference in my daughter's skin. I've been monitoring all of the spots that we've been treating and have seen excellent results in her skin. Here are the top three things we are doing to help improve my daughter's eczema:
1. We switched to dye-free and scent free laundry products.
I wasn't sure if the products we were using to wash my daughter's clothes were contributing to my daughter's eczema, but I was convinced they weren't helping the situation. We were using heavily dyed and heavily scented laundry detergents. We replaced the laundry products we were using to wash her clothes and now use dye-free and scent free laundry detergent
and dryer sheets.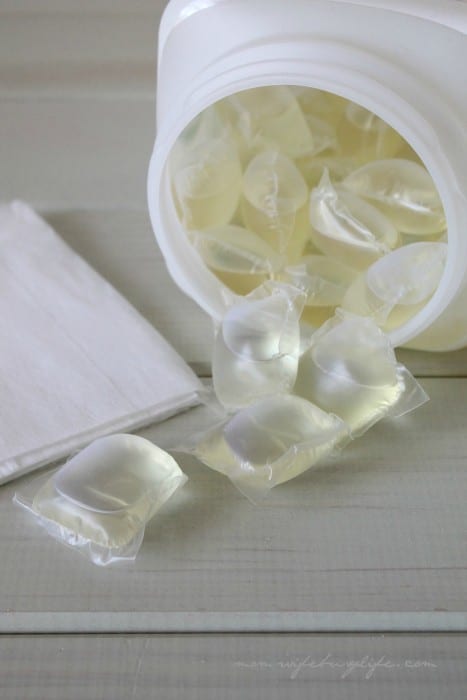 2. We make natural body scrubs to use in the bath.
About once a week, I create a natural body scrub using brown sugar and
olive oil
and allow my daughter to use it in the bath. She loves the day that she gets to do this because she says it makes her skin feel very soft. The oil coats her skin and helps to keep it from feeling dry. *Note: Oils can make shower/bath surfaces slippery. Always use caution when using oils during bath or shower time.
DIY Brown Sugar Scrub Recipe:
To make your own brown sugar scrub, mix 1 cup of brown sugar with 1/2 cup of olive oil. Mix well. Optional: For extra dry skin, add a teaspoon of honey. Apply desired amount during bath or shower time. Store in a jar or container with a lid.
3. My daughter applies AVEENO® Eczema Therapy twice a day, morning and night.
We've been using AVEENO® products since my girls were babies, so this is a brand we love and trust. I was happy to find out that AVEENO® created a moisturizer to help adults and babies with eczema! The AVEENO® Brand, known for harnessing the power of ACTIVE NATURALS® ingredients, presents the AVEENO® Eczema Therapy Collection, for adult and baby.
Every morning before my daughter gets dressed, I make sure she applies the AVEENO® Eczema Therapy
. These fragrance-free, hypoallergenic products are formulated with soothing ACTIVE NATURALS® Colloidal Oatmeal to care for the four symptoms of eczema:
Itch
Roughness
Dryness
Irritation
The AVEENO® Eczema Therapy helps keep my daughter's skin moisturized during the day while she's at school. I also ask her to apply the lotion at night after her bath to keep her skin moisturized at night. She loves to use the lotion because she can see an improvement in her skin since using the lotion. When used as a regular regimen, AVEENO® Eczema Therapy products (adult and baby) help break the cycle of irritated skin.
Check out the AVEENO® Eczema Therapy Collection!
While you are here, check out this great article on helping your child cope with eczema.
The three tips above have helped improve my daughter's eczema. In fact, when I ask my daughter daily if she has any areas that are troubling her, she tells me that she doesn't have any problem areas like we did before. I've been monitoring the areas on her skin and they are much smoother and less noticeable. We will continue the above methods as they are helping to minimize and control the eczema.
Do you know anyone with eczema? What tips do you have for managing eczema?