Call me crazy, but there are times I love to do laundry. Now keep in mind, I said "there are times" I love doing laundry, but there are also times when I just simply can't stand it. As a mom of two girls and as a military wife, we have so much laundry to do on a regular basis around here. The older I get, the more respect I have for my mom who was able to manage laundry for six of us in the house, and she made it look so easy.
Now that I have to do laundry on my own, it's not necessarily easy or fun all the time. I don't like starting a new week with piles of laundry left to be done. I get into a grumpy mood if I see mountains of laundry in my laundry room on a Monday morning, so I do all I can to prevent that from happening. I find that I actually enjoy doing laundry when I keep up with the laundry throughout the week.
Here are a few great tips to keep up with laundry during the week! This will help you keep your sanity as a busy mom and wife!
5 Tips to Keep Up With Laundry
1. Wash, dry, and hang up/put away at least one load of laundry every day.
This is easier said than done, but you can make it happen. Doing one load of laundry everyday will help prevent a mountain of laundry by the end of the week. You'll enjoy a weekend free of doing laundry if you can keep up with it during the week. Save the weekends for fun with the family!
2. Use a separate hamper for each member of the family.
Designate a hamper for each member of the family. Teach young children how to toss their dirty clothes into the hamper after taking them off. This prevents dirty clothes from being thrown all over the place and saves you time from going around and collecting dirty clothes around each room. Place a hamper in your child's bathroom, too. They can throw their dirty clothes in the hamper before bath time. If you want to save a lot of time and avoid sorting clothes, consider investing in a laundry sorter
.
3. Use towels more than once.
Towels usually don't get too dirty after bath time. In fact, you can go a few days of using the same towel before it's considered dirty in my opinion. Cut down on washing towels by simply hanging them to dry after bath time. After a few days of use, it's safe to say they can go in the wash. If you run out of space hanging towels, these over the door racks
will give you more room to hang towels!
4. Wear clothes more than once.
Some of us may throw our clothes in the hamper as soon as we take them off for the day, but are they really dirty? Chances are, if you weren't outside running in the clothes or doing yard work, consider them clean and ready to wear again in the near future. Before tossing clothes into the laundry, decide if they are worth wearing again once more and hang them back up in the closet or put away in the drawer. There's nothing wrong with wearing clothes again if they aren't truly dirty.
Related: 7 Ways to Save on Laundry

5. Use quality products – detergent, dryer sheets, and stain remover.
There's nothing fun about doing laundry twice if they didn't get clean enough the first time. That's why it's a good idea to invest in quality laundry products such as detergent, dryer sheets, or stain removers. Quality products will keep clothes lasting longer, looking their best, and smelling fresh! Currently, you'll find Lavender Blossom Purex Crystals Dryer Sheets
in my laundry room. They not only help to keep my laundry room smelling fresh, they are also perfect for keeping my clothes static free and smelling great! Choose your favorite Purex Crystals fragrance and tuck a sheet in hampers, in the linen closets, and any other laundry storage areas!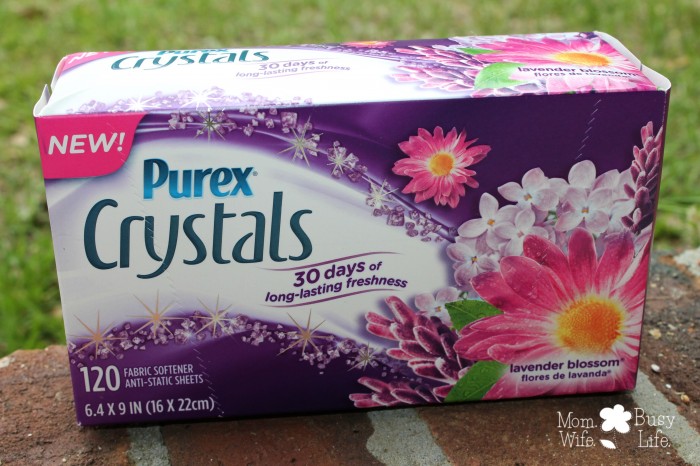 Do you have any tips to keep up with laundry during the week?
Disclosure: I received a box of Purex Crystals Dryer Sheets in exchange for a post. All opinions are my own.