Today I'm sharing the Best Liquid Sidewalk Chalk Paint for Kids that you can purchase for your kids to enjoy outdoors this season!
Sidewalk chalk art activities are one of the most simple and fun ways to get the kids outdoors and get creative! If my kids come to me and tell me they are bored, I get out our bucket filled with sidewalk chalk and send them outside to create pretty things!
Sidewalk chalk is fun to use, but did you know you can use sidewalk chalk paint, too? This can be a fun spin on your typical sidewalk chalk activities. Most kids I know love painting and using sidewalk chalk to "paint" pictures outside can be a fun experience for kids!
Over the last few years, we've enjoyed creating our own sidewalk chalk paint. It's easy to make. If you want to skip purchasing sidewalk chalk paint, you can make your own!
Read how I make my own liquid sidewalk chalk paint. This is one of my top posts here on Mom. Wife. Busy Life!
This sidewalk chalk recipe includes a few simple ingredients! This method can save you money, too!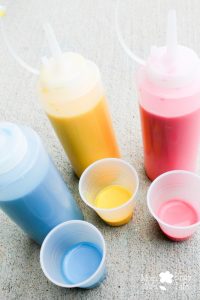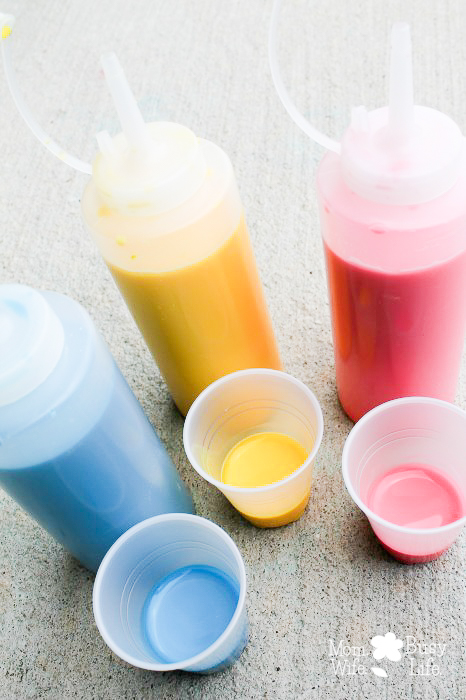 You can also find this handmade Pick 3 Bundle Sidewalk Chalk Paint available at Etsy!
However, I get it. Sometimes we don't always want to make our own recipes because we are either too tired, too busy, or we don't want to mess up the kitchen that we just spent hours cleaning! Plus, my recipe above does use corn starch and food coloring. Although we don't have issues with the food coloring dying our sidewalk, using food coloring "could" dye your sidewalk if not used properly.
Below I've given you a list of sidewalk chalk paint options that you can purchase if you aren't in the mood or if you don't have time to make your own! These paint sets make great gift options for kids, too. Give the gift of fun for a kids birthday or for Christmas!
I also include a few extra accessories that can help you with your sidewalk chalk paint activities.
Interested in purchasing basic sidewalk chalk? Here's the best sidewalk chalk for kids.
Crayola; Washable Neon Sidewalk Paint; Outdoor Art Tools; 3 Neon Paint Colors, Paint Brush, Roller and 3 Sidewalk Chalk Sticks
Discovery Sidewalk Outdoor Chalk Paint
RoseArt Sidewalk Chalk Pencil Deluxe Set (40 Piece)
Rose Art Sidewalk Chalk Paint The Claw Roller Set
HearthSong ChalkScapes Sidewalk Chalk Rollers, Set of 6 Washable Liquid Chalks in Red, Yellow, Blue, Purple, Orange, and Green
More helpful sidewalk chalk paint ideas accessories:
Sidewalk Chalk Paint Kit by Chameleon Colors
Mattel RoseArt Side Walk Chalk Jumbo Paint Brush
RoseArt Sidewalk Chalk Outdoor Fun Chalk Paint Set
RoseArt Sidewalk Chalk Paint Stamper Garden
RoseArt Sidewalk Chalk Paint Stamper Ocean
Testors Spray Chalk, 4 Color Kit, Assorted