Are you celebrating a child's birthday soon? Celebrate with these Birthday Pancakes!
We just celebrated a birthday in our house! My daughter turned 8! To celebrate, we made birthday pancakes for dinner! She loves pancakes, so we wanted to make them extra special for her on her special day. We made our pancakes with sprinkles and were able to top it with a birthday candle!
I wanted to share our birthday pancake recipe with you!
Birthday Pancakes
Ingredients:
Pancake Mix
Water
Colored Sprinkles
Topping:
Butter
Syrup
Birthday Candle
Directions:
1. Heat griddle to 400 degrees.
2. Follow directions on the pancake box for mixture.
3. Pour pancake batter into a squeeze bottle.
4. With the squeeze bottle, make a "heart" shape on the griddle with the pancake batter.
5. Pour colored sprinkles onto the batter before it cooks. Flip pancake and cook the other side until pancake is golden brown.
6. Remove pancake from heat.
7. Spread butter on top of pancake and let it melt. Top with syrup and colored sprinkles.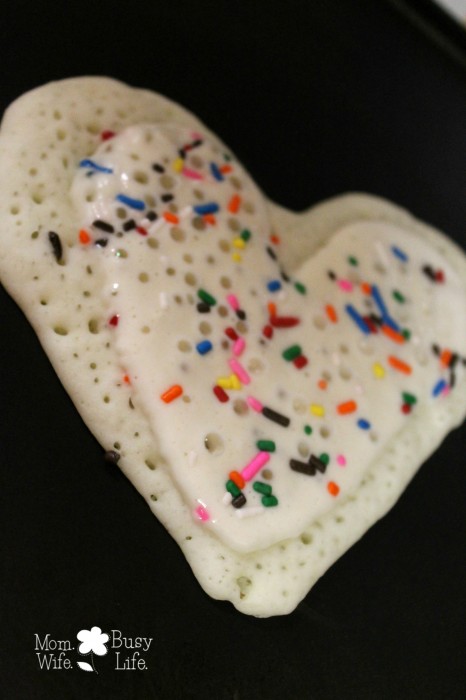 Place a birthday candle in the middle of the pancake. Sing "Happy Birthday" to your child and let them blow out the birthday candle! Enjoy!
Find more breakfast recipes here.