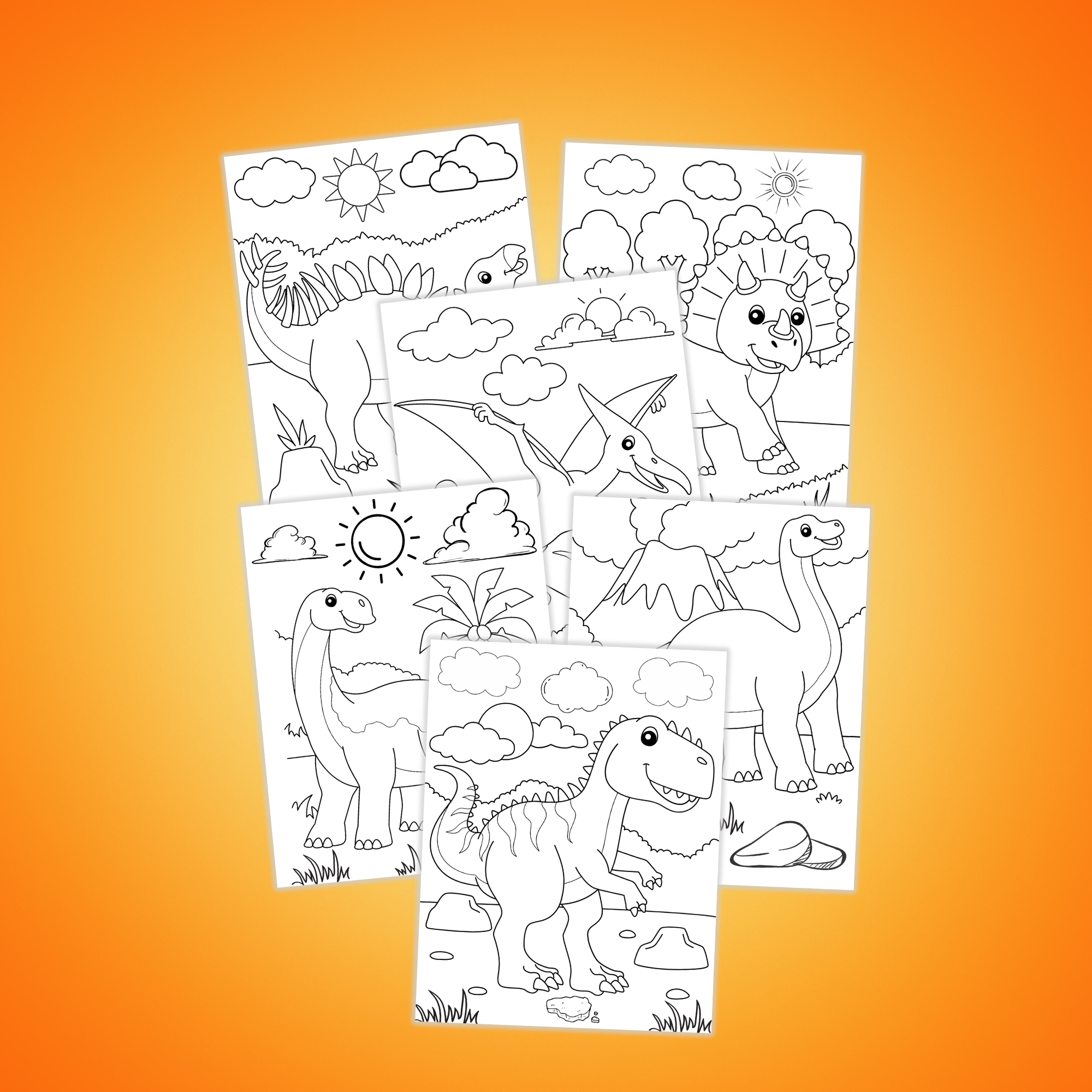 Are you a busy mom searching for an engaging and screen-free activity that will keep your kids entertained and spark their creativity?
Look no further than a 6-page dinosaur coloring page pack!
Today, we'll explore the benefits of printing a dinosaur coloring page pack for your kids, highlighting why it's an excellent option for year-round entertainment and a fantastic screen-free activity.
>>> To purchase this pack, click the blue purchase button at the bottom of this post!
Benefits of Printing a Dinosaur Coloring Page Pack for Kids
Unleash Creativity and Imagination
Dinosaur coloring pages provide a canvas for your kids' creativity to soar.
As they color these prehistoric creatures, children can unleash their artistic expression, experiment with different color combinations, and even create their own unique dinosaur designs.
This process fosters imagination and allows them to explore a world of dinosaurs with their own artistic flair.
Educational and Informative
Coloring dinosaur pages is not just a fun activity; it's also an opportunity for learning.
Each page introduces kids to various dinosaur species, their names, and distinctive features.
It's a chance for them to expand their knowledge about dinosaurs while engaging in a hands-on and enjoyable activity.
Fine Motor Skill Development
Coloring within the lines and manipulating coloring tools helps children develop their fine motor skills.
As they hold and control crayons or colored pencils, their hand-eye coordination, grip strength, and manual dexterity improve.
These skills are essential for tasks like writing, drawing, and other activities that require precision.
Stress-Free and Relaxing Activity
In our fast-paced world, it's crucial to provide kids with screen-free options that promote relaxation and mindfulness.
Coloring dinosaur pages offers a calming and stress-free activity that allows children to focus their attention, concentrate on the task at hand, and unwind.
It's a great way for them to decompress and find tranquility amidst their busy lives.
Screen-Free Entertainment
With technology permeating every aspect of our lives, it's vital to offer kids screen-free alternatives for entertainment.
Printing a 6-page dinosaur coloring page pack allows children to immerse themselves in a creative and offline activity.
It promotes a healthy balance between screen time and real-world experiences, providing a break from digital devices and encouraging imaginative play.
Print your dinosaur coloring pages, today!
Printing a 6-page dinosaur coloring page pack for your kids is a wonderful choice for busy moms seeking to inspire creativity, provide educational experiences, and offer screen-free entertainment.
These coloring pages unleash imagination, enhance fine motor skills, provide stress-free relaxation, and serve as an engaging option year-round.
So, why wait? Embrace the joy of coloring and provide your kids with a screen-free activity they can enjoy any time of the year.
Print a dinosaur coloring page pack today and watch their excitement as they embark on a coloring adventure filled with prehistoric wonders.
Remember, printing a dinosaur coloring page pack is an accessible and enjoyable option that encourages creativity and fosters a healthy balance in your children's lives.
Let them explore their artistic talents, expand their knowledge about dinosaurs, and experience the joy of unplugged fun.
Make every day a colorful and imaginative journey with a 6-page dinosaur coloring page pack.
Inspire their creativity, offer them screen-free entertainment, and create beautiful memories together!