Kids will love creating this adorable Apple Turkey Craft that they can eat when they are finished creating it!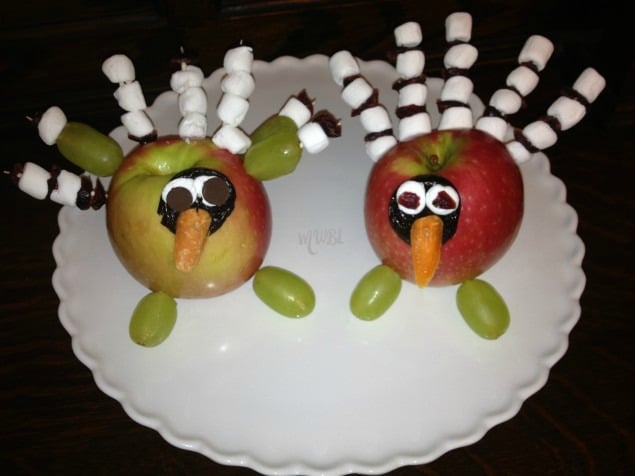 Thanksgiving is the time to be thankful for our blessings! I have two little blessings at home that call me, "Mom," and we have a lot of fun working on crafts and activities during the holidays.
This Thanksgiving, take a few moments to create a few fun crafts to make with your little ones. There are many different ways to make these apple shaped turkeys by using different edible snacks.
You can get creative and use anything from your pantry or fridge to serve as the body parts of the turkey. You can also use any variety of apple that you like!
Here's a great Apple Turkey Craft Recipe that you can make with the kids and display this Thanksgiving!
How to Create a "We Are Thankful" Board
Disguise a Turkey – Fancy Nancy
Thanksgiving Coloring Pages and Activity Sheets
Edible Apple Turkey Craft for Kids
Supplies:
Directions:
1. You will need 4-5 toothpicks for the feathers. Alternate marshmallows and dried cranberries on each toothpick to serve as the feathers. Stick them into the top of the apple.
2. Break a toothpick in half to stick the prune into the apple to serve as the face.
3. Cut a marshmallow in half to serve as the eyes. Stick them into the prune using a piece of toothpick.
4. Cut a dried cranberry in half and stick each piece into the center of the marshmallow to serve as the eye balls. If the marshmallow is a little wet, the dried cranberry will stick in place. A chocolate chip can be used as well.
5. Break another toothpick in half to stick the grapes into the bottom of the apple to serve as the feet.
6. Stick the triangle shaped carrot into the prune with a piece of toothpick to serve as the beak.
You can use your apple turkeys as decoration or let your children eat them!