Are you a stay at home mom? Do you want to learn how to make money at home? Keep reading for ways to make money as a stay at home mom!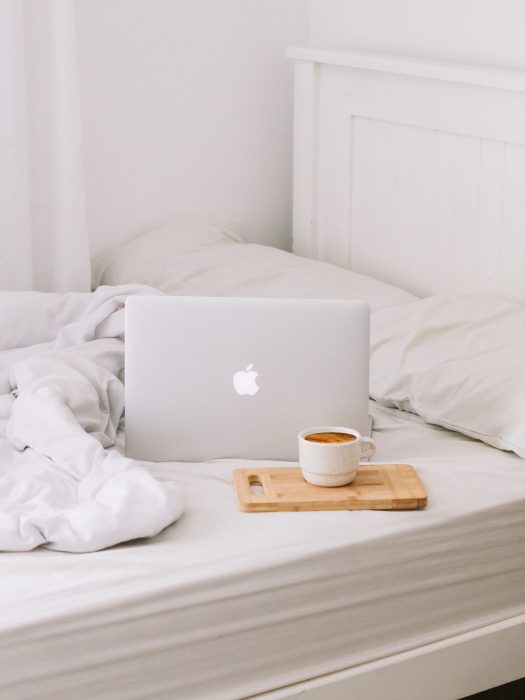 Photo by Sincerely Media on Unsplash
Are you looking for ways to contribute to your household income?
As a stay at home mom, you may not feel you are very qualified to do anything that will make you money without going out and getting a job.
However, you probably have lots of skills (or can learn new skills) that would help you earn money without leaving the house or needing to find childcare for the kids.
Ways to Make Money as a Stay at Home Mom
Sell Your Unused Items
Decluttering your home and selling things you no longer need may be the quickest way to make money for moms.
Facebook Marketplace makes it very easy to connect with buyers in your town that may want what you don't. If no one around you wants your old items, you can always list them on eBay to increase your exposure.
Reselling items in this way can actually become a full time business venture for work at home moms! After some research, you may find ways to get inventory that you can then resell for a profit.
Check for wholesale liquidation centers in your area. They may have merchandise you'd find at Walmart or on Amazon for a fraction of the cost. In fact, many liquidation centers sell perfectly good products by the pallet at a huge discount. These items can then be resold on Facebook Marketplace or eBay.
Arbitrage is another closely related idea, in which you sell items on behalf of others and make a commission for yourself. There are many people that have things to sell, but may not have the time or knowledge to fool with selling them.
For example, you may have a friend that has a large baseball card collection. He can give you his collection to sell online or locally on Facebook. The advantage for you is that you get 20% of the sales. If you end up selling all the cards for $5000, that's a nice $1000 for your time.
Word of mouth is powerful. Once your friend sees you can move their baseball card collection, they will definitely tell their friends who also have cards collecting dust in their basements.
Babysit
If you already have small children you care for each day, babysitting can be an easy money maker for you. You can first offer to babysit family members of friend's kids.
Advertise your services on local Facebook groups too, and you may find 2-3 more children to watch for extra money.
Depending on their ages, you can charge $50-$100 each week per child. Babies tend to cost more because you have to change diapers and feed them whereas older children are a bit more independent.
This also brings your community closer, and can make some life-long friends for your kiddos as well.
Become a Virtual Assistant
Reliable internet services and a computer opens you up to even more ways to make money as a work at home mom.
Even if you have limited skills, you can still learn how to become a virtual assistant (VA). This is basically doing the busy work for bloggers or online business owners that are looking to outsource certain tasks.
There are business people online that will pay their VA to check emails, write content, share posts on social media, update product pages, take pictures, create and cook recipes, and more.
None of these tasks are particularly difficult, and if you already check your personal email and post on Facebook regularly you probably have what it takes to become a VA.
Each of your clients will have specific needs and many will offer to train you to ensure you do the job the way they like it.
Start a Blog
Starting a blog is more of a long-term money maker for work at home moms.
However, investing your time on a blog while you do other money making activities can greatly reward you.
There are many blogs out there that earn thousands each month with advertising and affiliate links (special links that earn the blog owner a commission when a visitor clicks the link and makes a purchase).
I currently own and manage three of my own websites that bring in good income each month:
Mom. Wife. Busy Life. (this blog!)
The Frugal Free Gal (This is a freebie and frugal money saving website.)
Roscoe's Recipes (Southern Recipes – my husband and I work on this together!)
It may take 6-18 months or longer to get there, depending on your niche and the amount of time you devote, but it's definitely worth it later down the road.
Sell Your Photos
Though some may have a natural talent for photography, it's definitely a skill that moms can learn to make money!
You can create stock photos to sell online, which bloggers and website owners can then purchase a license to use. You will earn money each time a stock photo is licensed.
Of course, you could also expand this to a local photography business, taking family portraits, or even photographing events like weddings or parties.
If this is something you're interested in, take the idea and run with it.
I keep a small portfolio on Shutterstock and I do earn a little extra cash throughout the year! Several photos have been in my portfolio for several years and they still earn income at times.
Sell on Etsy
Etsy is a great place for work at home moms to earn money, no matter what you have to sell. It doesn't work well for the used items in your home (unless they are vintage), but if you are creative you can make new items to sell at a premium on Etsy.
The good thing about this platform is that people expect to pay more for handmade and unique items.
If you have a knack for crafting, you can make a solid income from home with Etsy. Even if you don't like to craft, you can design printables online to sell – making money with no physical inventory!
Digital printables are a wonderful way to make a passive income online without huge start-up costs.
Teach a Course
Many teachers have become work at home moms by teaching what they know online. Even if you were never a teacher, as long as you have a skill or hobby you could teach others, you can make money with this method.
There are online platforms that will allow you to create a written or video course on any subject, such as baking, photography, exercise, or home organization. You then earn money for every student that enrolls in your course.
People that don't want to scour the internet sorting through the free information on a topic will gladly pay to enroll in your course. Many courses sell for $97 and up, depending on the subject matter being taught.
It's not uncommon to see a $497 course on some topics, and it may have 100+ students enrolled. Just imagine the profits you could earn by teaching something you already know and love.
There are many ways that work at home moms can earn money. These seven are really just scratching the surface. Think outside the box, as creativity can allow you to earn money in the most unusual ways.
It can also take you from earning a few dollars doing what everyone else is, to earning thousands each month doing something that very few people are doing!