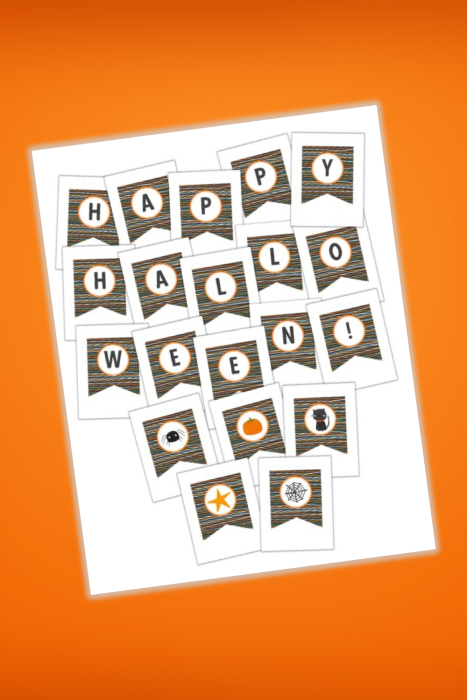 Halloween season is upon us!
It's the time of year when pumpkin spiced lattes flow freely, spider webs are a welcome decor (the fake ones, of course!), and the whimsical yet spooky spirit fills the air.
FREE Printable Halloween Letters of the Alphabet
For all the busy moms out there who are hunting for that perfect Halloween decoration without spending a dime, I've got the best treat for you – a free printable Happy Halloween banner!
Free Happy Halloween Banner Printable
Why You'll Love This Banner
One of the easiest things you can do to spruce up your home during the spooky season is to put up fun printables.
They instantly add a festive touch, and this free printable Halloween banner is no exception.
Designed with a chic color scheme featuring black letters on a white background, it strikes the perfect balance between elegant and playful.
The banner pieces also include cute icons like a black cat and a pumpkin pennant that are bound to get some compliments!
How to Use the Free Printable Happy Halloween Banner
Using this free printable is as easy as pie! Simply click on the download link provided to get your instant digital download. The banner is in a PDF file format. Here's a step-by-step guide for best results:
Printing: Download files onto your computer. Use white sheets (preferably white cardstock for sturdiness) and your home printer to print the digital file. If you don't have a printer, don't fret! You can easily take the digital file to your local print shop or a copy place to have it printed.
Cutting: Once printed, use a paper cutter or scissors to carefully cut out each banner piece.
Punching Holes: Use a small hole punch to create holes on the top corners of each banner piece. This is where you'll thread a string or ribbon to hang it up.
Assembling: Thread a piece of string or ribbon through the holes, ensuring all banner pieces are in the correct order.
Hanging: There are countless places where you can display your Halloween banner. Some of my favorite things to do include draping it over a fireplace mantel, pinning it on a bulletin board, or hanging it as a backdrop for Halloween games at a Halloween party. Tiny clothespins or a simple piece of tape can be used to secure the ends of the banner in place.
Lamination (Optional): If you want to ensure your banner lasts for many Halloweens to come, consider laminating each piece before punching holes. This protects it from potential spills or tears.
Where to Display Your Banner
This printable banner is versatile and can be used in numerous settings:
Halloween Party: As a backdrop or hung at the entrance to welcome your guests.
Home Decor: Drape it across windows, stair banisters, or on walls.
Events: Perfect for school functions, office parties, or community events.
Additional Fun Tips
Customize: While this is a free printable Halloween banner intended for personal use, you can always get creative. Incorporate it with other Halloween printables or decorations. Mix and match with spider webs, additional banners with different phrases, or even string up with fairy lights for a magical touch.
Get the Kids Involved: Let the little ones help in cutting out the banner pieces or arranging them. It's a great way to get them excited for the festivities.
Conclusion
Halloween is undoubtedly one of the most awaited times of the year.
The free printable Happy Halloween banner we're offering is the perfect way to add that festive touch to any setting, be it your home or a Halloween party.
Remember, it's the small details like these that make big differences. And with the option to laminate for longevity, you can be sure to use this banner year after year.
So, busy moms, get your printers ready, and let's get into the Halloween spirit. Here's to a season filled with laughter, frights, and delightful free printables!
Note: This banner is a digital file and not a physical item. Ensure you have a PDF reader installed on your device to view and print the file.
Frequently Asked Questions
Is this banner really free?
This Halloween banner is a free printable for personal use. Simply click the download link provided in the post to get your instant digital download.
What size is each banner piece?
Each banner piece is designed to fit comfortably on a standard 8.5 x 11-inch sheet, making it perfect for home printers. However, you can resize them if needed.
Can I use this banner for commercial purposes or resell it?
No, this banner is strictly for personal use. Please do not redistribute, resell, or use for commercial purposes.
What kind of paper works best for this printable banner?
White cardstock is recommended for best results. It provides durability and a premium look.
I don't have a home printer. Can I still use this?
You can save the PDF file on a USB drive or email it to yourself and head over to a local print shop or copy place. They can print it for you.
How can I make the banner colors pop more?
Ensure your printer settings are set to 'High Quality' or 'Best' when printing. Also, the color may vary depending on the printer, so always do a test print first.
I'm having trouble with the download link. What should I do?
Ensure you have a stable internet connection and a PDF reader installed on your device. If the problem persists, please contact us, and we'll be happy to assist.
Can I customize the color scheme or add a name to the banner?
This particular banner is a fixed design. However, there are many online platforms and software where you can upload the banner and make your custom edits if you have design knowledge.
How do I store the banner for future use?
If laminated, simply roll it up and store in a dry place. If not, try storing it flat between two white sheets to prevent any creases or damage.
Can I share this with my friends and family?
Feel free to share the link to our blog post so they can download their own copy. Sharing is caring, especially during the spooky season!
We hope these FAQs address any concerns or questions you may have. If there's anything else, don't hesitate to reach out. Happy Halloween!