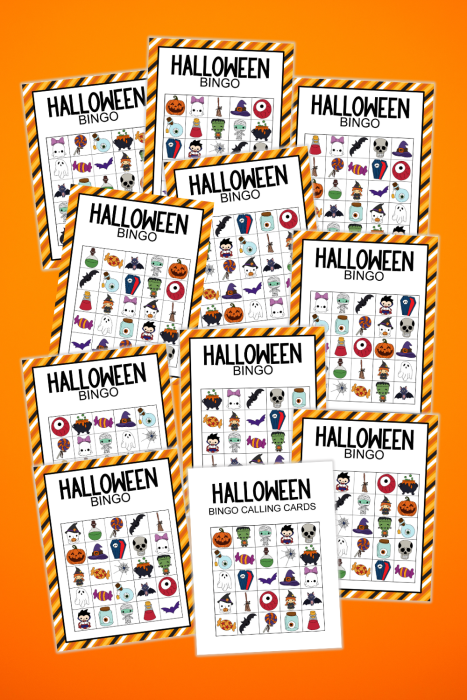 Ah, the spooky time of year is upon us once again!
Halloween, with its haunted houses, creepy decorations, and buckets full of candy, is an event eagerly awaited by young children.
Whether it's the costumes, the Halloween candy, or the chance to watch their favorite Halloween movies, there's so much fun to be had.
But for busy moms looking for a great game to keep their kids engaged during this season, good news! We've got the perfect solution.
Free Printable Halloween Bingo Cards – A game that combines the festive spirit of Halloween with the classic game of bingo.
Why Halloween Bingo?
Bingo is a timeless family game night favorite.
It's simple to understand, making it a fun game for young children and adults alike. And given that it's that special time of year, we're spicing things up with a Halloween twist.
Halloween bingo printables with cute images like a pumpkin, ghost, black cat, lollipop, mummy, witch, and more make the game even more exciting!
Remember the fun ideas you explored last year, like Halloween coloring pages or Halloween handprint art? Well, this year, it's all about our free printable Halloween bingo game.
How It Works:
Bingo Cards: There are 10 unique bingo boards for you, so every game can be different. Each of these different bingo cards has images of classic Halloween items. You might spot a witch or a spider web.
Calling Cards: Alongside our set of Halloween bingo cards, you'll also get calling cards. Simply cut them out, place them in a Halloween bucket or hat, mix them up, and pull them out one by one.
Bingo Markers: Use candy corn or any Halloween candy as bingo markers. For a reusable option, consider dry erase markers, especially if you print your game boards on laminated white cardstock. Or, make a quick trip to the dollar store for some spooky-themed trinkets!
Perfect for Different Occasions:
Halloween Parties: Whether it's a spooky soirée for adults or a fun halloween party game for the kids, our free Halloween printables make for much fun.
Class Parties: For room parents or teachers looking to add a great activity to their Halloween class party, this is the way to go. It's suitable for small groups or even a large group of people.
Scout Troops & Group Gatherings: If you're a scout leader or planning a Halloween event for a group, consider our set of Halloween bingo as a fun activity to entertain young kids.
Where to Download?
At the bottom of this post, you'll find a form to fill out with your email address to gain access to the free Halloween bingo cards.
It's an instant download that will be sent to your email, and the PDF file is designed for US letter size, ensuring it fits perfectly in the printable area of your home or classroom printer.
Extra Tips for Moms:
Mix & Match with Other Games: While Halloween bingo is a blast, you can also pair it with other printable games like Thanksgiving bingo or Christmas bingo to keep the fun going through the year.
Keep it Green: Instead of printing different cards every year, print on card stock and laminate them. Then, use dry erase markers as bingo markers. This makes the cards reusable and is a good idea for those thinking of the environment.
Spread the Word: If you love our unique bingo cards, share the love! Tell your friends about these Halloween bingo boards, unique bingo cards, and free Halloween printables.
Wrapping Up:
These free printable Halloween bingo cards are perfect for creating memories with your whole family.
Pair this with fun Halloween activities like crafting or watching Halloween movies, and you've got a complete family set of activities for the next Halloween party.
If you enjoyed this post and want to get updates on our latest free printables, crafts, and ideas, just drop your email address, and we'll keep you in the loop.
Remember, Halloween is not just about the candy corn or the haunted houses. It's about the laughs, the fun, and the quality time we spend with our loved ones.
Enjoy the best Halloween games, and have a spooktacular time!
Frequently Asked Questions about Halloween Bingo Printables
What exactly is included in the free printable Halloween bingo package?
The package includes 10 unique bingo boards, calling cards with Halloween-themed pictures.
Can I use these bingo cards for commercial purposes or large events?
These cards are designed for personal use, classroom use, and small group gatherings.
How many players can play with these bingo cards at once?
Since there are 10 different cards, up to 10 players can play simultaneously. For larger groups, consider printing multiple sets or having players team up.
What should I use as bingo markers?
Candy corn, Halloween candies, dry erase markers (if laminated), or any small Halloween-themed trinkets from the dollar store can be used.
Can I print these cards in a size other than US letter size?
The design is optimized for US letter size. If you need a different size, it may alter the resolution or layout, so always check the printable area.
Is there a cost associated with downloading these bingo cards?
No, these Halloween bingo printables are available for free download.
Do I need to provide my email address to download the bingo cards?
Yes, the download link requires an email address, but by providing your email address, you can stay updated on our latest free printables and offerings.
I'm a teacher. Can I use these for my classroom Halloween party?
These bingo cards are a great activity for classroom use and can make your Halloween class party even more memorable.
Can I share these printables with my friends and family?
Yes, we encourage you to share the link to the blog post with them so they can download their own copy.
Are there other themed bingo cards available, like for Christmas or Thanksgiving?
Yes, within the post, there are mentions of Thanksgiving bingo and Christmas bingo. Stay tuned to our resource library or sign up for updates to be notified when they are available.
Do the calling cards come with pictures or just text?
The calling cards come with Halloween-themed pictures, making it easier and more engaging, especially for younger children.
How do I print the cards for the best quality?
For best results, print on white cardstock. If you wish to reuse them, consider laminating the cards for durability.
Are there any other Halloween-themed games or printables available on your site?
Yes, we offer a range of free Halloween printables. Check our resource library or the links in the blog post.
Can I make modifications to the bingo cards?
The cards are designed for immediate use and are not editable.
I encountered a problem while downloading. What should I do?
Ensure you have a stable internet connection and try downloading again. If the problem persists, contact us, and we'll be happy to assist!