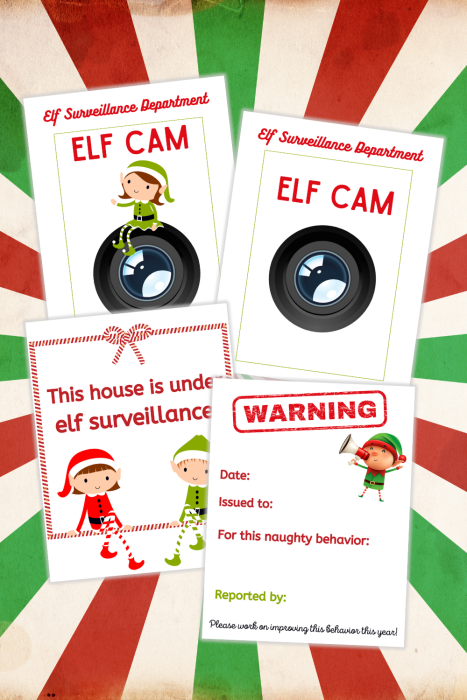 Ah, the holiday season! It's that wonderful time of year where homes come alive with Christmas magic, board games, and the aroma of candy canes in the air.
Every family member, from the little ones to the grown-ups, looks forward to the festivities.
And of course, how can we forget Santa Claus and his little helpers from the North Pole who make Christmas morning so special?
Don't forget to order your Elf Kits for this year!
One of the most delightful and enduring traditions that families have embraced over the years is the Elf on the Shelf.
This adorable elf, who may go by any elf's name that your family chooses, is Santa's little helper, keeping an eye on the young children during the Christmas season.
Their job?
To report back to Santa about the good deeds and, sometimes, the not-so-good behaviors they witness.
But hey, let's be honest, the festive season is also about learning, growing, and becoming our best selves!
Now, while there are countless fun elf ideas and shelf ideas to make this tradition even more magical, this year, there's something new and innovative to add to your Christmas tradition – a Free Printable Elf on the Shelf Surveillance Letter.
Why Every Busy Mom Needs this Printable
A Gentle Reminder, Not a Threat: The idea behind this free elf surveillance warning letter isn't to scare children or threaten them with the naughty list. Instead, it serves as a gentle reminder that encourages them to correct their behavior in a positive and fun way.
Personalized Touch: The printable letters allow for the child's name, the elf's name, and even specifics of the behavior observed. It's not a generic warning but a personalized letter that can genuinely resonate with kids.
Economical and Eco-friendly: As a busy mom, who wouldn't love easy holiday freebies? With this free printable elf, you're not only saving money, but you're also going eco-friendly. Just print what you need!
How to Integrate the Free Printable Elf on the Shelf Surveillance Letter into Your Tradition
Elf's Arrival: Start the season with a shelf arrival letter. Come December 1st, the excitement begins with the elf's arrival, and what better way to kickstart this tradition than with a welcome note, making it much fun right from the beginning?
Observation Period: Let the kids know their favorite elf is around, watching and enjoying the fun times. Maybe your little elf was around when they shared their toys or when they sneakily took an extra cookie.
Using the Surveillance Letter: If there's a bit of mischief, instead of a naughty list letter, use the free elf surveillance warning letter. This printable is not an official warning but a playful, festive way for Santa's little helper to give a nudge towards best behavior.
Making it Fun: Incorporate other free printables like elf report cards or a printable calendar to mark off days until Christmas Eve. And if your child does something incredibly kind, how about a good elf letter appreciating their good behavior?
Other Fun Additions for Your Elf Tradition
Elf Adoption Certificate: If you're introducing a new elf this year, an elf adoption certificate is an awesome idea. It adds a touch of authenticity and excitement for young children.
Elf Goodbye Letter: As Christmas time winds down and it's time for your scout elf to return to the North Pole, a goodbye letter can be a sweet touch, ensuring your kids that their elf will be back next year.
Elf Notes and Games: Small printable cards with cute elf sayings or even printable templates for board games can be a fantastic way to have fun with family members during this best time of the year. Check out this FREE Elf Jokes printable!
Grab Your Free Printable Elf on the Shelf Printable Surveillance Pack Today!
Whether it's the shelf welcome letter or the naughty list warning letter, every printable is designed to add more joy to the season.
These printables are for personal use and are a great way to enhance the fun and learning during the Christmas season.
For all the busy moms out there, using a free printable elf surveillance letter can be the best thing this festive season.
It's not just about ensuring that the kids are on their best behaviour; it's about making the entire tradition more engaging and memorable.
Don't forget, the essence of the Elf on the Shelf is not about surveillance but the Christmas magic it brings.
So, make your holiday season memorable with these easy elf ideas.
Simply provide your email address to get access to download links for all the free printables mentioned, and let the merry times roll!
Merry Christmas and here's to fun times, good behavior, and lots of Christmas tradition memories! 🎄🎅💌
Frequently Asked Questions (FAQs) about the Elf on the Shelf Surveillance Letter and Tradition
What is the Elf on the Shelf tradition?

The Elf on the Shelf is a Christmas tradition where a special scout elf is sent from the North Pole to help Santa Claus manage his naughty and nice lists. The elf watches over the household and reports back to Santa every night.

How does the Free Printable Elf on the Shelf Surveillance Letter fit into this tradition?

It serves as a playful tool to gently remind kids about their behavior. Instead of scaring them with Santa's naughty list, it encourages positive behavior in a fun way.

Is it necessary to use the surveillance letter every day?

No, it's entirely up to you. The letter can be used occasionally, especially when you feel a gentle nudge towards better behavior is needed.

Where can I download the free elf surveillance warning letter and other printables?

Check out the provided download links in the article. Simply provide your email address, and you'll get access to a range of free printables.

How do I personalize the letter?

The letter comes as a fillable PDF file. You can easily add your child's name, the specific behavior observed, and the name of your elf to make it personal.

Can I use the surveillance letter for multiple children?

Absolutely! The template is designed to be customizable, allowing you to cater it for any family member.

What if my child becomes upset with the letter?

Always ensure that the letter serves as a gentle reminder and not as a threat. Emphasize the fun and playful nature of it, and perhaps balance it with notes of appreciation for their good deeds.

Are there any other printable options for positive behavior?

Yes! The article mentions options like good elf letters, elf report cards, and more to celebrate good behavior.

What age group is the Elf on the Shelf tradition most suitable for?

While the tradition can be enjoyed by all family members, it's particularly magical for young children aged 2-8 who are still deeply immersed in the wonder of Christmas magic.

Can I share the free printables with friends and family?
Definitely! These printables are for personal use, so feel free to share them with your loved ones to spread the festive cheer.
Remember, the key to the Elf on the Shelf tradition and the surveillance letter is to have fun and make the Christmas season more magical for the entire family. Enjoy, and merry Christmas! 🎅🎄💌