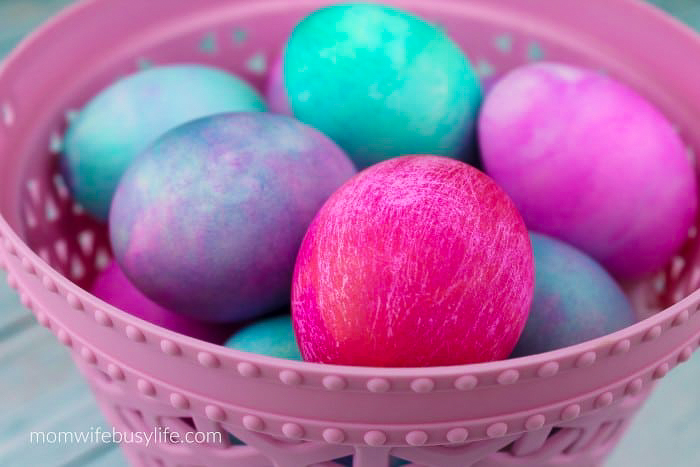 Easter is coming up! My girls are at the age where they love to experiment with different ways of doing things, especially with food coloring. During the month leading up to Easter, we dye a lot of Easter eggs. I've heard of dyeing Easter eggs with shaving cream, but I wanted to try something a little bit safer and try dyeing eggs in whipped cream! I think dyeing eggs with whipped cream provides more of a "hands-on" experience than just dipping them in water/vinegar/food coloring and then taking them out. Dyeing Easter eggs with whipped cream does allow the colors to mix a little more for a cool effect on each egg!
How to Dye Easter Eggs with Whipped Cream
Here's what you'll need:
1 tub of whipped cream
large muffin pan
spoon or toothpicks
boiled eggs
bowl of vinegar
Directions:
1. Hard-boil the eggs by covering them with cool water by about 1 inch. Bring water to a boil over medium heat. Cover and remove from heat. Let sit 12 minutes.
2. Fill the cups of a muffin pan with whipped cream.
3. Add about 6-8 different drops of food coloring into each cup.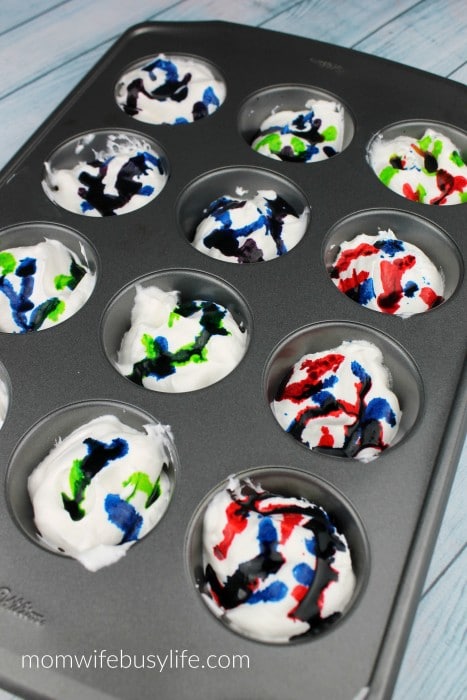 4. Using a toothpick or spoon to swirl the colors slightly in each cup. Be sure to wipe off the spoon or use new toothpicks for the other colors so that you don't mix them!
5. Dip each egg in a bowl of vinegar for a few seconds.
6. Place the egg into a muffin cup. Allow the eggs to sit in the color for about a minute or two.
**NOTE: Do not leave the eggs in the vinegar too long! The first time I tried dyeing the eggs, I had a major fail. I accidentally left the eggs in the vinegar too long. BIG mistake. That's why it's important to only dip the eggs for a few seconds. I did this a second time and finally got it right!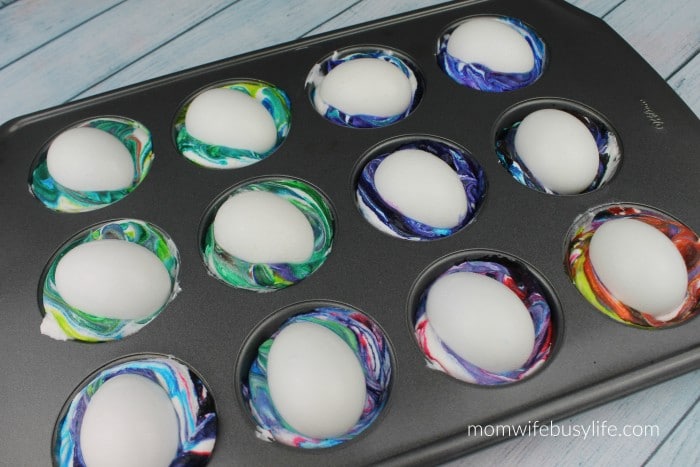 7. Slightly turn the egg over to color the other side. Wipe off your fingers when turning the eggs in the other cups to avoid mixing the colors.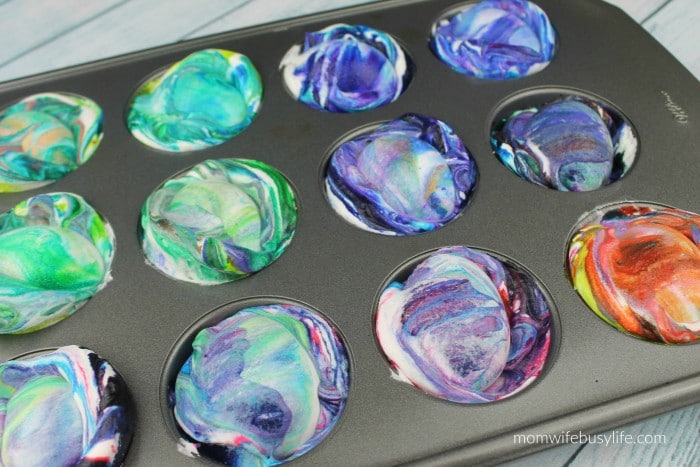 8. Take each egg out of the cup and rinse the egg off. Pat dry. If the color isn't as bold as you'd like, re-dip egg into the vinegar and place back into the colors and roll the egg around until you get it as bold as you'd like. You can even add a few drops of food coloring if you'd like to get the colors just right! I re-dipped only a few of the eggs to get a better color on them.
Here's how our eggs turned out. We placed them in a pretty basket! My girls are going to hide them for fun and find them!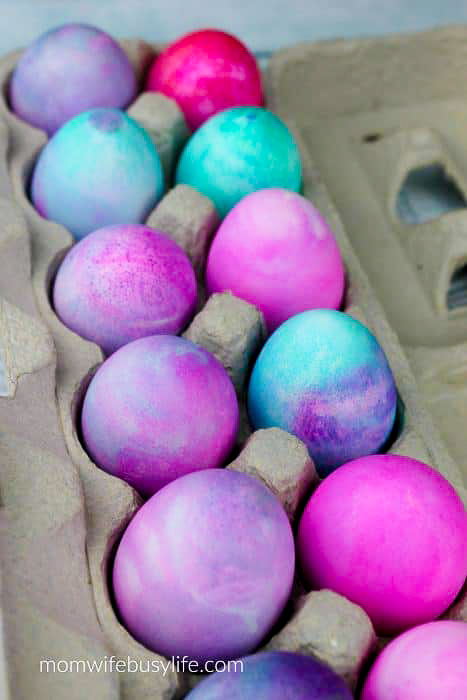 Easter Related Posts:
Best Candy for Easter Baskets and Egg Hunts
Best Easter Books for Kids
Easter Basket Fillers for Babies and Toddlers
How to Dye Easter Eggs with Rice
Easter Egg Letter Matching Game
This is just one of the many ways that you can dye Easter eggs this holiday season!
Watch these inspiring videos for more ways to dye Easter eggs:
Find more crafts and activities here.



Related Posts:
How to Dye Easter Eggs with Rice
How to Make Shaving Cream Rain
Color Changing Milk Experiment
How to Make Colorful Sand