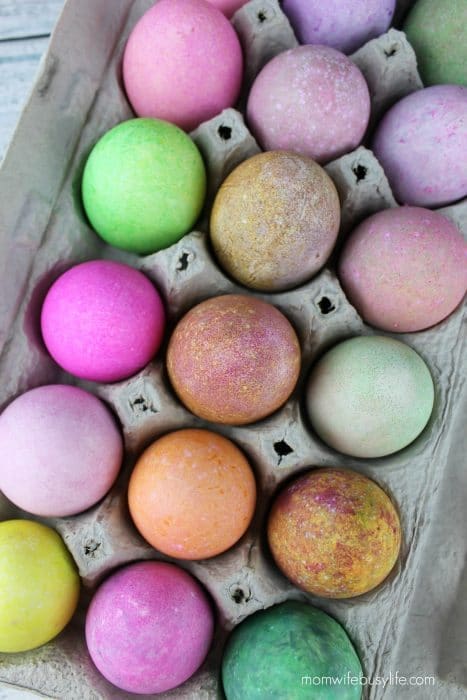 We've been getting more creative in the kitchen lately. With the Easter holiday approaching, I thought it would be fun to dye Easter eggs a few different ways. I guess I was a bit bored with dyeing eggs the traditional way of just sticking them in colored water and vinegar. This year, we dyed Easter eggs with whipped cream and our newest way, with colored rice!
Dyeing eggs with colored rice gives the eggs an entirely new and cool look! Even I thought this way of dyeing eggs was way more fun and hands on for all. Even the girls said that they preferred dyeing eggs with rice over just soaking the eggs in colored water and then taking them out. What's neat about this activity is that in the end, you have colored rice left over to play with if you are interested in that!
Easter Related Posts:
Best Candy for Easter Baskets and Egg Hunts
Best Easter Books for Kids
Easter Basket Fillers for Babies and Toddlers
How to Dye Easter Eggs with Whipped Cream
Easter Egg Letter Matching Game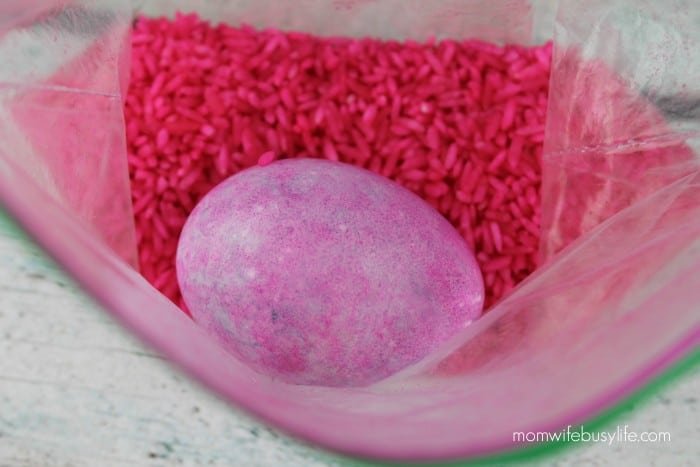 How to Dye Easter Eggs with Rice
Supplies:
Directions:
1. Fill 6-8 different sandwich baggies with about a cup full of rice in each bag.
2. Add at least 10-15 drops of food coloring into each bag. You can experiment with different colors in each bag.
3. Seal the bags well.
4. Use your fingers to mix the rice and food coloring together until the rice is colored. If you have any rice left uncolored, add more drops of food coloring into the bag and seal again. Mix until you get the desired colors.
5. Place a boiled egg into a small bowl of vinegar for a few seconds.
6. Open the bag of colored rice and place the egg inside.
7. Seal the bag and gently mix the egg around the rice until you get the desired color on the egg. Be careful not to break the egg!
8. Feel free to experiment with placing the eggs in different baggies to give the eggs a multi-colored look.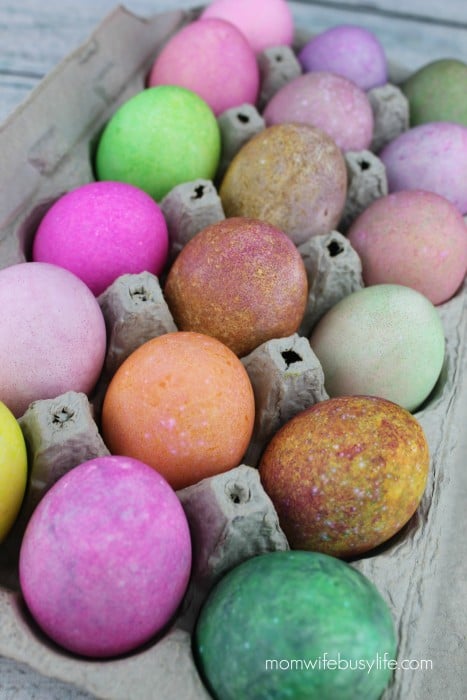 We will definitely dye Easter eggs with colored rice in the future. We enjoyed our new method of dyeing Easter eggs this year and I hope you do, too!
Related: How to Dye Easter Eggs with Whipped Cream
Related: Easter Basket Filler Ideas for Babies and Toddlers
Find more crafts and activities here.