Does your American Girl Doll have tangled hair? Learn How to Untangle American Girl Doll Hair with these tips!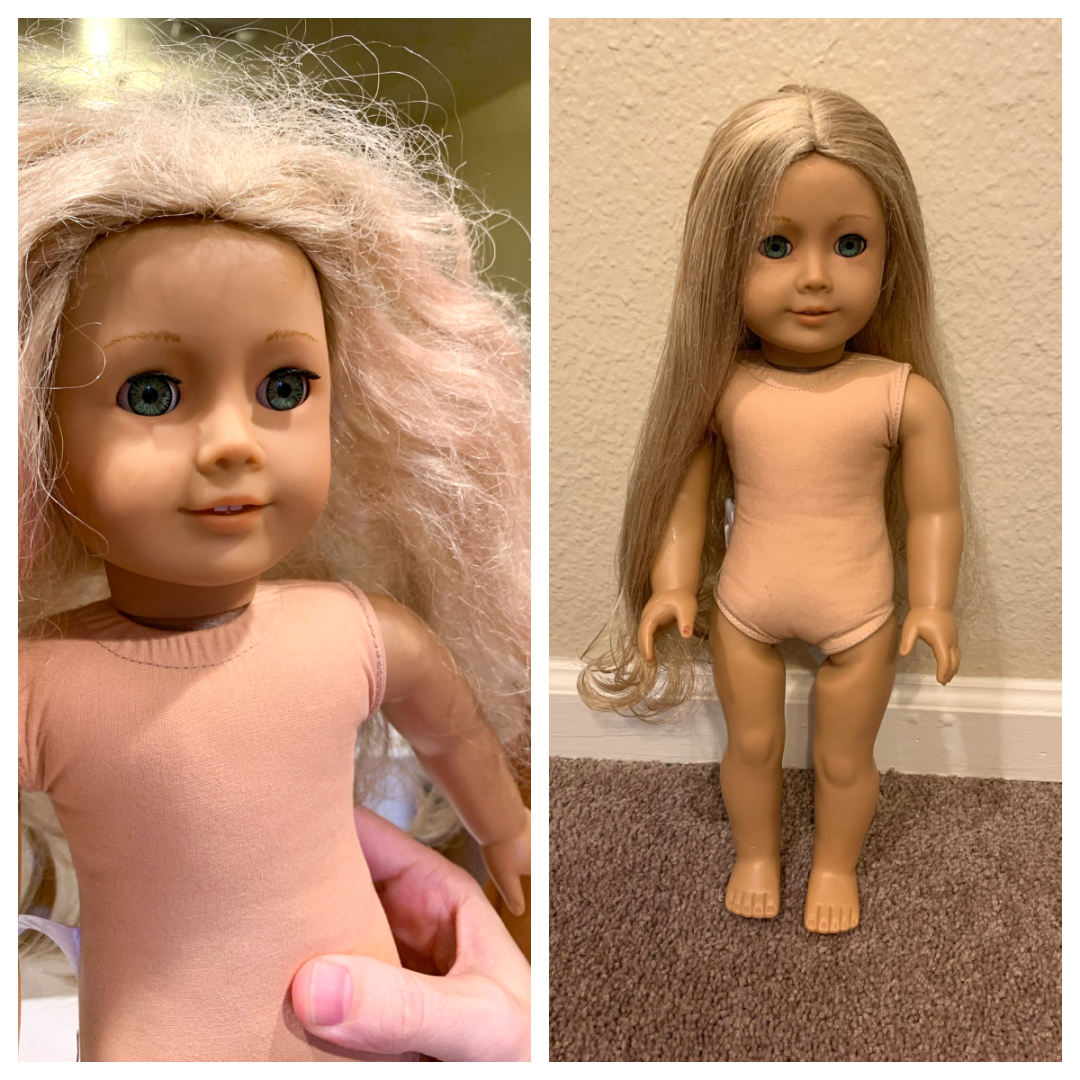 My girls have recently expressed interest with American Girl dolls. If you know anything about American Girl Dolls, you know these dolls have a pretty price tag, with most dolls averaging around $100 or more.
They love to play with their dolls with the neighborhood friends and it's fun to see how excited they get with doll pretend play.
How I Found Our American Girl Dolls
I love thrift store shopping and try to find most items for my household at local thrift stores before paying full retail price for items. I've been doing this since college to try to save money. Many would say I'm crazy, why not just pay full price? But thrifting is a hobby of mine and I enjoy it. I always will!
During a thrift store shopping trip several weeks ago, my daughter found an American Girl doll complete with the outfit for $10! The doll was in excellent shape. The doll she found is here on the far left.
Keep reading to see how I fix American Girl Doll hair!
She used her allowance earnings to pay for the doll and has had fun with it ever since we found her. I was able to find 18 inch doll clothes at a great price that she could use with her doll.
Mom, Can I Have a Doll, Too?
When my youngest daughter found this great find, my oldest daughter started expressing interest in her own doll. However, I knew I didn't want to pay the money for a brand new doll, and the dolls on Ebay were still a pretty price. I was considering purchasing one for her upcoming birthday from Ebay, but was on the fence about paying the money for it.
During my most recent thrift store trip, I checked the doll bin for dolls. I didn't expect to find anything that great since this doll bin included mostly dolls that were well loved! The majority of dolls were missing their outfits and had tangled, matted, and frizzy hair.
I did thumb through the selections and noticed what I thought looked like an American Girl doll! I pulled the doll out, searched for the tag and sure enough, she was an American Girl.
She was priced at only $3!
But her HAIR!
What a mess! Creepy?!
Now keep in mind, there's a good reason most people overlooked this doll. The hair was a mess and you can tell that the little girl that owned her practiced with makeup around her eyes, maybe even toothpaste around her teeth. It looked like there were shades of makeup in her hair. That was all easy to clean off with a wet towel.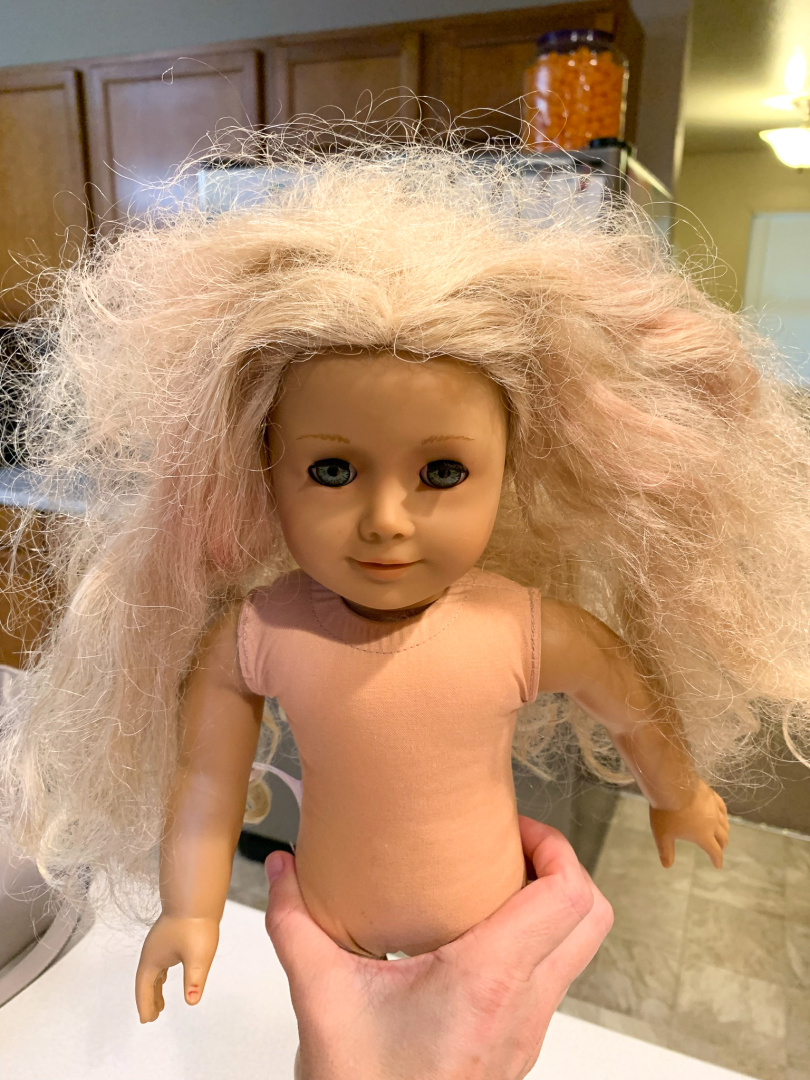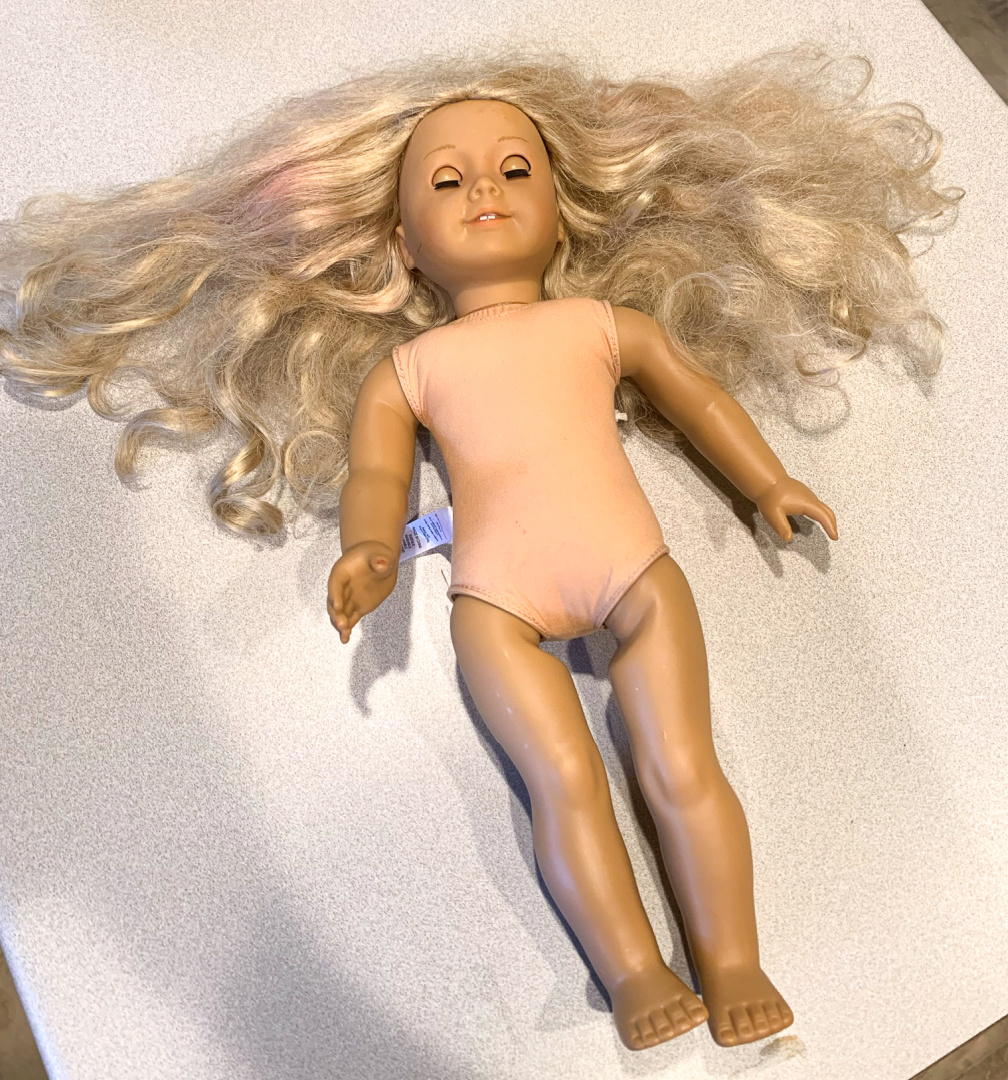 I won't lie, the doll just looked a bit creepy. My goal was to take a well loved doll that was discarded and in need of restoration, and make her beautiful. This became a project and I really just wanted to practice to see if I could complete this task.
I have a friend that was able to give me a few great tips to help me along the way before I sat down and attempted restoring the doll.
If you have a doll with tangled or frizzy hair, try these tips below to see if they work for your doll, too!
Here's what you'll need:
doll with tangled hair
plastic grocery store bag
small cloth
waterproof tape
high quality shampoo
high quality smoothing conditioner
detangling brush (other options: wide tooth comb or a wig brush)
Patience!!!
(Note: When I say 'high quality' shampoo or conditioner, I don't mean the kinds that are cheap or watered down. I used Dove conditioner for this doll.)
I had no idea how this would turn out, but I am very pleased with the results. I think and hope you will agree!
How to Untangle American Girl Doll Hair
Create a Work Space
I laid a towel down on the table so that I could have enough space to work with the doll as I was brushing out the tangles.
Prepare the Doll
Securely wrap the doll's body in a plastic bag. This will keep any water from getting the cloth material on the doll wet. The arms and legs are vinyl, so if these parts get wet, it's not really a big deal. Just dry them off with a towel.
Cover the eyes of the American Girl doll with cloth. Secure the cloth with waterproof tape. This will keep water from entering the dolls eyes. (Tip: I actually used a small piece of gauze and waterproof first aid tape for this part!)
Can you Wash American Girl Doll Hair
The answer is yes! You can wash American girl doll hair. Keep reading below to find out how.
How to Wash American Girl Doll Hair
Make sure you read the steps above to learn how to prepare your doll before you wash the hair.
Once prepared, start by washing the dolls hair at the sink with a high quality shampoo and warm water.
Rinse the shampoo out.
We aren't finished yet! Below you'll see how I condition the hair. The conditioner will need to be rinsed out once finished.
How to Brush American Girl Doll Hair
Add a high quality smoothing conditioner to the dolls hair. Keep in mind, for this particular doll, I used a generous amount of conditioner so that I could work a detangling brush or wig brush through the dolls hair easily afterwards. A wide tooth comb or wig brush works well, too. Do not rinse yet.
NOTE: For this part below, I'd like to mention that if I had another doll to restore, I'd try starting at the bottom and work my way towards the top to prevent hair breakage. While the method below worked for me, you may want to try the bottom to top method!
Starting at the top of the hair and scalp area, work the brush through the hair. Avoid brushing the bottom of the hair until you have worked all of the tangles out at the top first.
Once these tangles are brushed, start working towards the bottom of the dolls hair. Add more conditioner along the way if desired. For this doll, I used about one half of a bottle of conditioner to get her hair tangle free.
Important Note: Don't give up too quickly! At one point when I was brushing the hair, I thought I'd never be able to get it to work out, but my secret was, MORE conditioner!
Hair Falling Out?
Depending on how bad the dolls hair is tangled, you may notice that hair falls out while you are brushing the tangles out.
This was totally normal for me during this process. I just discarded any hair that fell out and continued brushing until I was able to get the dolls hair straight. She still had a ton of hair left when I completed the entire process!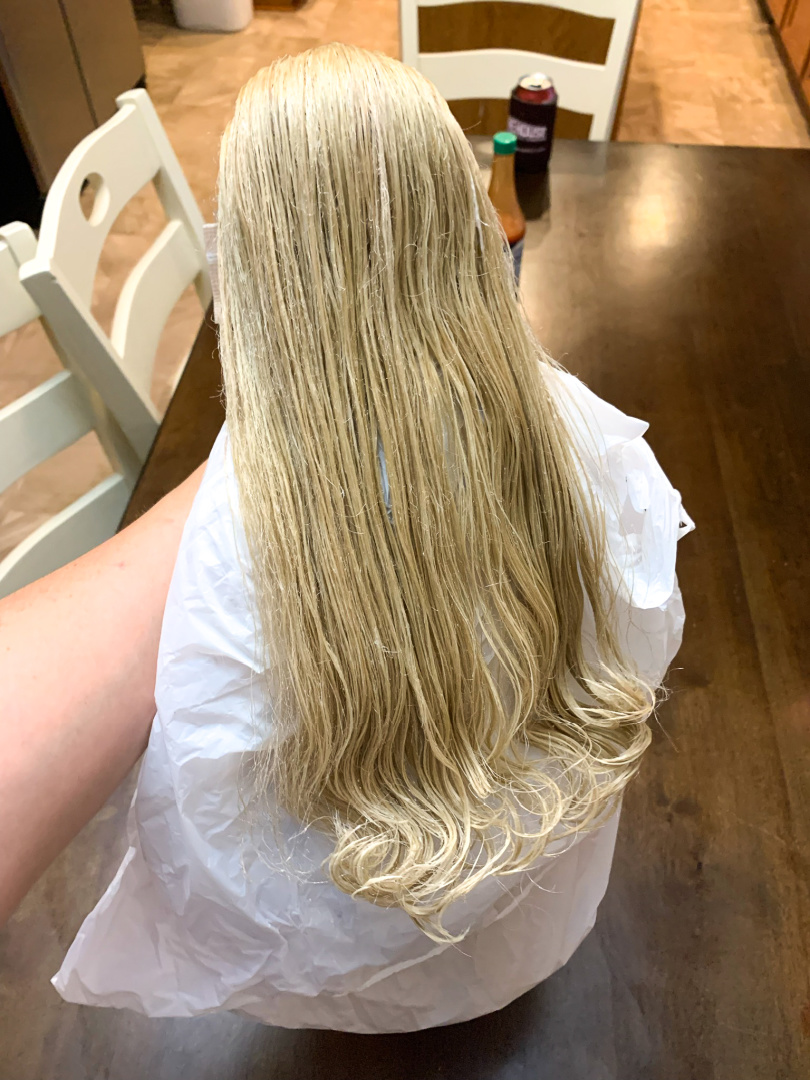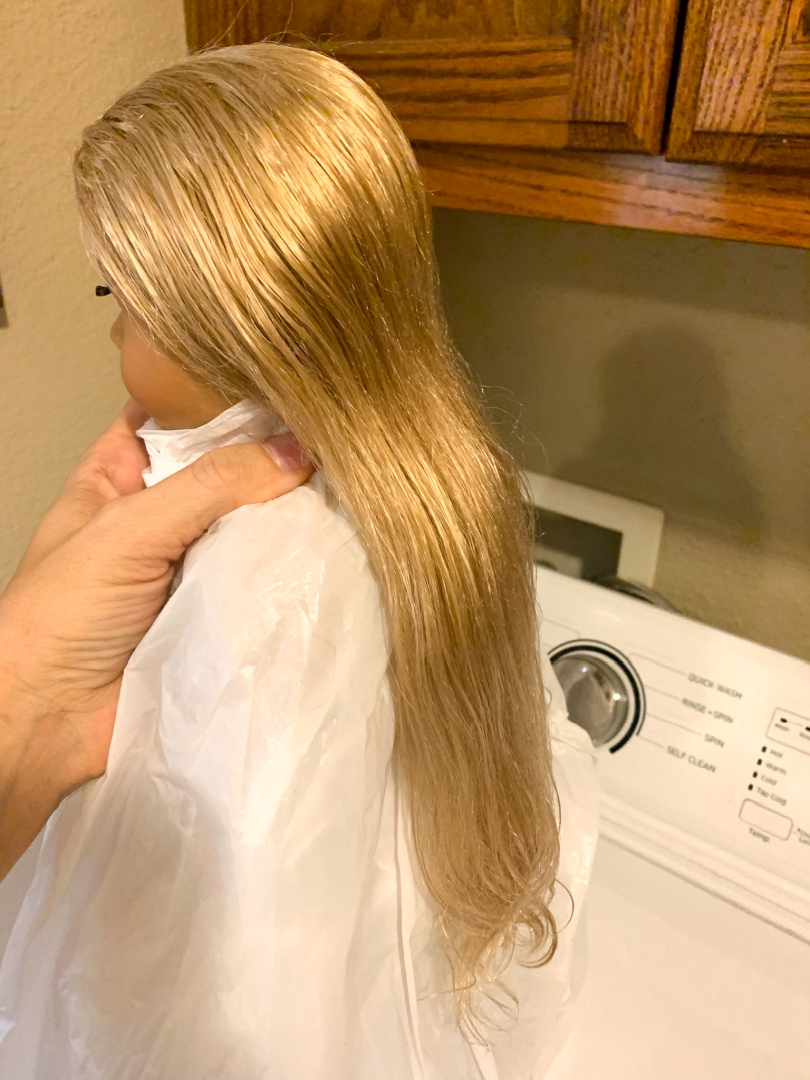 Allow the Hair to Dry
Once the doll's hair is straight and tangle free, rinse the conditioner out and continue brushing the hair to keep the hair tangle free as it dries.
Once the hair is completely dry, style the dolls hair as desired!
How to Defrizz American Girl Doll Hair
Brush the hair
Start by brushing the hair carefully and thoroughly to remove any tangles or knots.
Apply defrizzing serum
Apply a small amount of defrizzing serum to the hair, and distribute it evenly.
Comb the hair
Use a wide-tooth comb to gently comb through the hair, starting at the tips and working your way up.
Use heat protectant spray
Hold the hair in one hand and use a small amount of heat protectant spray with the other hand.
Blow dry the hair
Gently blow dry the hair, using low heat.
Be careful not to overheat the hair, as this can damage it.
Style the hair
Once the hair is completely dry, use a brush to style it into your desired look.
With these simple steps, you can have beautiful, frizz-free American Girl doll hair!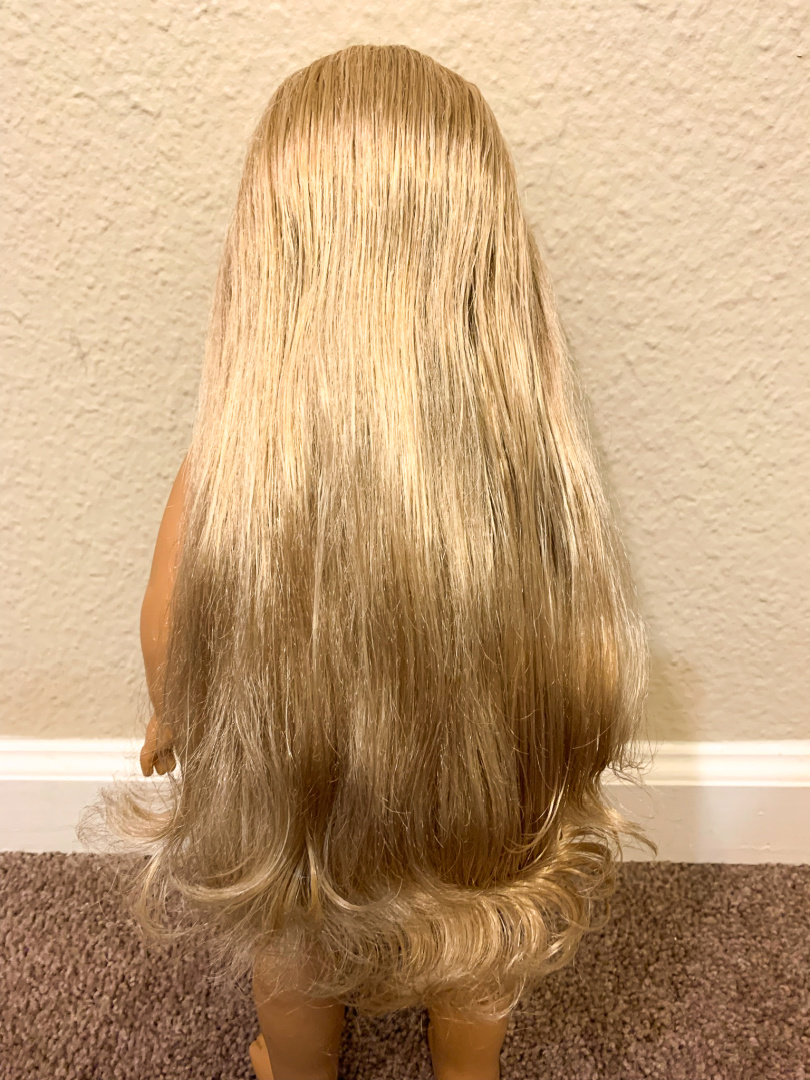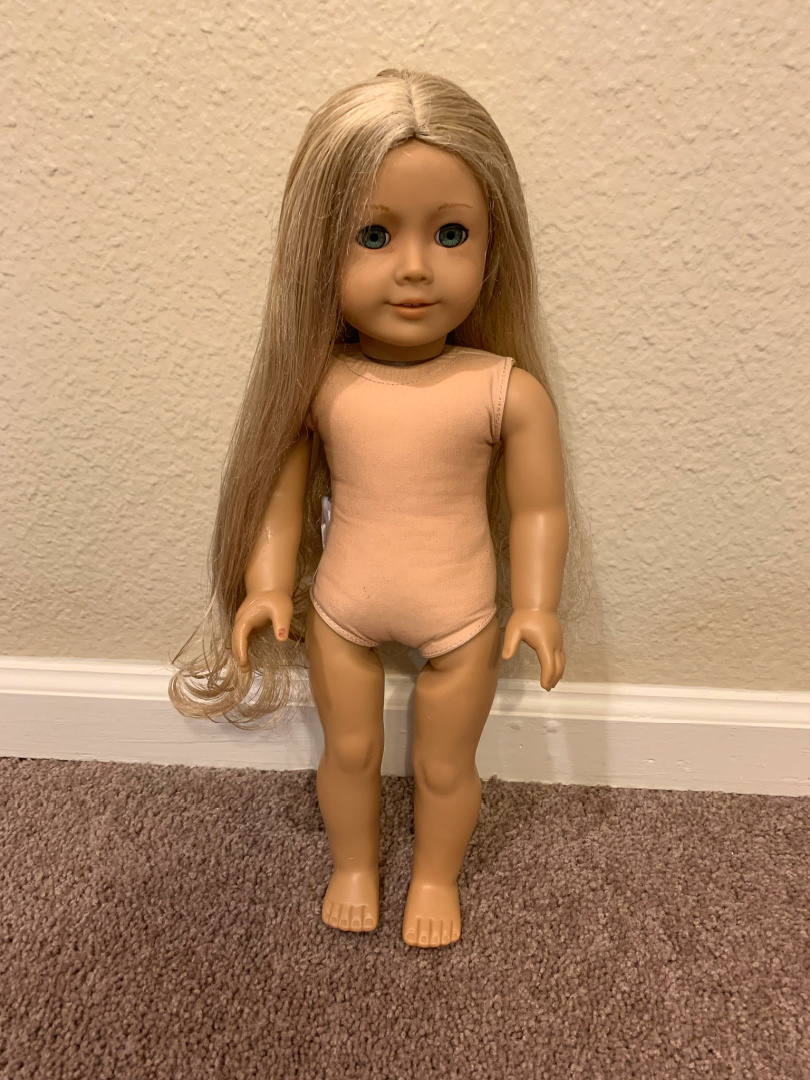 I added a little side braid. This was the hair style I gave the doll before revealing the results to my daughter!
Heating Products
I do not recommend using heating products for your dolls. If you MUST use a heating device to dry the hair, use a blow dryer on the lowest setting. Do not use a curling iron on the doll's hair. The dolls hair can melt if high heat is used.
How Long Did This Process Take?
This process from start to finish took me a little over an hour to complete. Overall, I enjoyed seeing the before and after results of this doll.
When I picked up my girls from school that day, as a joke, I told my girls I found an American Girl Doll and shared the before photo with them that you can see at the beginning of the post. The looks on their faces! Then I told them I restored her and showed them the after picture. They both started arguing over who was going to get her!
When my oldest daughter came home, she immediately dressed up the doll and fixed her hair the way she wanted it! You can see her new hair style below.
After this project, I had a thought in my mind that maybe I should go back and save all of the dolls I can, restore them, and pass them onto someone that could love them as much as they were once loved. (Just another crazy idea, I don't think I'll have time to really do that!)
I'm sure these tips will work with any dolls hair! You just have to try it out and see!