Pork Carnitas Tacos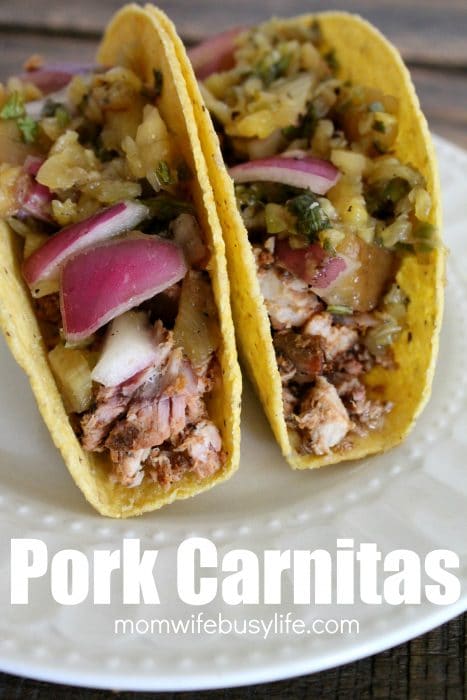 I was in the mood for tacos recently, but I was craving a flavor that was non-traditional. We make tacos on a weekly basis and I wanted to try a different recipe to spice things up a bit. I immediately thought of Pork Carnitas Tacos with a pineapple/mango salsa.
While this Pork Carnitas Taco recipe requires more ingredients and steps than a regular beef taco recipe, it is a delicious alternative if the family is craving something new to eat! My husband works his magic on the grill, so if you have a grill master in the family, this is the perfect opportunity for him/her to get outdoors to grill up delicious goodies!

Pork Carnitas Tacos

Marinade for pork tenderloin:
3 tbsp. tomato paste
2 tbsp. chili powder
1 tbsp. cumin
1 tbsp. garlic powder
1 tbsp. Italian seasoning
1 tbsp. salt
1 tbsp. pepper
1/2 cup Frank's Hot Sauce
1/2 cup apple cider vinegar
1/2 cup pineapple juice
juice from one lemon
Directions:
Whisk ingredients together in a mixing bowl until combined well.
Cut pork tenderloin into 8 small medallions.
Place medallions into a dish.
Pour marinade over pork and allow pork to marinate in the refrigerator for 2+ hours.
After marinating, fire up the grill to 300 degrees Fahrenheit.
Place the pork medallions in the center of the grill and cook until temperature reaches at least 165 degrees Fahrenheit (about 1 1/2 hours).
Remove pork from grill and shred it using a food processor.
*Optional: Pineapple/Mango Salsa Ingredients:
1 fresh pineapple
1 fresh mango
1 red onion
2 jalapenos
1/2 cup cilantro
2 limes
1 tsp. salt
1 tsp. pepper
Directions:
Finely dice red onion, cilantro, and jalapeno. Set aside.
Cut up the pineapple and mango into chunks.
While the grill is still hot (about 300 degrees), place the chunks onto the grill and grill for about 3 minutes on each side (enough to get char marks).
Take off grill and let cool.
Finely dice cooled pineapple and mango.
Juice the two limes.
Combine all ingredients and stir well.
Add salt and pepper to taste.
Spoon the pork onto an Old El Paso Stand 'n Stuff Taco Shell and top with the pineapple mango salsa!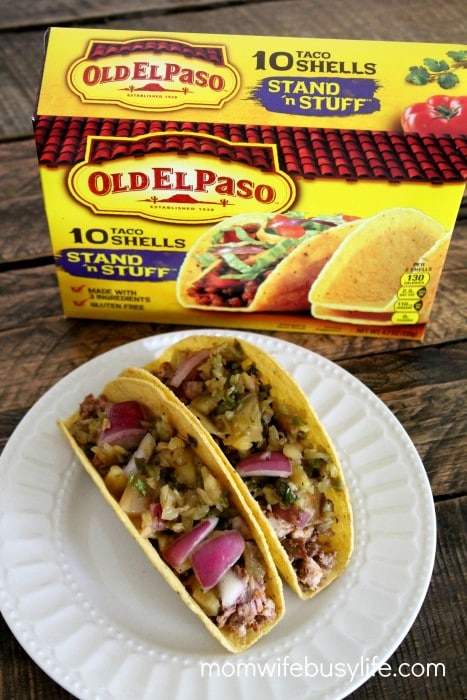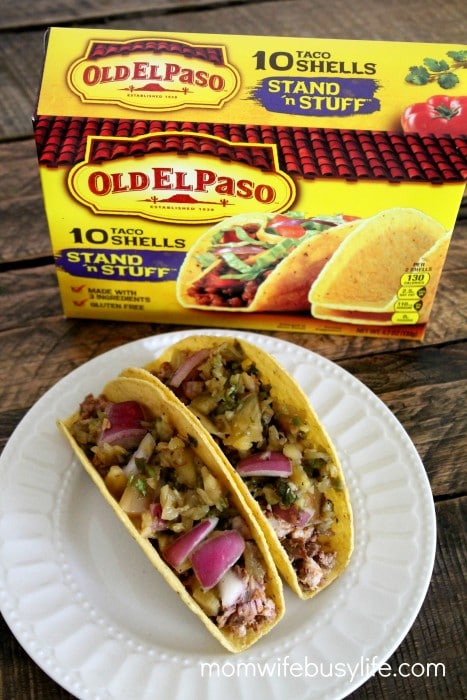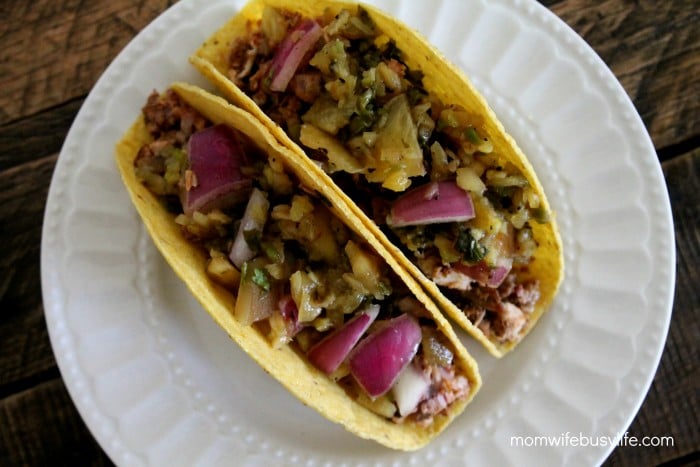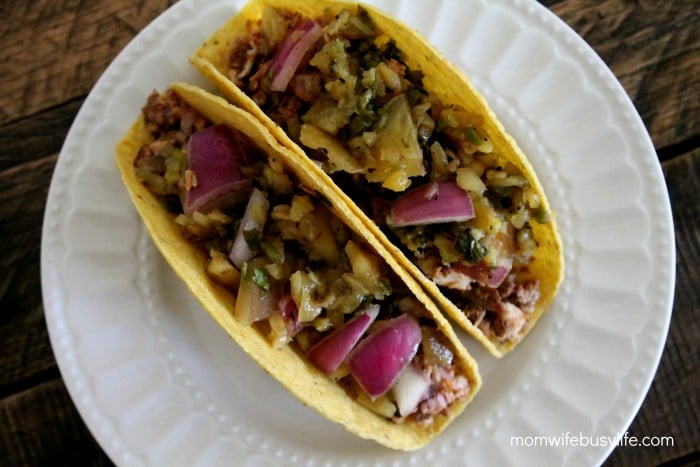 Sure enough, these Pulled Pork Carnitas Tacos were a great alternative to regular tacos. This is definitely one recipe that we will have again in the future!
If you want more inspiration for tacos during the week, check out these Old El Paso products! Create your own taco bar and let your family choose their favorite toppings!