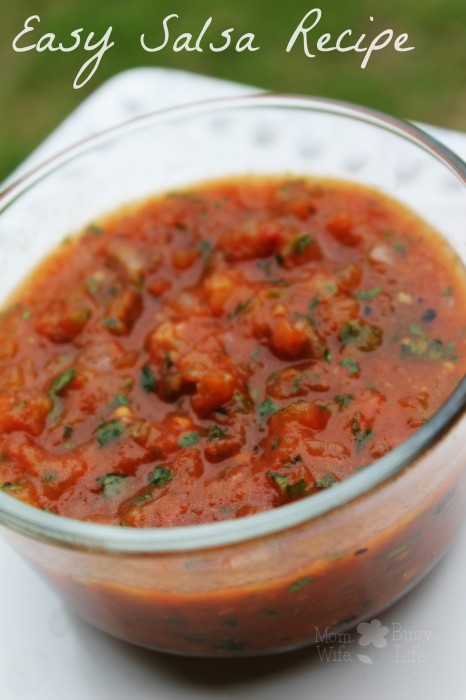 Looking for an easy salsa recipe to enjoy any night of the week? My family loves salsa. Even my two year old loves salsa! We could eat salsa just about any time of day, any time of the year. We especially love to eat salsa at our favorite Mexican food restaurants, but when we feel like staying in, we like to make our own fresh salsa. You can make a large batch of it and keep it refrigerated to enjoy throughout the week. This recipe is perfect for your summer entertaining, too! Your guests will love this easy salsa recipe with tortilla chips.  Here's an easy salsa recipe to enjoy.
Easy Salsa Recipe
Ingredients: 
1 can diced tomatoes
1 onion
2 cloves of garlic
1 jalapeno (remove seeds and ribs of pepper)
juice from one lemon
1/2 cup of cilantro – rough chopped
pinch of salt
1/2 tsp. of pepper
1 tsp. olive oil

Directions:
Saute onions and garlic in olive oil until soft and the edges of onions turn brown.
Add all ingredients to a food processor and pulse chop until well blended.
Pour into serving dishes and serve with your favorite tortilla chips or Mexican food dish!
More great recipes to try: