This is a sponsored post written by me on behalf of Ocala/Marion County VCB for IZEA. All opinions are 100% mine.
The 4th of July weekend is approaching and that usually means a long weekend off from work and time spent with the family. Many families will be planning vacations and some families will be staying home. Either way, there's always a great variety of activities to take advantage of during this holiday weekend. Below you will find several 4th of July activities for families to enjoy either at home or on a quick getaway to Ocala/Marion County!
1. Plan a patriotic getaway. The 4th of July is a great time to plan a quick family getaway. Many families pack up and head to their favorite beach destination during the long 4th of July weekend. However, this year I recommend taking advantage of the Ocala/Marion County Activities available to families! Families can take part in activities such as horseback riding, golfing, fishing, boating, hiking, swimming at the springs, biking, zip lining and so much more. When we head for some time outdoors with the family, we try to take in as much as we can. It's definitely nice to have more varieties to choose from vs. just heading to the beach and splashing around in the water. This keeps the kids from getting burned out and that's a win for us! Visit Florida Travel  for more information.
2. Pack a picnic lunch. Pack up your favorite picnic foods and enjoy a picnic lunch together at Silver Springs State Park in Marion County, Florida followed by a glass bottom boat ride. Don't forget this summertime favorite — watermelon! Watermelon is a refreshing treat to enjoy with your family on hot summer days!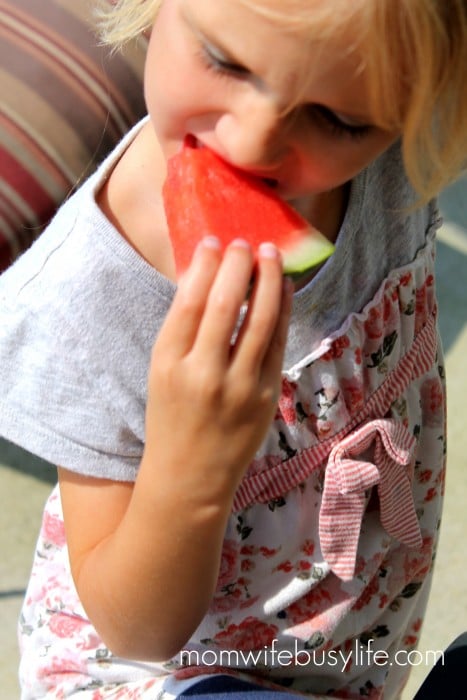 3. Watch fireworks displays. Look for fireworks displays in your local area. We've enjoyed watching fireworks at the mall, parks, and other local areas. We also look for fireworks in our neighborhood as well! Check out Ocala/Marion event calendar for family fun!!
4. Play patriotic themed games. Spend time together as a family by playing patriotic games while camping during your quick Ocala/Marion County getaway! We like to set out our American themed corn hole boards out in the backyard to see who can toss the most bean bags inside the hole! Other fun games include watermelon seed spitting, drawing pictures with chalk, baseball, they have so many fun parks for your family to enjoy, and more.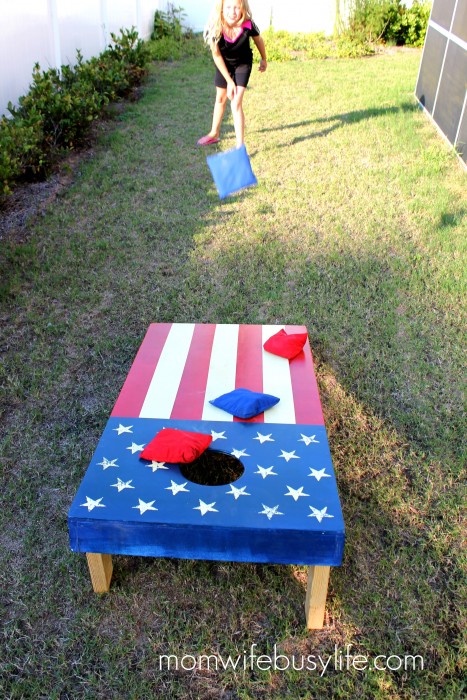 Aside from playing games, try to schedule one main activity each day to enjoy as a family during your stay in Marion County. Our sample itinerary for a four day weekend would include:
Day 1: Bike ride
Day 2: Horseback riding
Day 3: Swimming at the springs
Day 4: Fishing
Day 5: Husband: Golf, Kids and Mommy: Shopping!
As you can see, there's plenty to do in Marion County, so schedule your vacation soon! At the end of a long day of activities with the family, you'll want to relax in your home away from home! Check out the Ocala/Marion County Lodging options for your stay!
5. Grill out. My husband loves to grill out during the holidays. When he's grilling out, my kids spend that time enjoying the backyard with games, bubbles, water balloons, and more. It's nice to get outdoors during a long weekend as well as enjoying yummy foods fresh from the grill! In Ocala/Marion County you can grill out by one of the local campsites or even by the water on Carney Island.
6. Play in the water! Summer is HOT! The temperatures outdoors here on the East Coast have been approaching the 100's! We take advantage of our neighborhood pool, sprinklers, water balloons, and other water activities during hot days to stay cool. During your stay in Marion County, be sure to visit the downtown splash pad for FREE! Another fun option to cool off during your stay is visiting one of the numerous springs that Ocala/Marion County has like Juniper Springs, Salt Springs, or even Wild Waters!
7. Create American themed crafts. Let the kids get creative with American-themed crafts! One of our favorite crafts to make are Fireworks on a sheet of paper using glue and glitter. Simply pour glue onto paper in the shape of fireworks (black or white construction paper works best) and then sprinkle glitter onto the glue. Shake excess glitter off and you have a great fireworks craft to display. This a great activity you can do indoor while on that last minute getaway!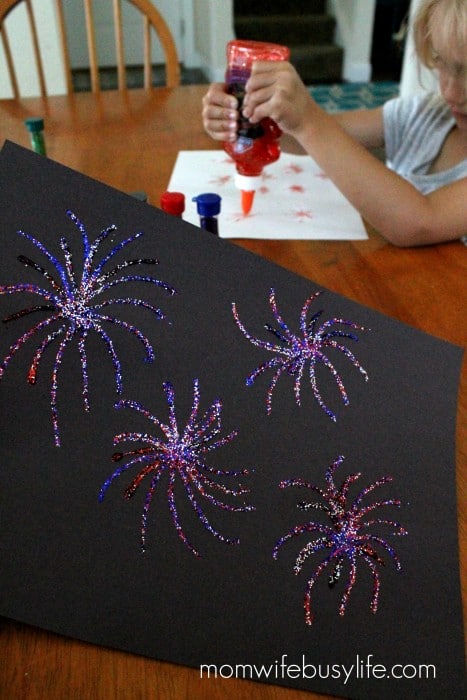 Enjoy these fun and engaging 4th of July activities with your family this year! What do you plan to do this summer for 4th of July?